Setting up Facebook advertising campaigns can be confusing and extremely costly. Especially, if you are new to this advertising service and marketing platform. If you don't know what you are doing you can quickly waste your marketing budget. I have spent millions of dollars on Facebook ads. I want to share my knowledge and experience gained from spending all that money. These are my top 10 Facebook advertising tips and strategies that will help you instantly improve the performance of your Facebook advertising campaigns. They are almost all equally important and kind of mandatory if you want to win.
You will learn how to increase ad click-through rates, lower cost per click (CPC), and increase your return on ad spend (ROAS).
But first, be aware…
Many options and features of Facebook Advertising are not in your interest and deplete budgets.
Many new features are primarily launched in the interest of increasing Facebook Inc. revenues and share value.  The original core features and platforms (Facebook vs. Instagram vs. Messenger vs. Audience Network) seem to offer the best performance and reach the largest audience.
Top 10 Facebook Advertising Tips
1. Avoid All Pre-Selected Options
Pre-selected campaign settings are sneaky. They can leave you vulnerable to losing your budget rapidly while gaining little value in return. Pre-selection pushes users to avoid decision making while spending money which is a terrible habit.
Facebook Ad Manager often pre-selects newly added features (products) and platforms when you create new campaigns. The purpose is to generate more revenue for Facebook Inc.
Let's take a look at an example.
Below is a section in a pop-up window that displays after you boost a post on your Facebook page.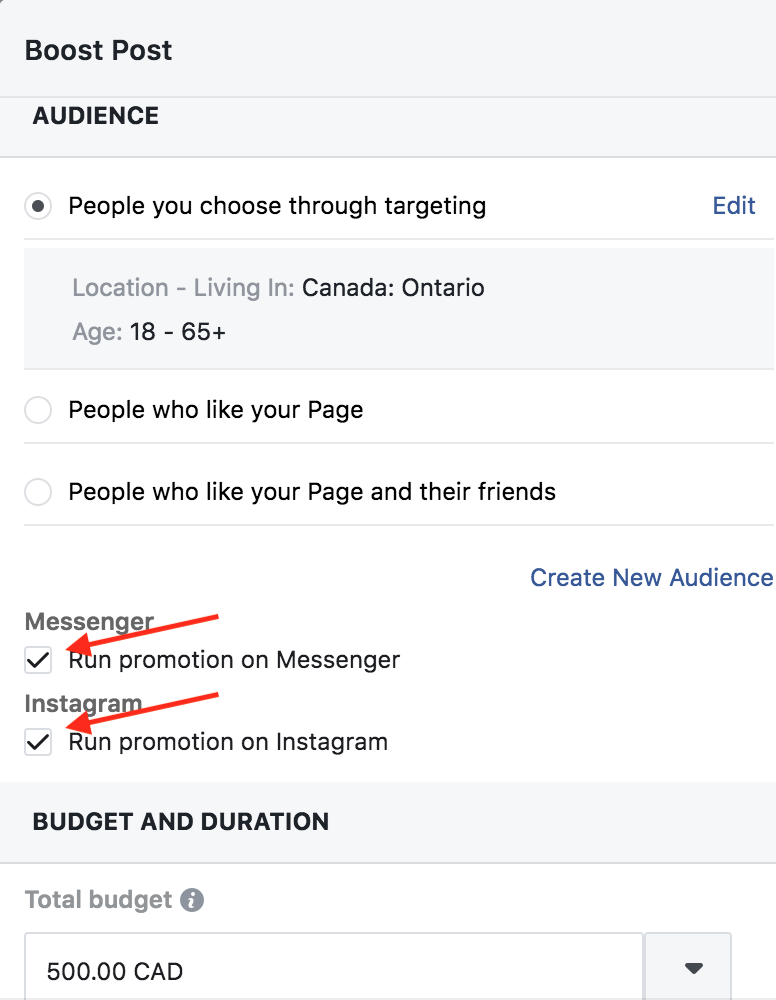 You can clearly see that the app has pre-selected to run ads on both Facebook Messenger and Instagram.
These pre-selected (decisions) options directly impact how your advertising budget is spent. The pre-selection will divide your budget across the Facebook platforms if you do not un-select the options.
Pre-selected options may not be in your best interest. What if they perform poorly or are more expensive to use? You will receive less value (traffic). Facebook will claw away your budget more quickly. If so, you will have to replenish your ad spend sooner than later. Pre-selection tilts the odds in favor of Facebook. Don't let this happen. Take control and make your own decisions.
I'm not surprised that Facebook does this. But I really don't like it. It is borderline unethical, definitely greedy. It seems like Facebook is trying to take advantage of people who might not be informed.
As a Facebook Advertising business user understand this monetization strategy is happening and be aware.
Some of these new features are not worth your money and will negatively impact performance.
My recommendation is to unselect anything that is pre-selected when you set up your campaigns.
This is number 1 of my Facebook advertising tips and it is super important. Take a moment to think about the implications of pre-selected options. Then, make your decision on how to proceed. Don't let Facebook make your decisions for you. Especially when your money is at stake.
2. Use High Quality + Relevant Images
Increasing your ad click-through rate (CTR) should be a priority.
A high CTR suggests that your ad (and message) is relevant to the audience.
Higher click through rates will decrease your cost per click (CPC).
A lower CPC will bring you more leads and traffic. You will get a higher ROAS on your budget in most situations.
Using high quality, interesting, relevant images is half the battle to achieving great success and improving performance of Facebook ads.
Also, make sure that you create and use images that match the recommended ad specs. Doing so will improve click-through rates and campaign performance. If you don't use the recommended ad specifications than Facebook will crop your images and they may look less engaging.
Finally, test a variety of images for each campaign. Measure what performs best and move your budget there.
3. Use Compelling + Relevant Copy
Your message should speak to your audience and mean something. Stay relevant. Have a purpose.
Use concise and direct messages.
Focus on what is important and what shows value.
Use a call to action.
Add relevant hashtags. Use keyword hashtags. 2-3 per post. They help you get found in Facebook search.
4. Target Specific Audiences
Avoid targeting broad audiences based on simple demographics.
Instead, target specific audiences.
Specific audience targeting should generate higher ad click-through rates (CTR), lower cost per click (CPC), and better conversion rates.
Create Saved Audiences, and Custom Audiences.
Saved Audiences allow you to target very specific demographics, locations, and interests (topics of information).
Custom Audiences allow you to target users (and re-market) based on how they interact with your website.
Remember, the goal is to target the right audience. Focus on traffic quality, not quantity.
Once you have a more accurate idea of what the right audience is and what campaigns are working for you, scale up your ad spend to get more of the right traffic.
5. Implement The Facebook Pixel (Before You Go Live)
The Facebook pixel enables you to track and communicate with every user that visits your site.
The Facebook pixel also allows you to make use of Facebook Analytics.
You can also leverage the power of Custom Audiences once the pixel is active on your site.
What is a Custom Audience?
Custom Audiences are created based on very specific data and/or activities.
For example, you can create a Custom Audience of users that:
Visit specific pages on your website
Trigger specific events (like adding a specific product to a shopping cart)
Meet a visit duration threshold (thus demonstrate more interest)
Are your current customers (match up with your customer email addresses)
Tracking Events
In addition to tracking website activity and re-marketing to your audience using Custom Audiences, you can also track special events and conversions with the Facebook pixel.
These events include:
Leads
Registrations
Purchases
Add to cart
Add to wishlist
Initiate checkout
And more…
Track any events that are currently active on your site to get the most out of your ad spend.
6. Track Campaigns In Google Analytics
You can track your Facebook ad performance using the Facebook pixel and Facebook Analytics.
You should also track your campaign performance using Google Analytics. More data and information will help guide your decisions.
For each Facebook campaign, create URL parameters using the Google Campaign URL Builder.
Enter Facebook or Instagram as your campaign source, cpc as the campaign medium, an appropriate identifier as the campaign name (I often use the page URL -> for this page I would use facebook-advertising-tips). I typically use a campaign term to track and identify different interests that I target when using Saved Audiences. Enter something for campaign content if you are creating (use Creative Hub) and testing multiple ads per campaign.
Next, click edit for each of your ads, and add your URL parameters in the spot provided.
Your URL parameters will be automatically added to every click-through URL.
The campaign data will flow into Google Analytics.
7. Optimize Ad CTR (Using Creative Hub + Mockups)
The Creative Hub tool allows you to create and test out fresh ads.
In Ads Manager, hover over All Tools, then select Creative Hub.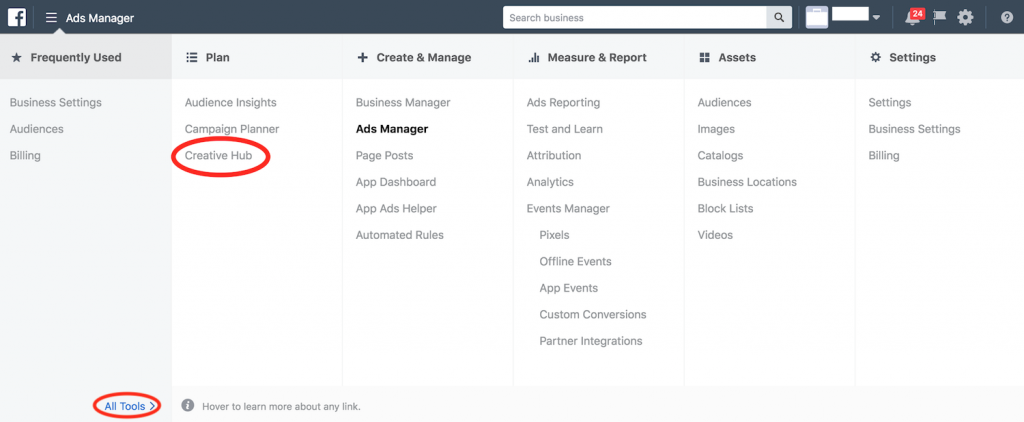 These ads that you will create here are called Facebook ad mockups.
You can test out different images, copy, or calls to action.
Mockups can be attached to your existing ad campaigns and ad sets.
This is a useful feature because it allows you to test out new messages without having to create another post on your Facebook page for content that you have already posted. That might annoy your audience.
Analyze the performance for each mockup. Push your budget to the ads that produce the highest CTR and lowest cost per click.
Don't test too many versions at once. Your budget will likely get spread to thin.
Test 3-5 ads per ad set, narrow down to the top 2 performers, and then test more against those winners.
These first 5 Facebook advertising tips are all super important. But often missed.
Implement these suggestions and your ad campaign performance will improve.
Getting high relevance scores and ad click-through rates from the start is massively important. You will reach your audience at a lower cost. In other words, you will get more of the right audience at a lower cost per click. This is important if you have a fixed marketing budget.
This might be the most important of my Facebook advertising tips. Testing your creative (images) and copy are critical to improving your results and increasing your return on ad spend.
8. Implement Campaign Structure (and Tracking) That Yields Intelligence
Set up your Facebook campaigns and ad sets (and the tracking of them) by interest (topics) or other key audience attributes.
Track platforms separately (Facebook vs. Instagram). These platforms are very different. The costs to reach your audience and the return on ad spend will also be very different.
Tag all your different ads and mockups separately. Then you can identify what ads (images, copy, messages, calls to action) lead to the best performance.
Tracking with more granularity helps maximize your return on ad spend. Track more campaign factors and variables to improve performance. This will provide you a clear vision of what is working and what isn't.
Implement a logical and manageable framework of variables that you will track.
Use the Google Campaign URL Builder to do that.
9. Set Up Facebook Campaign Automated Rules
Controlling how your money is spent is key to getting great ROAS performance in the long term.
Design a framework for how you should spend money in order to generate the highest return on ad spend (ROAS) aka profit.
Create Facebook automated rules that will dictate your ad campaign performance.
For example, high ad click through rates (CTR) determine how much it will cost to reach your audience.
Don't waste your budget on ads that do not demonstrate a high CTR. Set your limits.
My lower cost per click (CPC) rates seem to line up with ad CTR in the range of 7-15%. Lowest CPC doesn't always result in the highest ROAS but it helps. So, in advance I might set up an automated rule that pauses any ad that doesn't meet a certain ad CTR (say 5%) after a certain number of ad impressions (say 1000).
You could also set a rule to increase spending if you reach a specific ROAS that you desire.
Automated rules will quickly put the brakes on what isn't performing and thus wasting my budget. They can accelerate what is working well.
The options are near limitless. Facebook automated rules can save you time and money.
Set them up before you go live.
10. Start Slow (Spend Less At First)
Some of my employers and clients have pushed for big results right away.
This is difficult to accomplish while being financially responsible at the same time.
It is so easy to spend a tonne of money on advertising quickly and generate a lot of traffic. But is that a good thing? Probably not. Spend your budget on the right audience.
The goal is to get the most out of your advertising budget. The highest ROAS possible.
Only spend what is necessary to determine (statistically) if an ad campaign, ad set, or ad will be profitable or not.
Start slow, analyze the results in real time.
Prove that a campaign is profitable, then increase your spend. Scale up where and when it makes sense.
Pause unprofitable campaigns as soon as you can.
Conserve budget for future successes and better performance.
Break up your work into manageable chunks.
You might want to test out product by product as opposed to all your products at once.
Or, if you have only one product, consider testing each audience type one at a time or a couple at a time.
Maybe you want to start by testing out Saved Audiences (interest by interest) first, and move to working with Custom Audiences later.
You get the idea. My point is to be careful not to take on too much at once. It can lead to burning away your budget.
Acquire the data that you need to make good decisions. Be very calculated in your approach.
The more you think your overall Facebook advertising strategy in advance, the better. This is very true with the next two Facebook advertisings tips.
Bonus Facebook Advertising Tips
Bonus 1: Leverage Lookalike Audiences (Later On)
Once you know what campaigns and specific audiences are producing your best ROAS, then think about testing Lookalike Audiences.
A Facebook Lookalike Audience is a group of people that resembles your Custom Audiences and is assembled algorithmically.
If you have certain Custom Audiences that are very profitable try expanding on that success by creating Lookalike Audiences.
This is also a good option if you feel that you have exhausted your current Custom Audiences.
Bonus 2: Budget Allocation
There are 13 different Facebook advertising platforms that you can run your campaigns.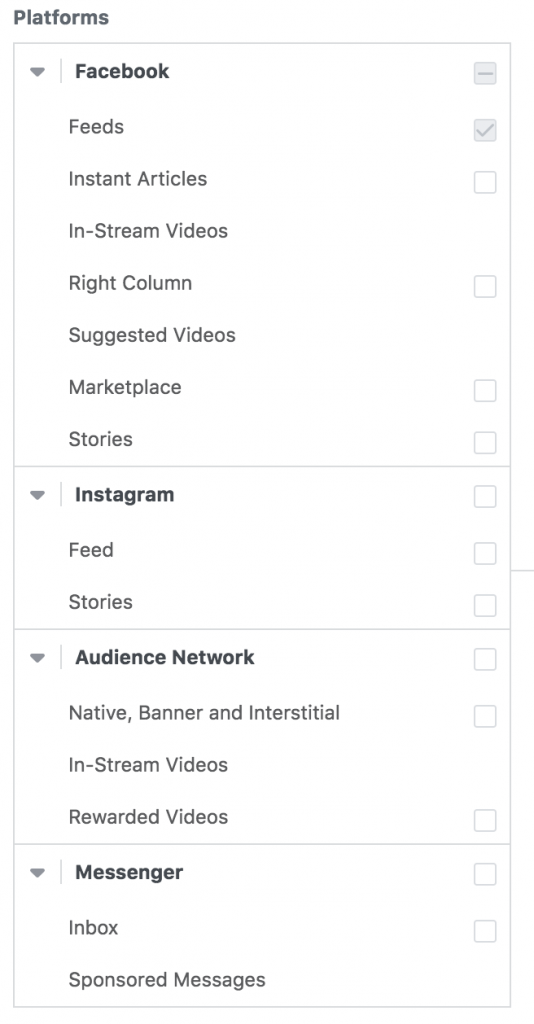 Not all Facebook platforms are equal.
Certain platforms will perform better than others. You must test and allocate your budget accordingly.
After spending million of dollars on thousands of campaigns for clients that Facebook Feeds is the best place to start spending your money. My experience has been that this platform drives the best performance.
However, Instagram is quickly becoming the go to advertising medium for e-commerce. In just 5 clicks a user can navigate from Instagram ad to your checkout page. ROAS could be stronger here than Facebook Feeds for e-commerce despite higher cost per click (CPC) traffic.
I am generally skeptical about all the other platforms. I've tested the Audience Network but the available ad inventory and traffic was low for my website niches.
Nevertheless, I do recommend testing the other platforms with a small percentage of your budget to verify if they can work or not.
Bonus 3: Campaign Optimization Techniques
Once you have set up your campaigns, the Facebook pixel, Google Analytics tracking, the next step is to optimize your campaigns once they are live.
Use the Facebook automated rules for budget conservation.
Next, use Facebook Analytics and Google Analytics to further optimize your campaigns and decide where to push your advertising budget.
Take money away from campaigns, ad sets and ads that perform poorly. Allocate funds to the highest ROAS.
Track as many events as you can.
Analyze your Facebook ad campaigns and optimize by:
Demographics (age, gender etc)
Interests and topics
Geographic location
Browser or OS
Device (mobile vs. desktop)
Platform (Facebook vs. Instagram)
Day of the week
Hour of day
Creative (images + copy)
Landing pages
There you have it, my top 10 (plus bonuses) Facebook advertising tips.
Bookmark and refer to this checklist as you create and optimize your Facebook advertising campaigns.
Each item will help to improve your campaign performance and increase your ROAS. Do quality work and you will win the Facebook advertising game!
If you want to learn how to implement these tips in greater detail check out my Facebook advertising course. The course gives you step by step instructions on how to launch and optimize high ROAS facebook ad campaigns.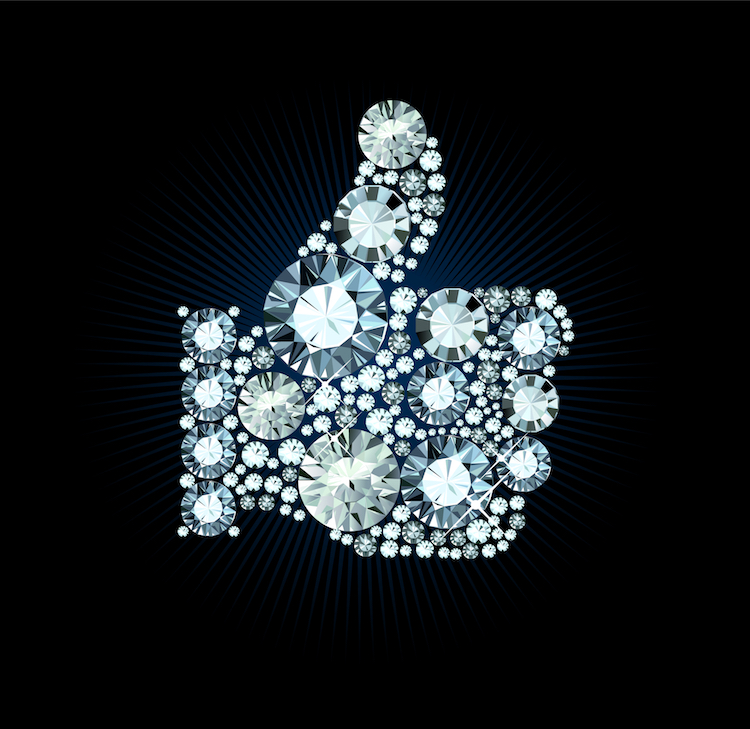 This post may contain affiliate links. Please read my disclosure for more info.