In this guide I take you through the process of setting up a WordPress website (aka blog) with your own hosting solution. My recommendations are to give you a high-performance setup to deliver fast page speed. This article shows you how to setup your WordPress website in an SEO positive way.
Installing WordPress on your own server is critical to your success for many reasons.
These are a few of the most important:
100% control over your content and technology
Privacy
More advanced SEO options
Better website functionality
Page speed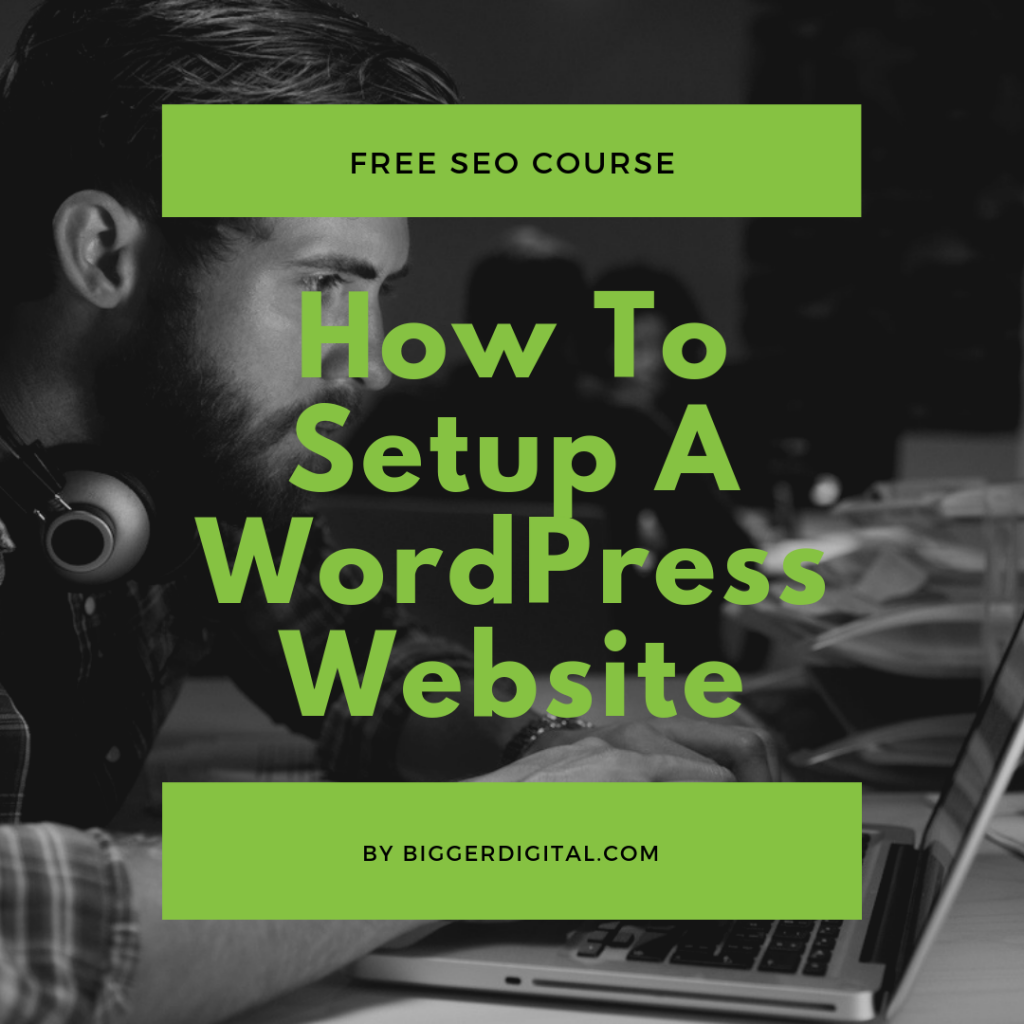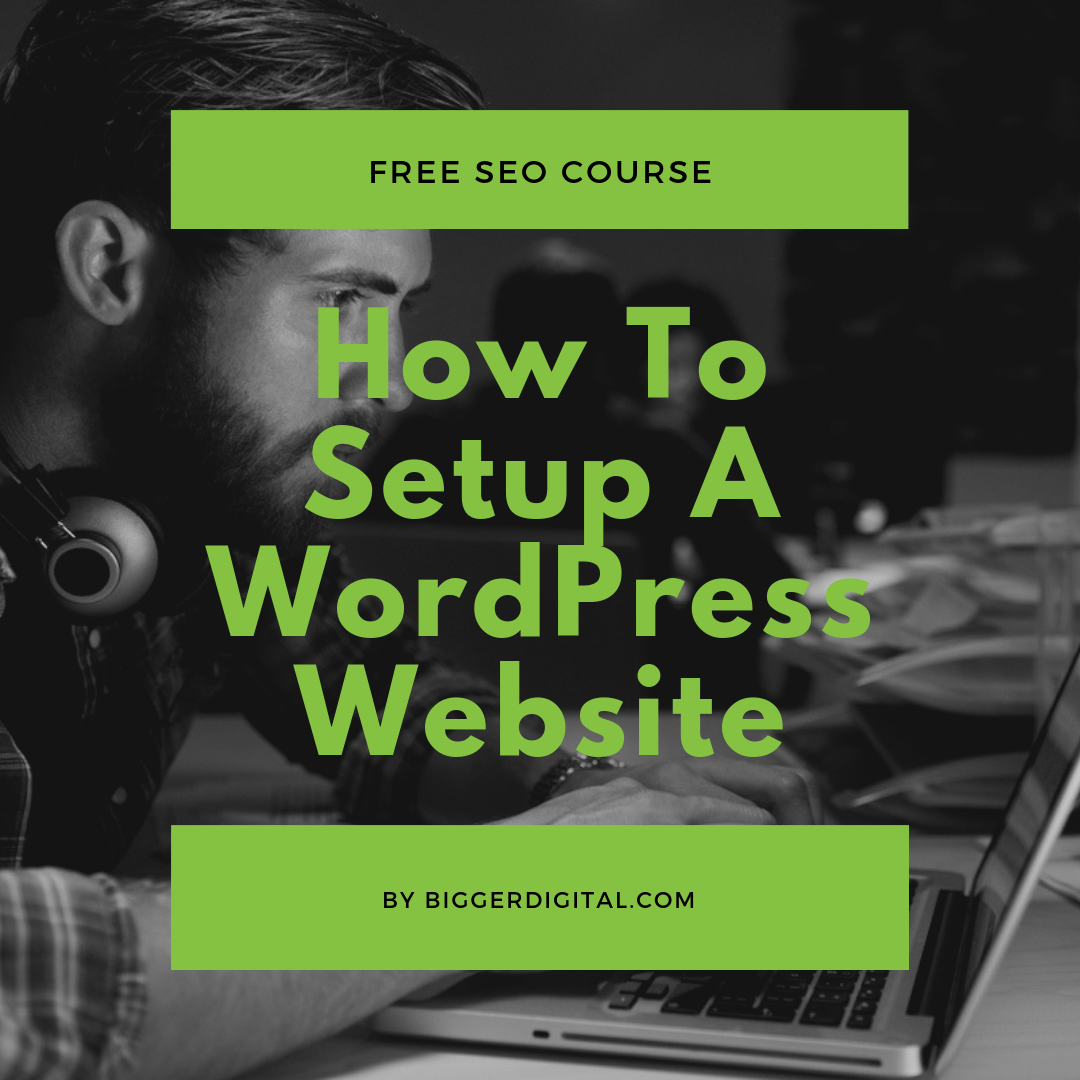 How Much Does It Cost To Build A WordPress Website?
You can run a WordPress website (and business) for as little as $200/month and no more than $300/month depending on the choices you make.
Let's take a look at some basic setup costs. These are your hosting options, WordPress themes, WordPress plugins and essential tools that I use all the time.
Keep in mind these are all business expenses and thus tax deductions. They will reduce your taxable income. That means more money in your pocket just for using super helpful tools and technology. So great.
Web Hosting Options:
You could get super cheap $3.95/month shared hosting at Bluehost but I don't recommend it. You will outgrow this cheap hosting quickly. I know from experience that you can't run a high traffic website with these hosting packages.
From cheapest to most expensive this is what I would recommend.
If you are really serious about starting a successful blog or online business and want quality hosting and service, I highly recommend Liquid Web. If that is out of your budget try WP Engine and leverage their top Studiopress WordPress themes for no cost. Bluehost should be your last choice if you absolutely can't afford the other options.
WordPress Theme:
Yoast SEO Premium
The premium version of this popular plugin is $89 for one site
This upgrade is worth it for just the internal linking suggestions
SEMRUSH Keyword Research Tool:
This tool is mandatory if you want to grow your organic search traffic
Tailwind:
A tool that schedules and posts content to Pinterest and Instagram
Website Security / HTTPS / CDN:
WordPress out of the box is vulnerable to attacks by hackers.
I invest in the best security for my websites. Why? My web properties fund my life. If I lose my websites, I lose my income and my freedom.
The two most popular choices are Cloudflare and Sucuri.
Both work as a CDN (content delivery network) and offer some site security.
Additionally, they both make it easy to convert your site to HTTPS from HTTP.
Sucuri is my first choice because it offers the best security for WordPress websites. I pay for the Pro Plan because it offers a dedicated SSL certificate and they will set it all up for you. Sucuri Pro costs $299.99 per year ($24.99/month).
Sumo:

A fantastic tool for social sharing and capturing email addresses
Start using the tool for free until you reach 200 email subscribers
So there you have it, a quick understanding of the costs to setting up your WordPress website.
Let's move on and cover the essential steps to creating and building a website using WordPress.
How Do I Create A New WordPress Site? (Step-By-Step Guide)
1) Get A Gmail
First, get a new gmail address to use during my free SEO course.
Use it to register and sign-in to all Google products:
Google Analytics
Google Search Console
Google Adsense
Google Adwords
Google My Business
You can also use it to:
Register your social media channels
Purchase digital products and subscriptions
2) Select Your Niche (Topic)
If you are just getting started you must select your niche or broad topic of interest.
What makes a good topic?
A passion, hobby, sport or leisure activity, or personal interest
Specialized knowledge that you possess or can acquire to easily establish yourself as an authority
Something popular that gets a lot of searches in Google (organic search traffic)
Audience discussion and interaction is high (performs well in social media)
Competitive density of advertisers is high (more ad dollars for you)
Has many relevant products and services (strong affiliate marketing or e-commerce potential)
3) Choose A Domain Name
A domain name is your web address.
For example biggerdigital.com is my domain.
Tips for choosing a good domain name:
Choose a .com domain
The shorter the better
Should be easy to say, spell and remember
Combine relevant and descriptive keywords (fishing) with good brand keywords (epic)
Go broad (epicfishingday.com) and not too specific (epictroutfishingday.com) so you can expand your content strategy over time
Avoid hyphens, numbers or obscure words
Avoid strings of multiple words
You can register your domain at Namecheap or Godaddy.com.
4) Secure Social Media Channels
Social media is a great source of traffic and should be leveraged.
Use your gmail to reserve your brand name (or the closest option) in these top social media channels:
Facebook
Instagram
Twitter
Pinterest
Youtube
Linkedin
Reddit
Snapchat
Tumblr
5) Hosting
Invest in the best quality hosting that you can afford.
If you are on a very strict budget go with Bluehost. This is the company that I used when I started and I found both the service and performance to be good. Bluehost offers super cheap hosting packages ($395/month) but I will tell you right now you can't grow a legit business with this type of package. I recommend going with their cloud hosting, WordPress hosting or VPS hosting package if you can afford it.
The absolute best budget option is WP Engine. This is a managed hosting solution and it starts at $35/month. If you sign up with WP Engine you get free access to all the Studiopress themes. I have tried all the most popular WordPress themes available and I only use and recommend Studiopress themes. They are better quality, better for SEO, and are more easily customized. Thus, WP Engine is the best option if you want to keep your costs down.
If you have a bigger budget, I recommend going with Liquid Web. After about 6 months (of Bluehost) I moved all my sites to a more expensive high performance dedicated server at Liquid Web. This transition felt like a breakthrough moment. I believe it demonstrated (to Google) that I was really serious about my business. Like an instant stamp of approval. This is the server company that I have used for over 5 years. The service is excellent. I am not a server guy and I don't want to waste my time learning that stuff. They do everything for me. I don't have to lift a finger. Easy.
These Liquid Web products will provide you outstanding power, speed, support, trustworthiness and reliability:
If you can't afford Liquid Web now do not worry. Bluehost can work in the short term, and WP Engine will work even longer for you.
I grew my first site to over 500,000 page views per month and then made the switch to Liquid Web. At that point I gave Liquid Web my Bluehost login and they moved everything over for me. So easy.
6) CDN + Security Considerations
One of the most important SEO ranking factors is page speed.
Super fast page load times are mandatory in 2018 and beyond because most (60+ percent) Google searches are done from mobile devices.
Implementing and configuring a CDN can reduce your page load time to under 1 second.
I recommend using either Cloudflare or Sucuri. Both will do the trick.
For performance optimization or speed they are pretty equal. Cloudflare offers more CDN configuration options. Sucuri does not let you control their CDN service. It is simply on all the time. I asked Sucuri about complementing their service with an affordable ($10/month) CDN such as StackPath and they told me it would not impact page load time in a significant way vs. using Sucuri on it's own. I may test that in the near future just to see because I love fast load times.
Sucuri offers better security for the starter plans. Their support is way better too.
The annual cost is about the same. Sucuri starts at $199.99/year. Cloudflare Pro costs $240 for its comparable product.

7) Use/Install WordPress
Early in my digital marketing career I had so many ideas for web projects. But I didn't have the means to implement them. Learning to code from scratch wasn't an option at the time. And it was too expensive to hire someone to do the work for me. These were serious barriers to starting out.
Then WordPress came along and everything changed.
Top reasons to use WordPress:
It's free
Quick setup
Easy to learn/use
The best option for SEO implementation
A tonne of free and premium plugins for extra functionality
WordPress installation is easy and can be done with the push of a button from the control panel of your server
If you get a managed WordPress hosting plan from Liquid Web or choose WP Engine they'll do it for you. Super easy.
If you go with Bluehost installing WordPress is pretty straight forward.
8) The Best WordPress Themes
I have tried many WordPress themes over the years.
My top pick and only recommendation are Studiopress themes.
They perform the best and are the most bug-free in my experience.
Reasons to go with Studiopress:
Fast loading
Rock solid security
Simple to setup and use
Advanced SEO features
Easy to customize
Fantastic support
You can buy a single theme for $59.95 and up.
Or get their Pro Plus All-Theme Package for $499.95. This is what I did and I have zero regrets. It includes all new themes that they release in the future.
9) General WordPress Settings
After you have installed WordPress on your server there are some settings to take care of right away.
1) Navigate to General Settings. Change My Blog to the name of your Site, delete the Tagline, delete the www. from your WordPress Address and Site Address URL's (shorter is better), scroll down and change to your timezone and then click save changes.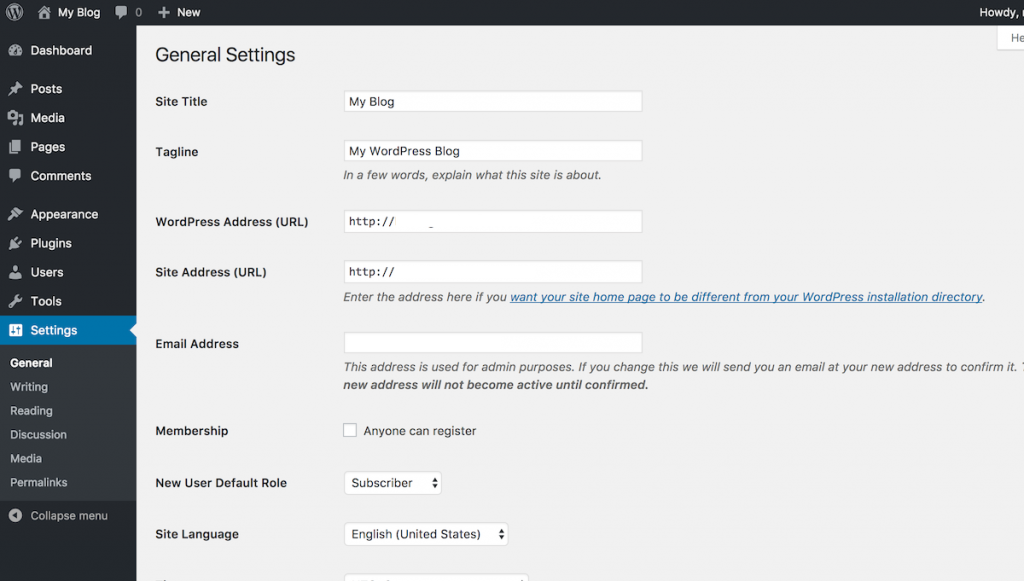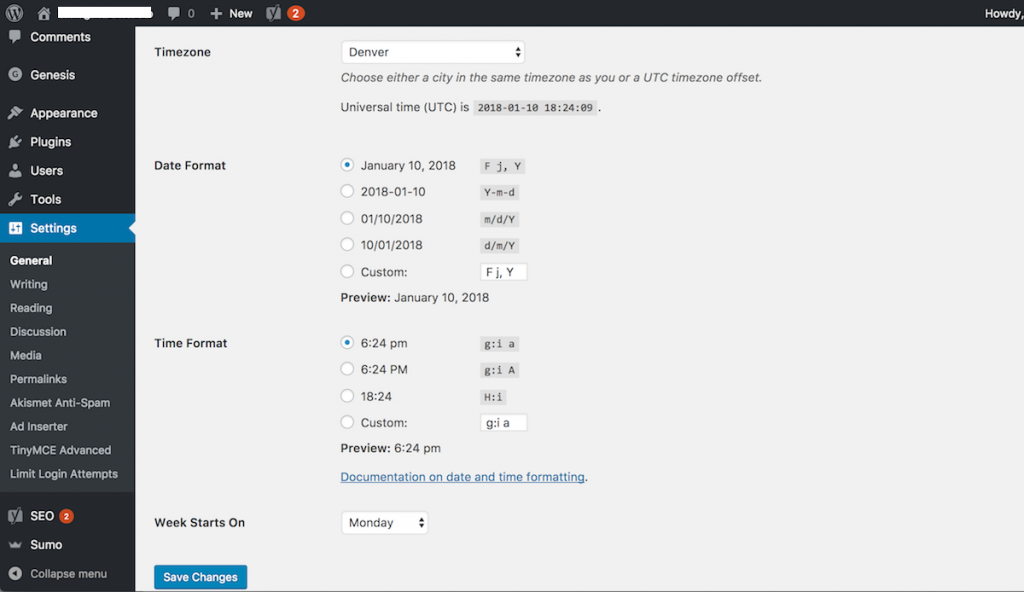 2) Next navigate to Reading Settings. Change to show 10 blog posts and 10 items in your syndication feeds. Click on Summary under "For each article in a feed, show. Click save changes.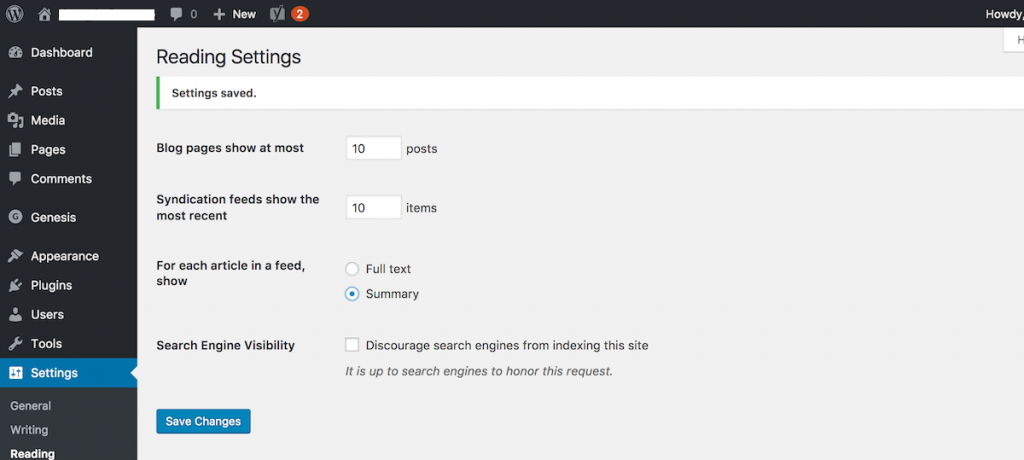 3) Navigate to All Posts. There you will see a sample post called Hello world!. Click Trash. Then click Delete Permanently.

4) Navigate to All Pages. There you will see a sample page called Sample Page. Click Trash. Then click Delete Permanently.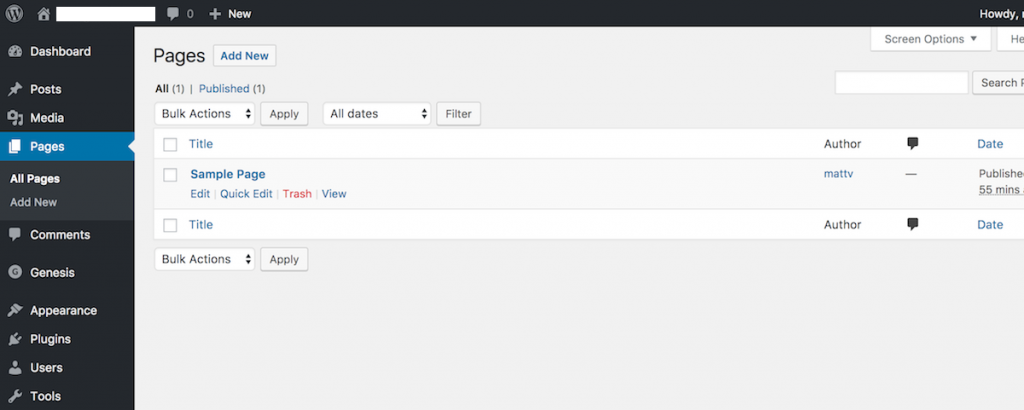 5) Go to Permalink Settings. Click on Post name. Click Save Changes.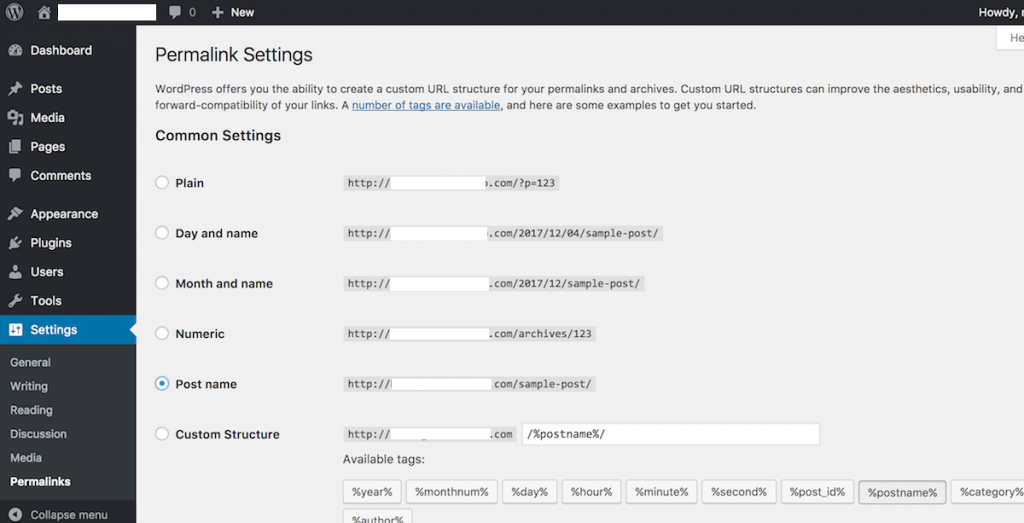 6) Navigate to Widgets. Click the down arrow for the Primary Sidebar. Click the down arrow for each widget you see and then click Delete. You won't need to setup you Widgets until you have created content.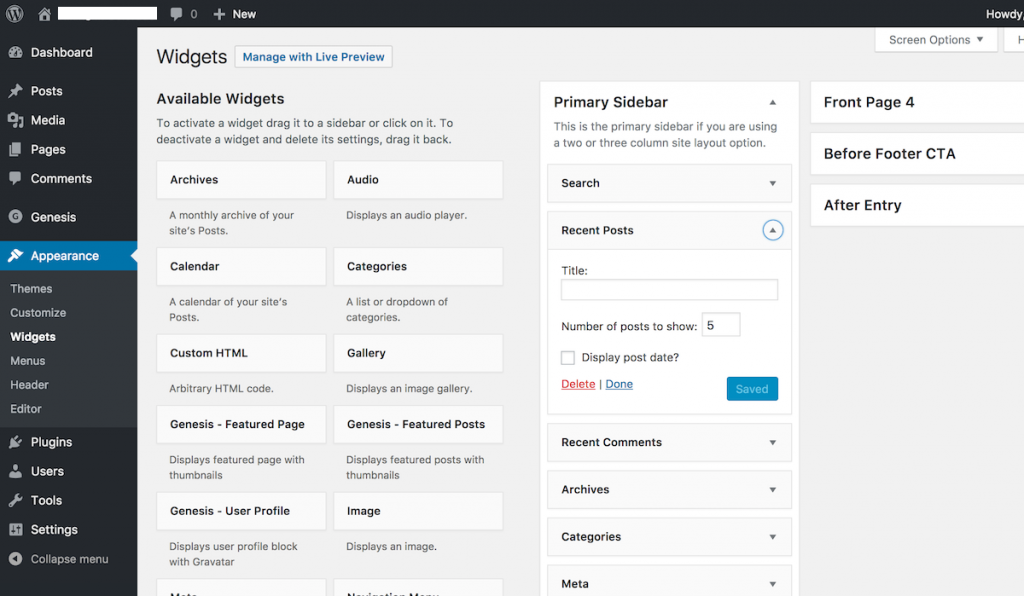 10) The Best WordPress Plugins
Plugins give your site extra functionality and features.
Some are free to use and some are premium (paid).
Avoid using free plugins that are not widely used. They can be a security vulnerability.
Free WordPress Plugins:
Premium WordPress Plugins:
Studiopress WordPress Plugins:

To search for new WordPress plugins and install them go to your Dashboard and select Plugins -> Add New.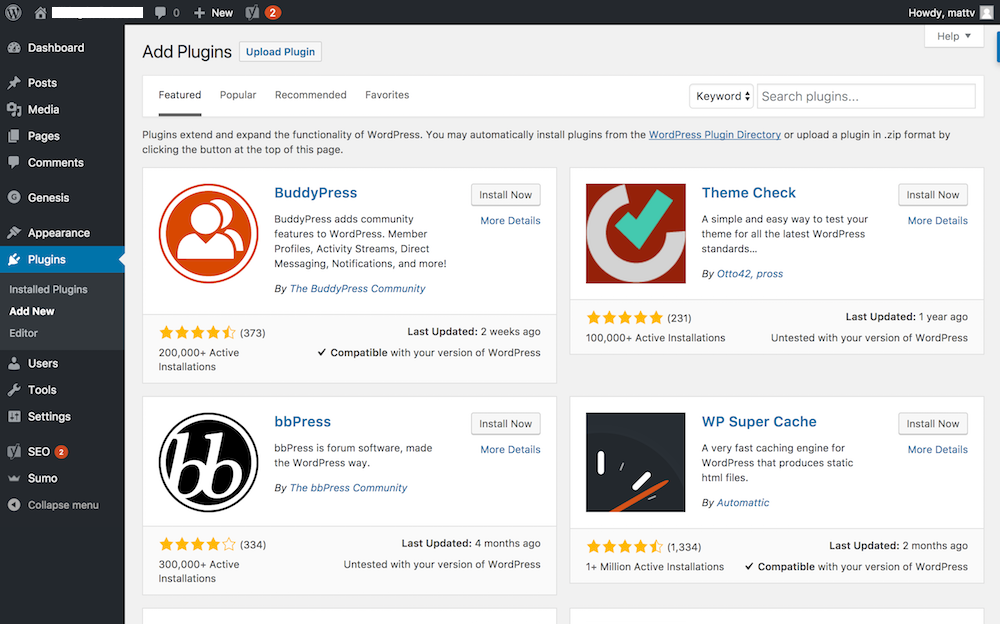 11) Yoast SEO Plugin Settings
After you install the Yoast SEO plugin make sure to cover these initial settings right away.
1) Click the Features tab of the Yoast SEO Dashboard. Select Enabled for Advanced settings pages and click Save changes.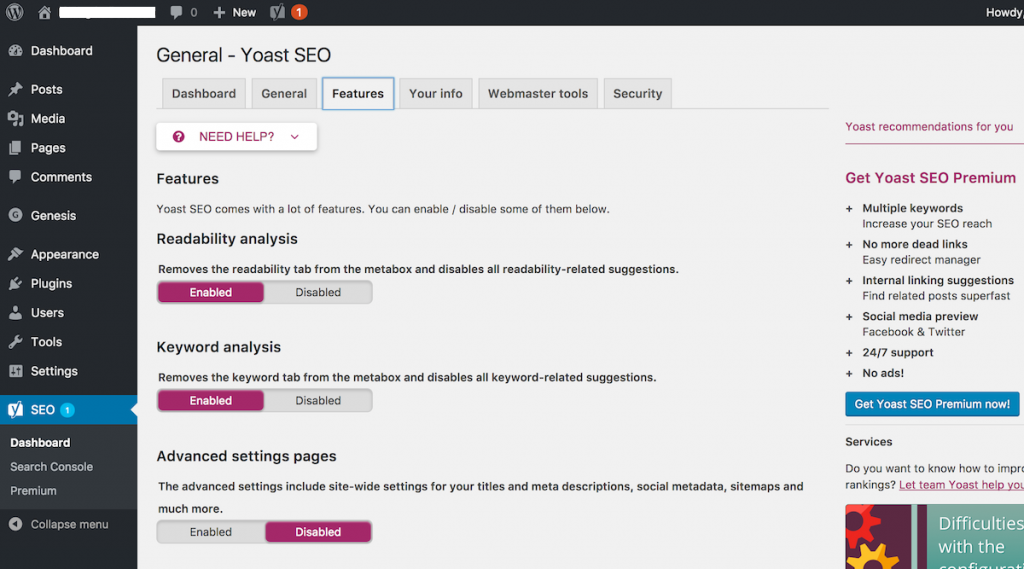 2) Under Titles & Metas select the Homepage tab and enter your Homepage Title and Meta description. Click Save changes.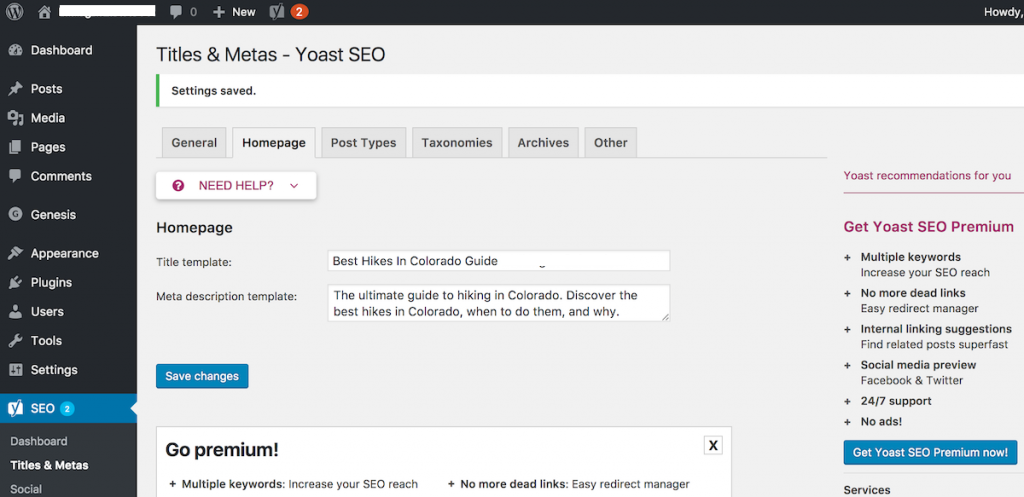 3) Select the Post Types tab.
For Posts, Pages and Media I delete everything but %%title%%. This will automatically enter your article headlines as the SEO Title in the Yoast settings.
If you think that you will use pagination on articles you could keep %%page%%. I do not.
The %%sep%% %%sitename%% part simply adds – Your Site Name to the end of your SEO Titles. I do not add my site name or domain name to my SEO Titles (title tags) because I think they dilute their power.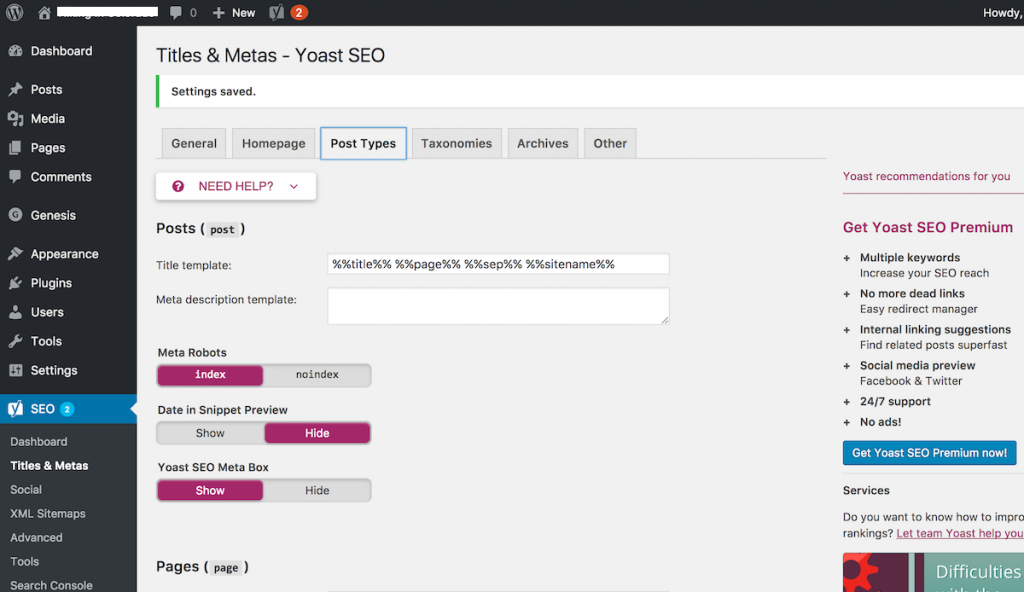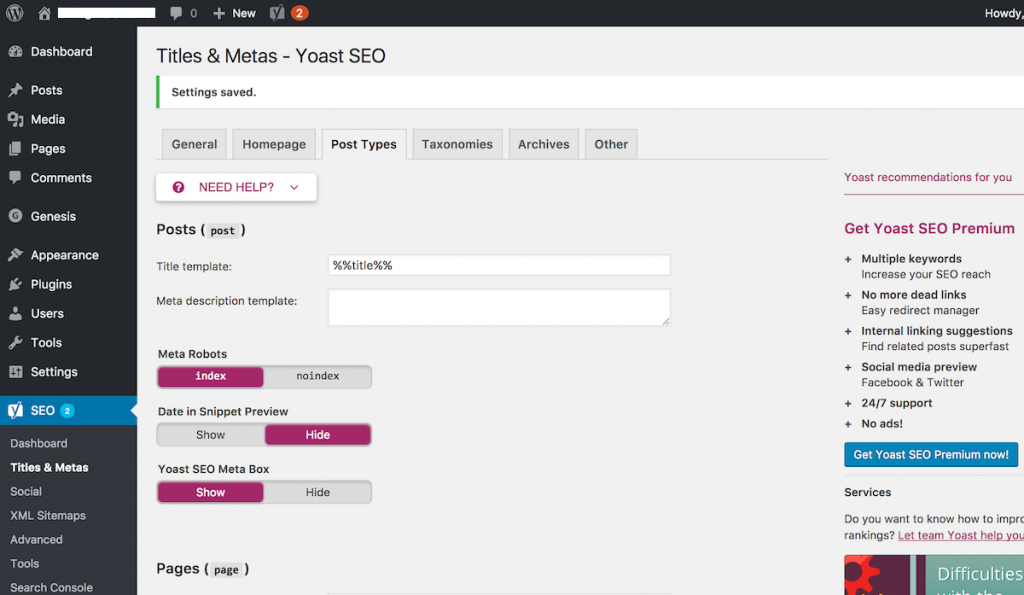 4) Select the Taxonomies tab.
For Categories and Tags I recommend to delete everything but %%term_title%% Archives %%page%% for the same reasons mentioned in the last step. Click Save changes.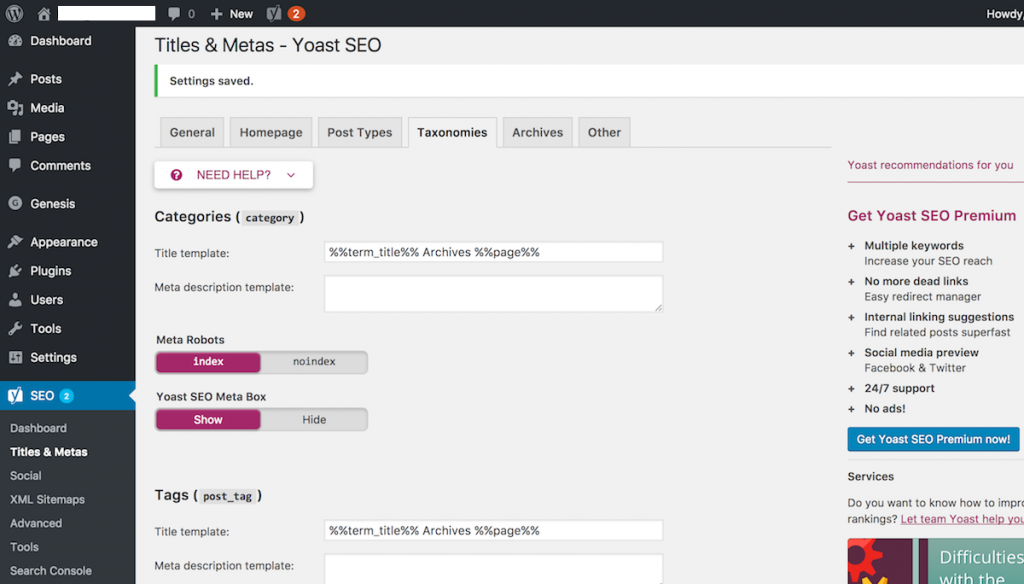 5) Select the Archives tab.
Change Author archives and Date archives to Disabled. Click Save changes. This will prevent duplicate content showing on your site. If you have several authors working on your website you could keep the Author archives enabled. However, I would recommend blocking search engines from indexing these pages with your robots.txt file.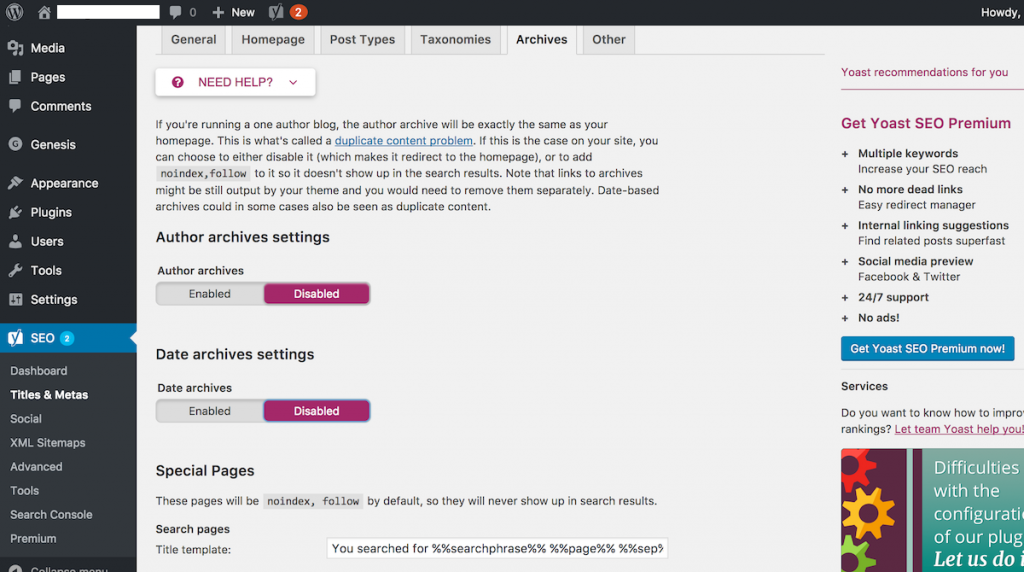 6) Select the Other tab. For subpages of archives, change to noindex. Disable meta keywords tag. It does not influence your search engine rankings. Click Save changes.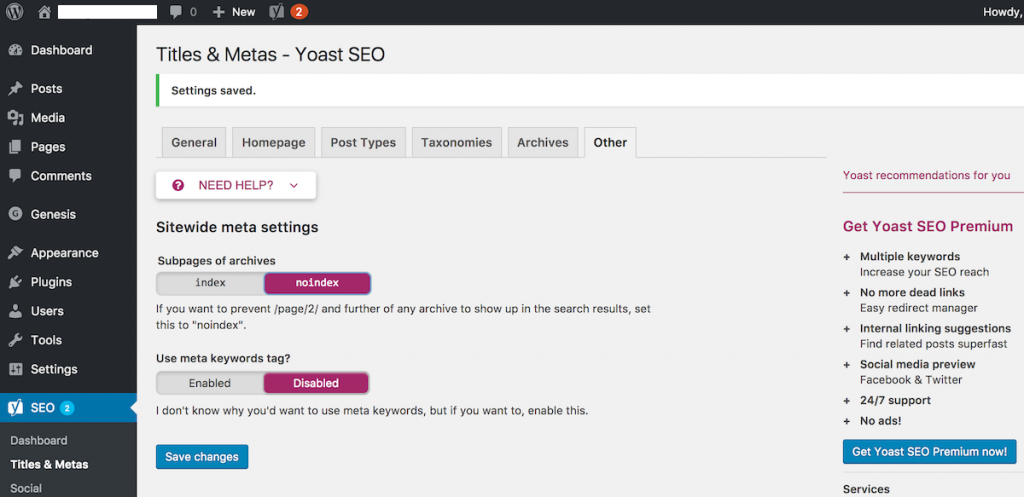 7) Go to XML Sitemaps. Select Enabled and Save changes. The URL is yoursite.com/sitemap_index.xml and you can submit your XML sitemap in Google Search Console.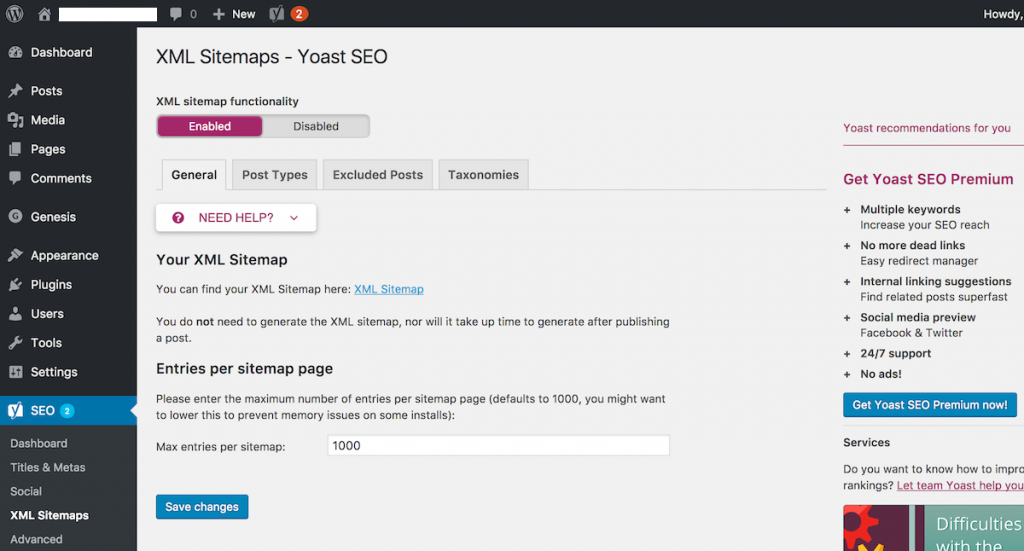 8) Navigate to Advanced and select the Permalinks tab. Use the settings you see below and Save changes. The important one is to strip the category base (usually /category/) from the category URL. Shorter URLs are best.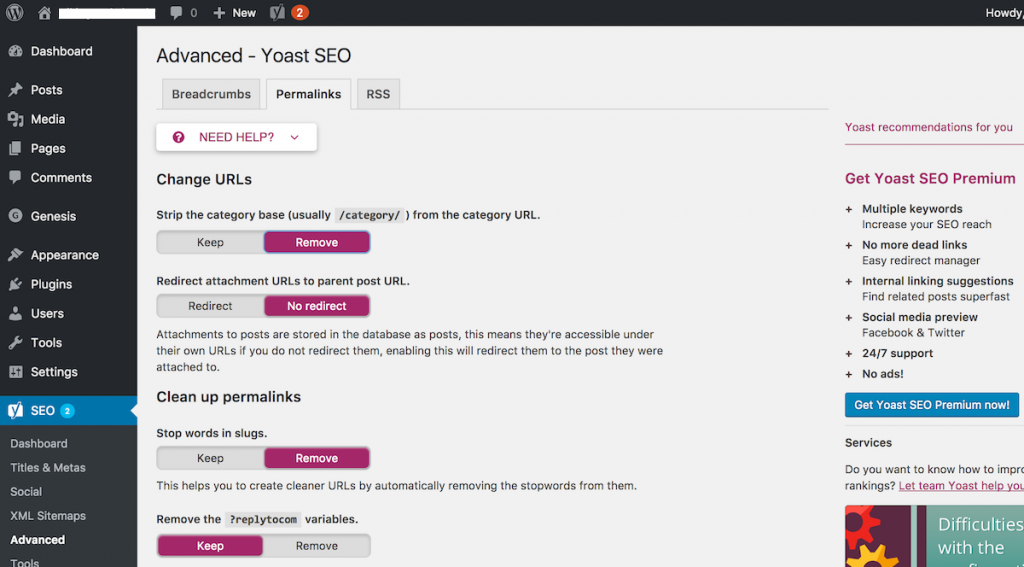 Your basic Yoast SEO plugin settings are complete. We will discuss this plugin further in the SEO Section of the course.
12) Google Analytics
Web analytics is massively important and will guide you to success.
Setup Google Analytics immediately.
Follow these steps:
1) Click Sign up, and use your gmail address.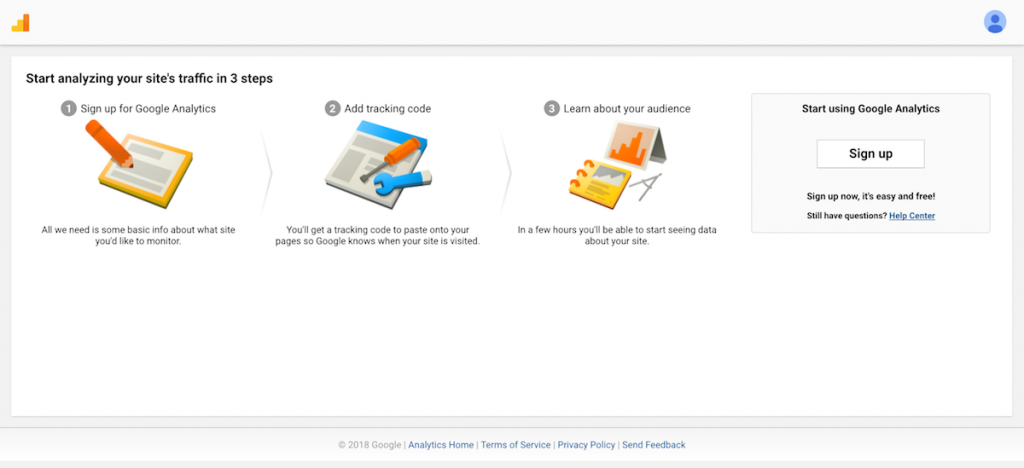 2) Enter Account Name (I use my business name), Website Name, and the Website URL (specify HTTP vs. HTTPS), and your time zone.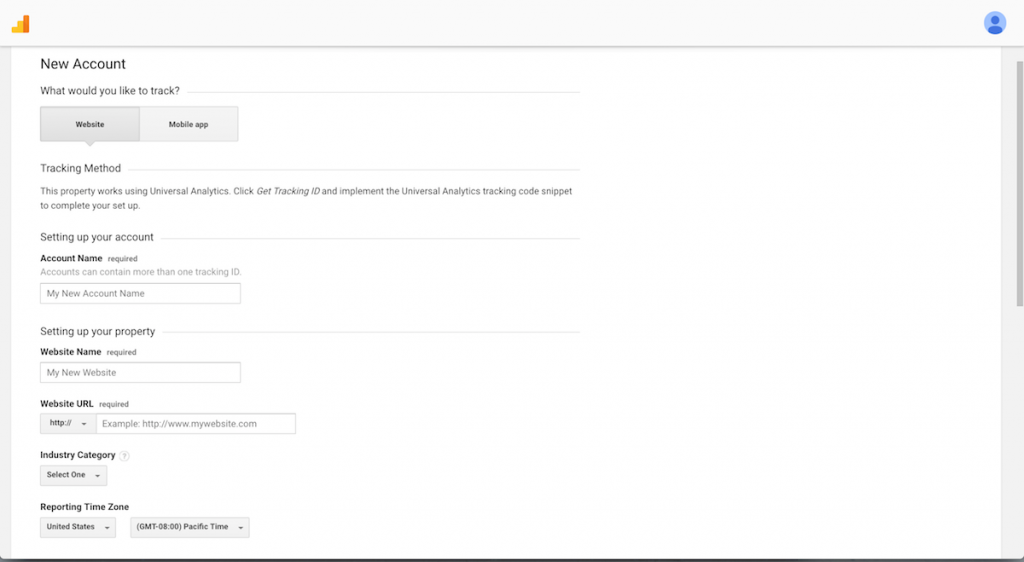 3) Click Get Tracking ID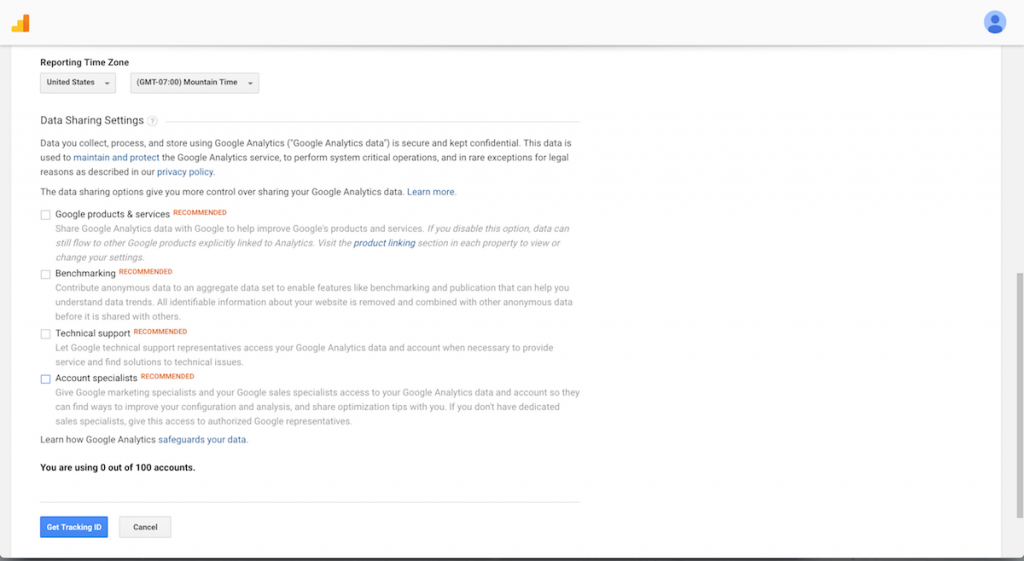 4) Click I Accept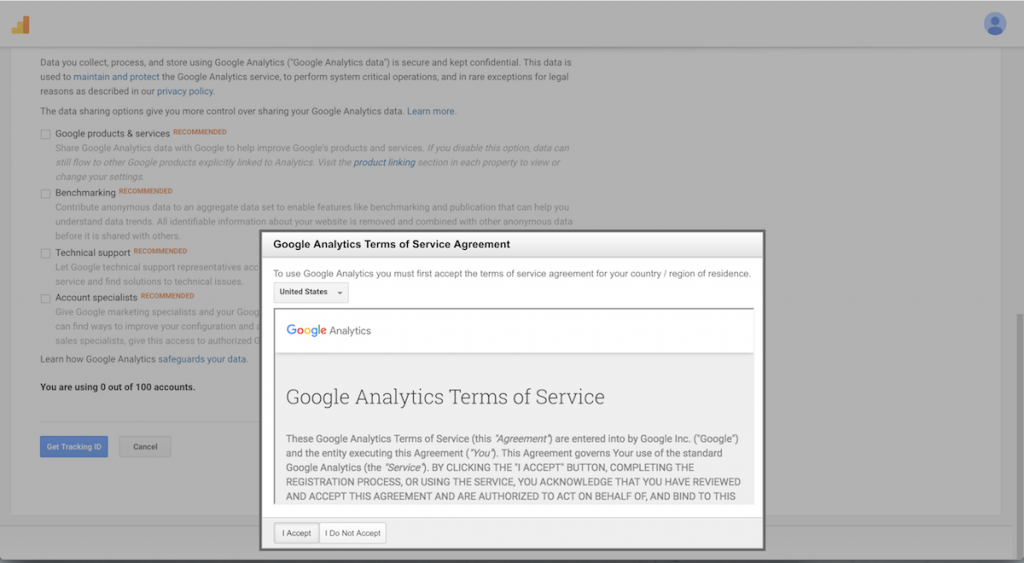 5) Copy the Google Analytics Javascript tag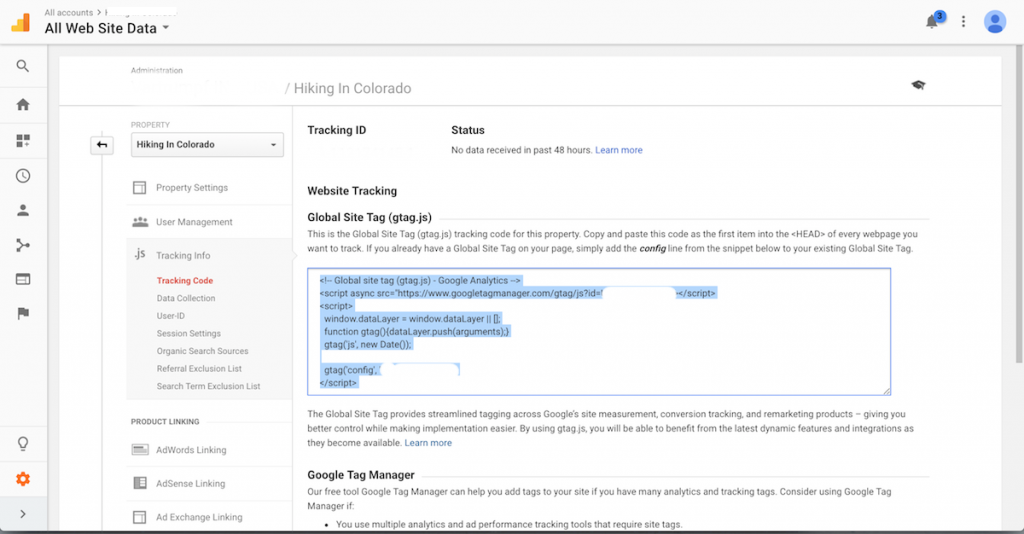 6) Paste the Google Analytics Javascript tag into Header Scripts section of your Studiopress Genesis Theme Settings.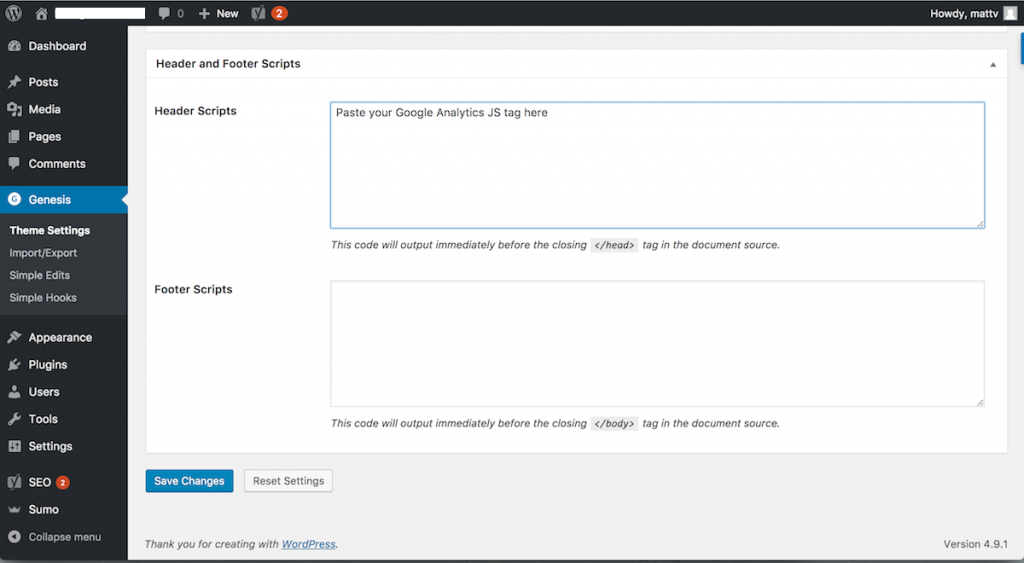 That's it, you are all set up with Google Analytics.
13) Google Search Console
Google Search Console helps you monitor your website in Google Search results.
Why use Search Console?
Track and analyze your performance in Google Search
Review external and internal links
Set International targeting
Check mobile usability
Request indexing of new content
Remove content you don't want shown in search results
Submit XML sitemap
Monitor missing or duplicate title tags and meta descriptions
Add Your Web Property
For this example I used my domain hikingincolorado.com. Make sure to use your own and specify whether you are using www or not, and http vs. https.
1) Go to Search Console, enter your web address and click add a property.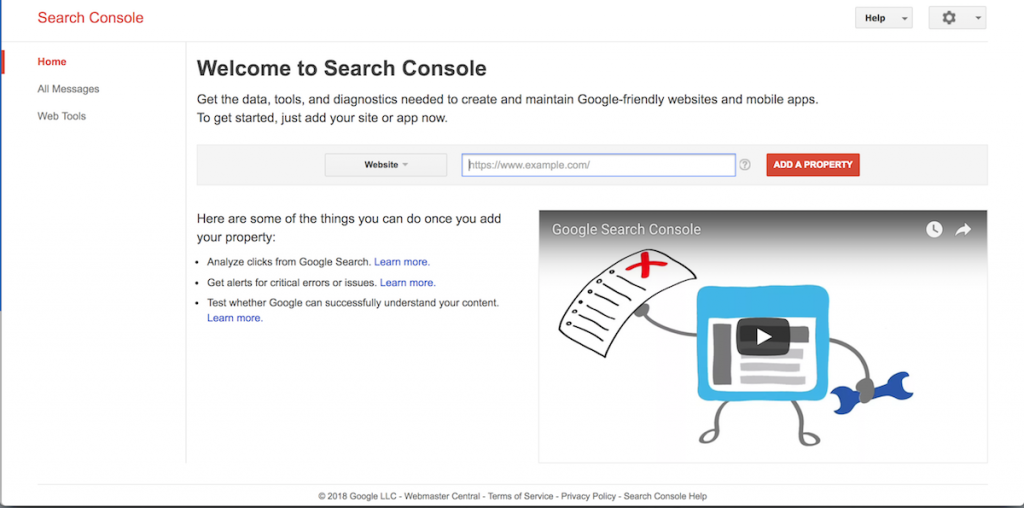 2) Download the HTML verification file. Upload this file to the public_html folder at the root of your server using an FTP solution such as FileZilla. Select I'm not a robot, answer the recaptcha question, and click verify.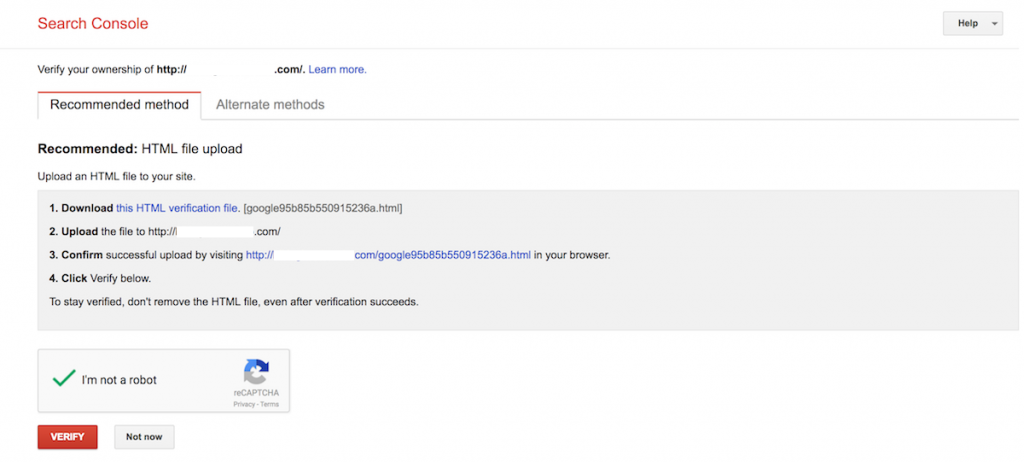 Click continue.

3) Navigate to Sitemaps and submit your XML sitemap. If you are using the Yoast SEO plugin enter sitemap_index.xml here.

4) Navigate to International Targeting and select your target country. This should be the country that you think will generate the most traffic and sales for your business. This is your primary audience. Click save.

Link Search Console to Google Analytics
1) Open Google Analytics and go to the Admin Section. Click on All Products.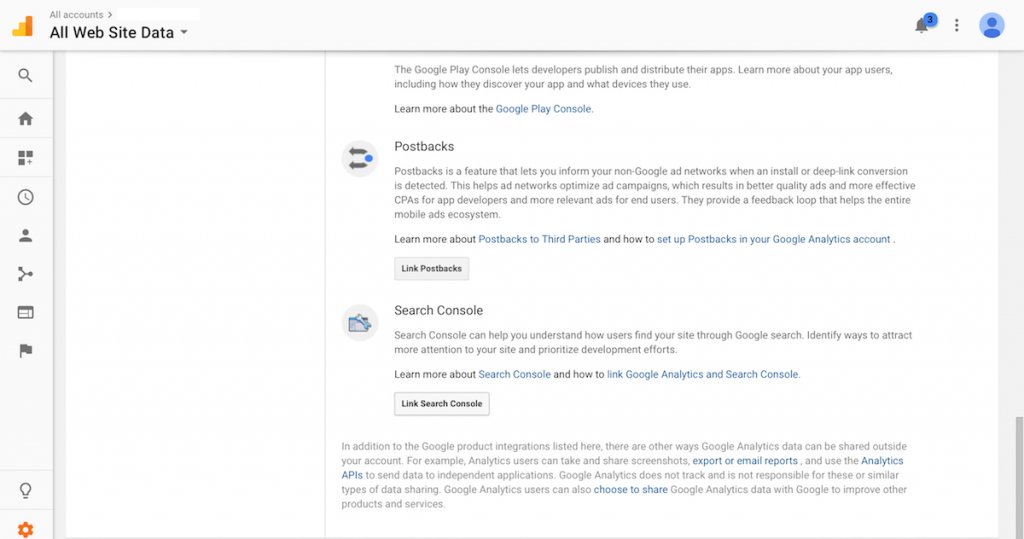 2) Scroll down and click on Link Search Console.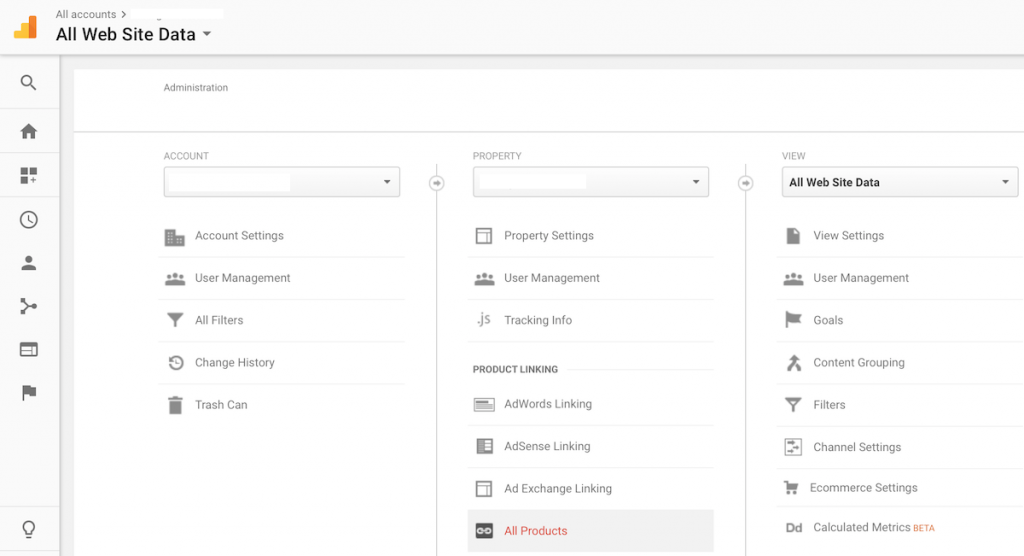 3) Click Add.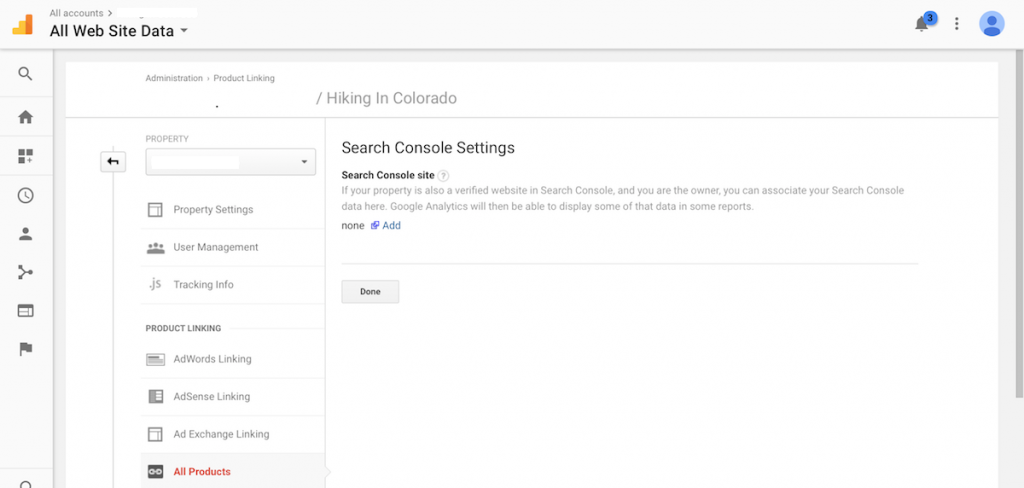 4) Select your site and click Save.

That's it, you are all set up with Search Console.
Analyze the data and review the reports. More on this later.
14) Google My Business
If you have a physical location register Google My Business.
It is a free business listing and will increase your visibility in Google Search and Google Maps.
When people do a local search of your business name, your competitors, or the general business category that you operate in your listing will show up.
Key Benefits:
Enhances your organic listing in Google Search
Your business will show up on Google Maps
Post updates and information about your business
Show your hours of operation and contact information
Link to your website
Monitor and engage with your customer reviews
15) Create Content
Later, in this free SEO course I will go deeper on the subject of content creation and promotion.
For now, let's keep things simple.
To gain maximum (SEO) impact:
Do your keyword research before you do anything
Articles should be complete

Cover the entire topic
Provide answers to questions
Give a solution to a problem

Write your first 20+ articles before you publish anything
Keep your WordPress categories to a minimum (at first)

A category should have 5+ articles

Avoid using tags (they really are not necessary)
Optimize your images (resize and compress)
Use the Yoast SEO plugin

Fill out unique and descriptive SEO titles and meta descriptions
So, now you know how to set up and build your own WordPress website or blog.
Easy right?
This post may contain affiliate links. Please read my disclosure for more info.