On-page SEO is easy to implement and very effective. Refer to this on-page SEO checklist each time you create a new piece of content and your organic search traffic will increase quickly.
I have done a tonne of SEO audits for very well known brands and businesses over the years.
Almost every time the situation is exactly the same. Very little or no SEO implementation is being done.
Many people find SEO confusing if not outright intimidating. This should not be the case.
Let's cover the on-page SEO basics and make SEO implementation easy.
Bookmark this page now and refer back to it as needed!
What Is On-Page SEO?
On-page SEO is essentially content optimization and organization.
Your goal is to provide the right answers and the best information in the right format for both Google and your audience.
These are the most important on-page SEO factors that will influence your rankings in organic search.
1. Article Headlines
Article headlines influence your organic search rankings in a number of ways.
In WordPress, headlines automatically create your SEO title (Title tag) and your page URL.
If you write amazing headlines you will also have great SEO titles or title tags.
Keep in mind that you may have to modify your auto-generated URL to keep it short.
Make sure your target keyword is in the beginning of your headline.
Avoid creating long headlines if you can.
2. Title tag aka SEO title
Your title tag is perhaps the most important on-page SEO factor.
In WordPress this is the SEO title.
Start your title tag with your focus keyword.
The closer the keyword is to the beginning of the title tag the better.
Use modifiers in your article title such as "best", "2019", "new", "guide", "review", "cool" to increase traffic and click-through rates.
Make sure that your pages have unique title tags that target different keywords or topics.
Match up each title tag and article (page) to a main topic you can write about.
3. Meta description
The meta description can help increase organic search click-through rates.
Use important keywords in your meta description. If searched they will get bolded and draw attention.
Write a brief statement up to 150 characters long about your article. Consider including a call to action or using a question to draw attention.
4. Use SEO-friendly URLs
URLs can influence your rankings in a huge way.
Make your URLs as short as possible
Use descriptive (topic specific) keywords.
Use your focus keyword in the URL as soon as possible just like the title tag.
The URL for this article is biggerdigital.com/on-page-seo and is short and sweet.
5. Use H1/H2/H3/H4 (Heading Tags)
Organize the content of your articles by using these heading formats.
Wrap your article title or headline in H1 tags. Most WordPress themes do this automatically.
Use heading 2/3/4 (H2/H3/H4 tags) in your article body.
My observation is that using H1/H2/H3 tags improves readability.
Articles that have a good readability score (Yoast plugin) perform much better in Google. Do not hit publish until you see a green score.
Organizing your content using these headings will increase your chances of being included in featured snippets located above the regular organic listings.
6. Use bulleted and numbered lists
I discovered last year that many of my articles that contained either bulleted or numbered lists were being indexed in featured snippets and on page one.
7. Be Concise
Short sentences and short paragraphs improve readability. Avoid long run-on sentences.
8. Use your focus keyword sooner than later
Use the focus keyword in the first paragraph and first 100 words to your article.
9. Use responsive design (think mobile first)
Make sure that your website looks great and is easy to use on all devices.
Today, most traffic is on mobile devices (phones) so make sure you have a great user experience (UX).
10. Use outbound links
Point your audience to other relevant, complementary or useful resources in your content.
Pages with outbound links perform better. Associate your content with other trustworthy sites.
11. Use internal links
Help your audience find additional and relevant content on your website.
Use keywords in the anchor text of these onsite links.
Try to use 2-3 internal links per article.
In-article text links will improve your on-page SEO and increase engagement statistics such as visit duration and pages viewed per visit.
12. Increase your page speed
Faster page speed and load times are important. Fast loading pages are a good user experience. A fast website will also increase your conversions.
Get the best quality hosting package that you can afford. If your budget is small go with Bluehost and if you have a bigger budget go with Liquid Web. Both are great options.
Use a caching plugin like WP Rocket.
Use a content delivery network (CDN) such as Cloudflare.
Compress and resize your images.
Use GTmetrix and Google Page Speed to optimize your site speed.
13. Use LSI keywords in your content
Avoid repeating your focus keywords over and over again.
Articles should read naturally like a conversation sounds and flows.
Use synonyms to your focus keywords.
Use other words that are commonly used in conjunction to your focus keywords and that are on topic.
14. Image optimization
Keep your page size small by compressing and optimizing your images.
This is very important if your content is image heavy. Use a WordPress plugin like WP Smush.
Use descriptive keywords in the alt attribute and file name of your images.
15. Use all types of media
Make your pages more interesting and engaging by using quality images and videos to complement and break up your article text.
This will help increase visit duration (time on site) which will positively influence your rankings.
16. Add prominent social sharing buttons
Social signals will improve your organic search rankings and increase your traffic.
Make it easy for people to share your content.
More exposure should also generate more inbound links. This will also boost your rankings.
17. Write long articles
I know the Yoast SEO plugin says the recommended minimum is 300 words but I don't think this is good enough. Aim for a minimum of at least 1000 words per article.
Create longer posts (2000+ words) if you can.
In my opinion writing in-depth articles that cover the entire subject has huge benefits for the reader (a solution aka true value) and for the writer or site owner (traffic).
I only create long articles for my men's blog. I have over 25 pages that trigger more than 1000 search queries each. One of my articles triggers searches for 4,268 keywords! This is how you pull in big traffic and get ranked number one.
Longer articles with that explore more topics and use more keyword phrases rank higher and perform better in Google. This is a fact.
Try to completely saturate a topic in one article if you can. Explore all relevant sub-topics to your main topic. You want to provide a complete picture to your audience.
18. Increase Engagement
Your goal should be to create content that people find interesting.
Minimize your bounce rate. Increase average session duration and pages viewed per session.
Keep track of these numbers with Google Analytics and make improvements.
19. Customize your snippet preview
Google uses your WordPress SEO title and meta description to create listings in the search results.
Customize these elements using the Yoast plugin for WordPress.
Use your focus keyword in the SEO title and the meta description.
Use compelling language to increase click-through rates (CTR) on your organic listings.
Higher CTR leads to higher rankings.
Here is the snippet preview provided by the Yoast SEO plugin for this actual article. It includes my SEO title (title tag), the slug (page URL), and my meta description. Anyone can look this up if you view the source code.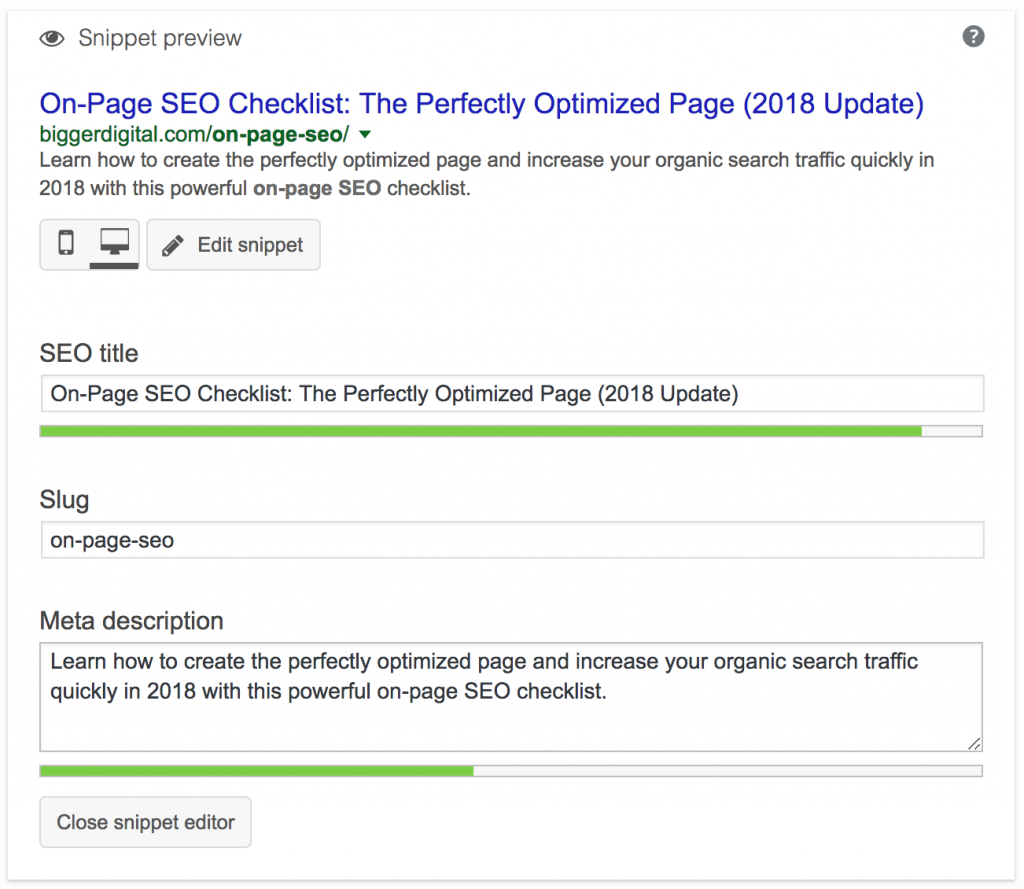 20. Expose all of your content
Do not hide all the amazing articles that you create. Make your site architecture flat.
Display your recent posts, your most popular posts, and related posts on each page. Make your articles easy to find and read.
Use widgets (WordPress) to display more content after articles or in your sidebar.
You can also use Google Adsense "matched content" ads to promote other relevant articles on your site.
21. Avoid duplicate content
Make each of your articles unique. Don't duplicate content and your effort.
Do your keyword research. Make a list of topics. Create one and only one article for each topic.
22. Create "complete" articles
Provide a complete picture on the topic of your articles. Address all relevant or related sub-topics.
Answer all possible questions a user might have on the topic at hand.
Examining all possible angles of a topic is going to improve the user experience and increase engagement.
Aim to increase the number of keywords (relevant) that bring users to your website with each article that you produce.
Be thorough, do more keyword research, and create complete content.
Do a complete job and get rewarded quickly.
Throughout 2017 you can see tremendous growth that I achieved with one of my web properties.
This growth was driven by intense keyword research, improved content optimization aka on-page SEO, and launching a new batch of about 75 articles that were all 1000-2000+ words in length.

You can see below that the number of keywords in the top 3 ranking (yellow) increased.


So there you have it! A simple and super powerful on-page SEO checklist.
Before you hit publish double check that you have satisfied each item on the list.
Improve your content over time, increase your exposure in Google, and grow your audience!
Want to learn more about search engine optimization?
Check out my "Ultimate SEO Checklist )" article.
This post may contain affiliate links. Please read my disclosure for more info.