This is the final section of this free SEO course.
Content that is never found is useless.
The job is not complete after you hit publish.
The next step is to promote the hell out of it.
Get your valuable content in front of eyeballs and shared as much as possible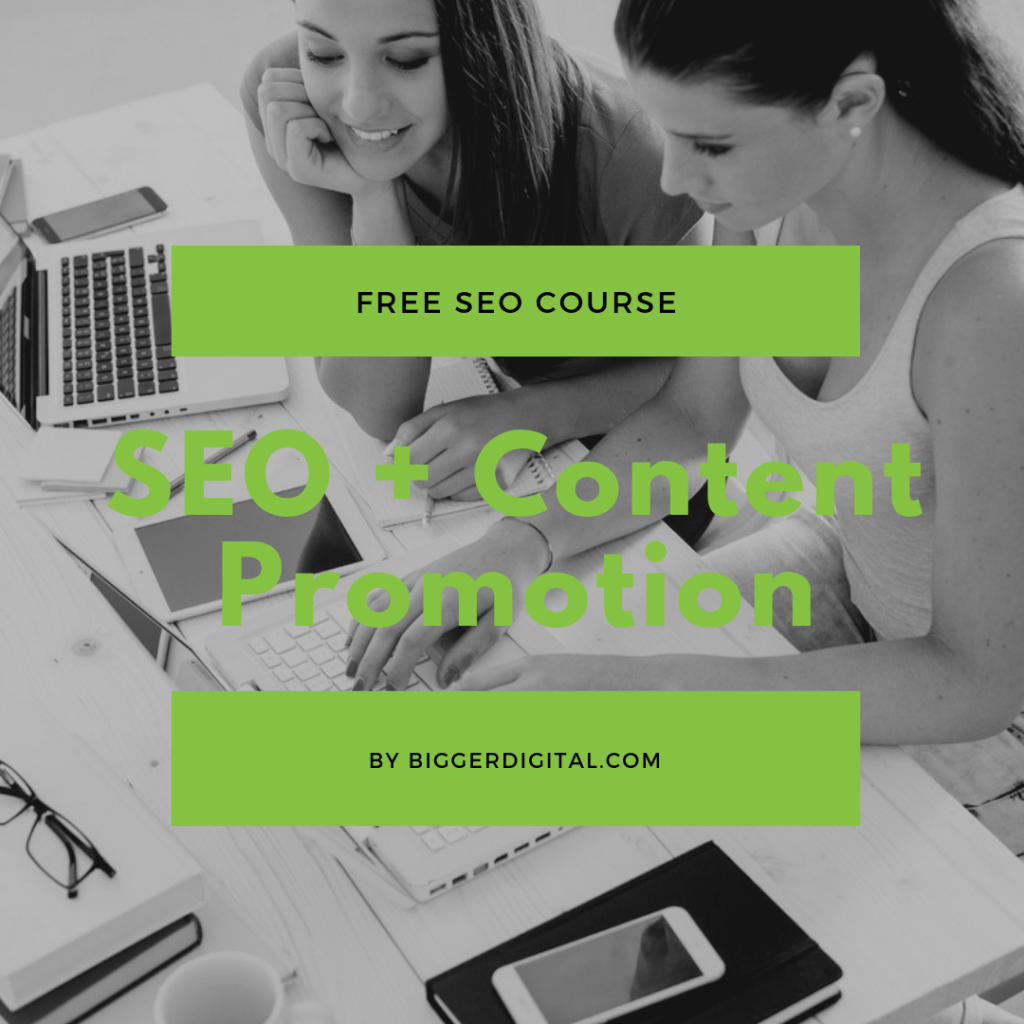 Social Sharing
Promote all your pages in your social media channels.

Pages that are shared more seem to rank better in organic search.
This is especially true for Pinterest. Pinterest seems to heavily influence organic search rankings. More repins generate more backlinks to your articles. This gives your pages a significant boost in organic search. I highly recommend making Pinterest your social media priority if it fits with your brand. Find a way to use a lot of images and videos in your content and you are set.
Implement prominent social sharing buttons on your site.
I recommend using either Sumo or MashShare. Both work great.
Sumo starts at $276/year and MashShare is about $50/year for 1 website.
The benefit of Sumo is that you also get a great email capture service as part of the deal.
Pinterest
Pinterest is an excellent source of free traffic right now.
Leverage Tailwind if you want to get the most out of Pinterest.
This traffic is relatively easy to acquire. Just post a tonne of photos.
It is definitely the easiest and fastest way to get free traffic to a new website or blog.
Out of all social media channels it delivers the most traffic to my site. Four times as much as Facebook organic traffic.
How Powerful Is Pinterest?
After posting about 10,000 images (over 3-4 years)

My account has 94,335 followers
4 million monthly viewers
500,000+ visits to my site each year for free
Pinterest Impacts Organic Search Rankings
Photo and video repins multiply backlinks to your page URLs
These social signals and backlinks are very powerful

They will boost SEO efforts dramatically
Do not ignore Pinterest. Amazing performance at no cost.
What Is The Secret To Pinterest?
There are expensive courses out there that will have you believe there is a big secret to Pinterest success. Don't believe them.
Below are my key tips. But at the end of the day it is all about volume.
Create amazing content and push it hard. Not just an image a day or a couple a week. Schedule a pin every hour and watch the traffic pour in to your website or blog. It's awesome.
Confirm your website
Convert to a business account (if you have not already)
Share high quality and interesting photos and videos
Share as many photos and videos as you can

Thousands and thousands and thousands
Generates backlinks to your content (each repin)

Write unique informative descriptions for pins and boards
Use relevant tags in your descriptions

Refer to your keyword research
Tags indexes your pins in Pinterest search results

Create a board for every article on your site

Use many images in your articles

10+ if you can (I often include 20-100 images in an article)

Link back to your article with every pin

Post content often

Every day
Several times an hour

Post at the right time
Use vertical images
You can post manually to Pinterest if you like. But that takes a lot of time.

I use Tailwind to schedule and automate the posting of my pins. It costs about $120 (per social account) per year.
You can use Tailwind for Pinterest and Instagram scheduling.
It is so easy to do bulk image posts. You select the images you want to post, pick the target board, write your detailed descriptions, and enter a click-through URL back to your site.
Tailwind also offers fantastic performance reports on your account boards and pins. So you can analyze what works and what does not.
There is also a new feature called smartloop. It allows you to select your best pins or evergreen pins and publish them at a specific schedule around all your other pinning activities. That way, you are less likely to have gaps in traffic from Pinterest.
Facebook
Facebook organic (not paid for) traffic continues to decline.
My (men's style blog) page has 240,000 followers.
I rarely get more than 1000 clicks to my site from an organic post.
But, I will take the social shares that I can get.
Facebook shares do influence organic search rankings.
I post every article on my Facebook page.
I also share photo and video posts that include shortened URLs back to my site.
How Can You Increase Your Facebook Page Engagement?

Use high quality photos
Write a short statement or call to action for your description
Include two or three descriptive keyword hashtags

For example, #troutfishing #laketroutlures

Create photo and video posts that include custom shortened URLs
If you create a piece of content that is popular or you think is particularly good pin it to the top of your page.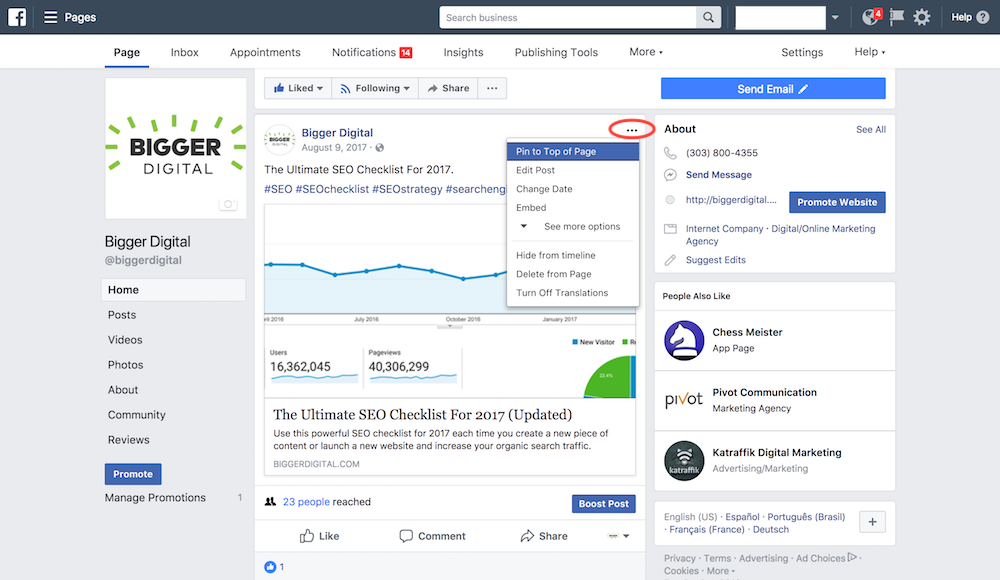 Now the post is pinned to the top. This increases its exposure and engagement as you continue your regular and scheduled posting of other content.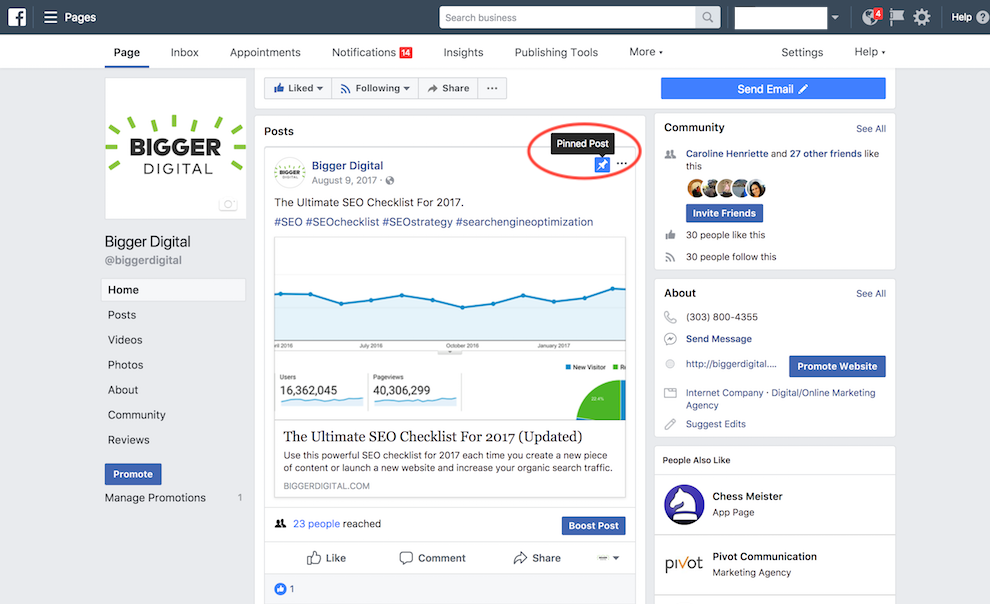 Another way to increase your Facebook page and post engagement is to boost (Facebook advertising) your articles.

You can generate a positive return on ad spend (ROAS) if the ads shown on your website have a high session RPM.
If you are selling high profit margin products you can also generate a positive ROAS using Facebook Advertising.
Twitter
I keep Twitter pretty simple. It has never been a huge part of my digital marketing strategy. I take what I can get.
All I do is manually post my new articles and other content.
To get extra exposure, use relevant keyword hashtags.
For example, #SEO, #digitalmarketing, etc.
Use a URL shortener.
Keep your messages short and to the point.
Promote at the right time of day.
That's all I really have to say about Twitter.
Instagram
Instagram is gaining popularity every single day.
My men's blog account has over 10K followers.
Instagram takes a lot of time to make it work. At the moment manual posting is the only option. That takes time. What take more time is the interaction. The algorithm rewards those that authentically interact with others. A lot. Working on Instagram is pretty much the same managing a full blown blog.
I mostly use this marketing tool as intended. Manually.
Although, you can schedule posts with Tailwind.
How To Grow On Instagram?
Use high quality interesting photos/videos
Write long captions to engage followers (storytelling)
Search WEBSTAGRAM for tags to use, people to follow, and locations to add to your posts
Interact as much as you can

Follow people (not celebrities and super popular users) that will likely be interested in your content
Like content posted by people you follow
Comment on content you like

Promote your Instagram account on your website and other social channels
YouTube
YouTube is a massive search engine that can drive traffic to your website.
Your videos will be found on YouTube and in Google Search results.
What Can You Do With YouTube?
First check out my video optimization tips in the SEO strategy section
Upload your videos to YouTube
Share all video links to other social media channels
Embed your videos in relevant articles

Also include a text link to that video below the embed

Link to your YouTube channel from your website
Email Capture + Promotion Using SUMO
I keep email promotion very simple.
On my website I use Sumo to collect email addresses from my audience.
The Sumo app funnels collected emails to any email marketing service such as ConvertKit, MailChimp, AWeber, etc.
An easy way to keep your email list up to date is to send a custom HTML email that pulls your new articles from your RSS feed.
You can send updates as often as you like. Once or twice a week is a good starting point.
Let me show you how easy it is to setup an email capture with Sumo List Builder. This took me less than 5 minutes.
1) First install the Sumo WordPress plugin. Next navigate to SUMO and click on My Apps.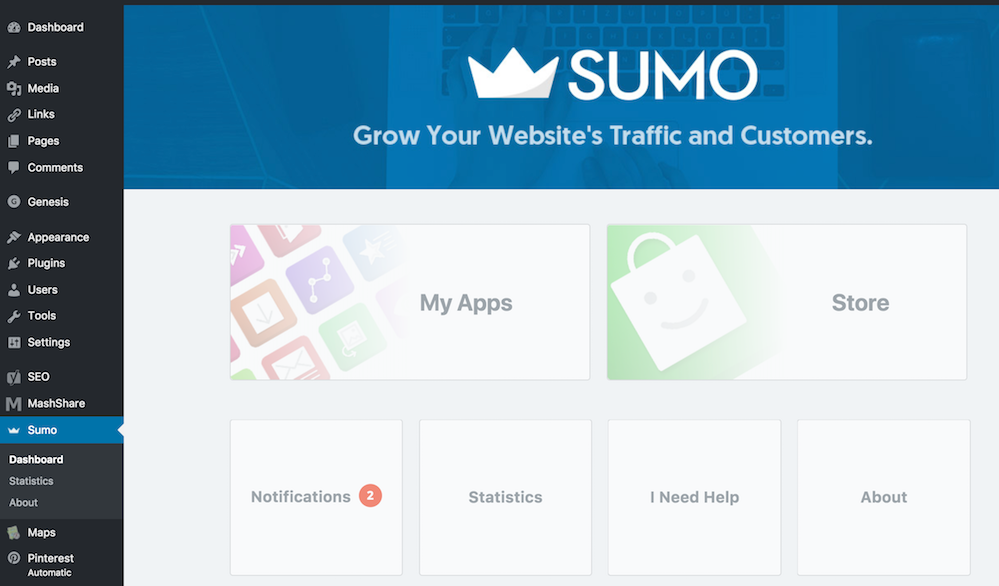 2) Click on Create New Form.

3) Select Collect Emails as your goal.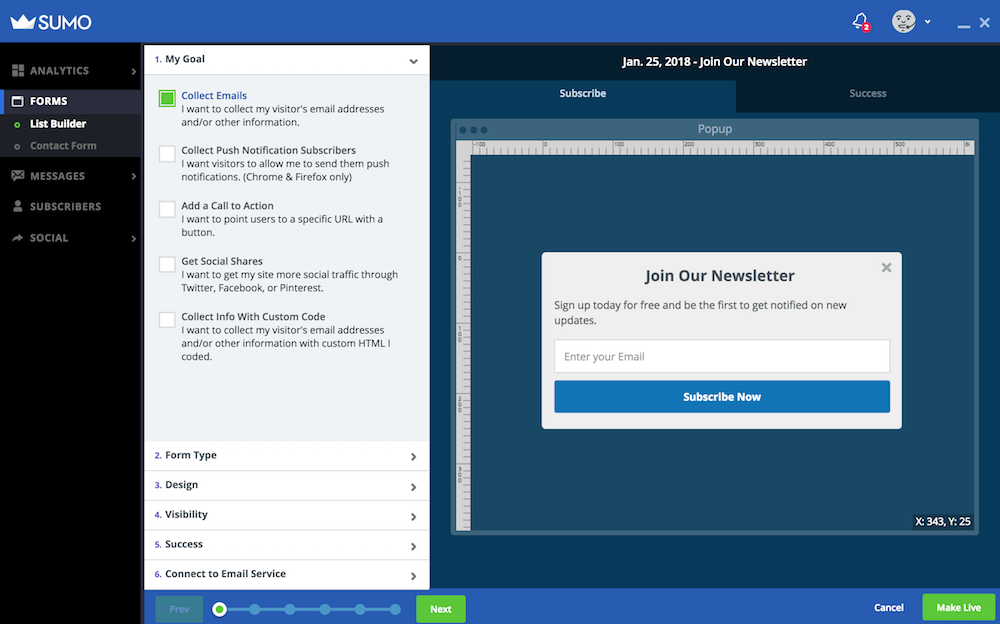 4) Click on Form Type and select Popup or whichever type of email box you would like to use. If you want to embed the box somewhere on your site you can select Inline Form. Welcome Mat pushes your page down and is highly visible. In this example we will do a simple popup. You can complete this and then duplicate the new form you create if you would like to have a box to embed in your sidebar or another location. The default design looks pretty basic. Let's change that.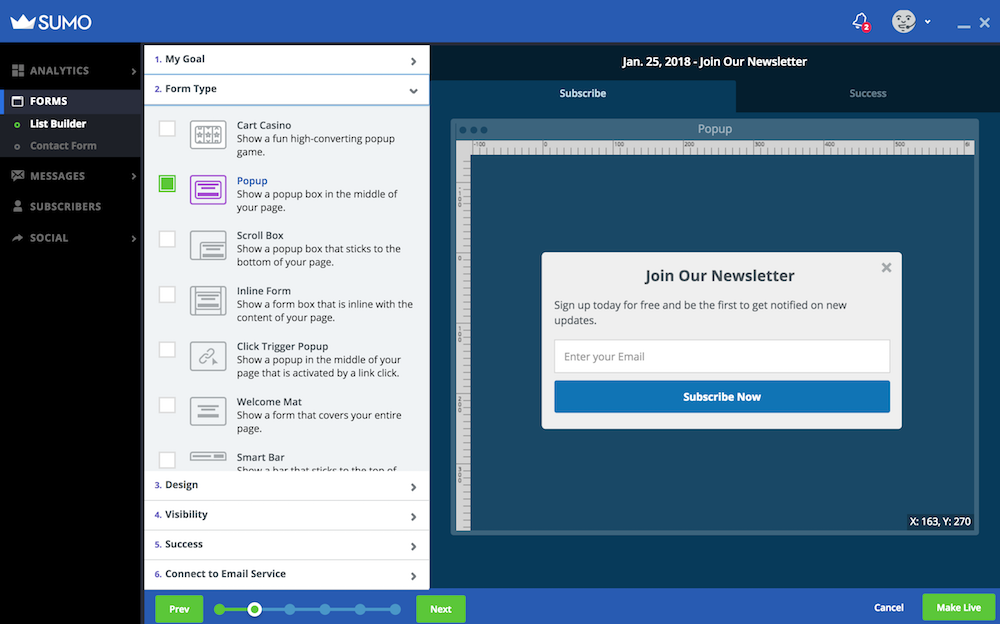 5) Click Design and pick out a nicer looking template to transform. Select a layer to work on. You can also just click on the area of the template you would like to work on.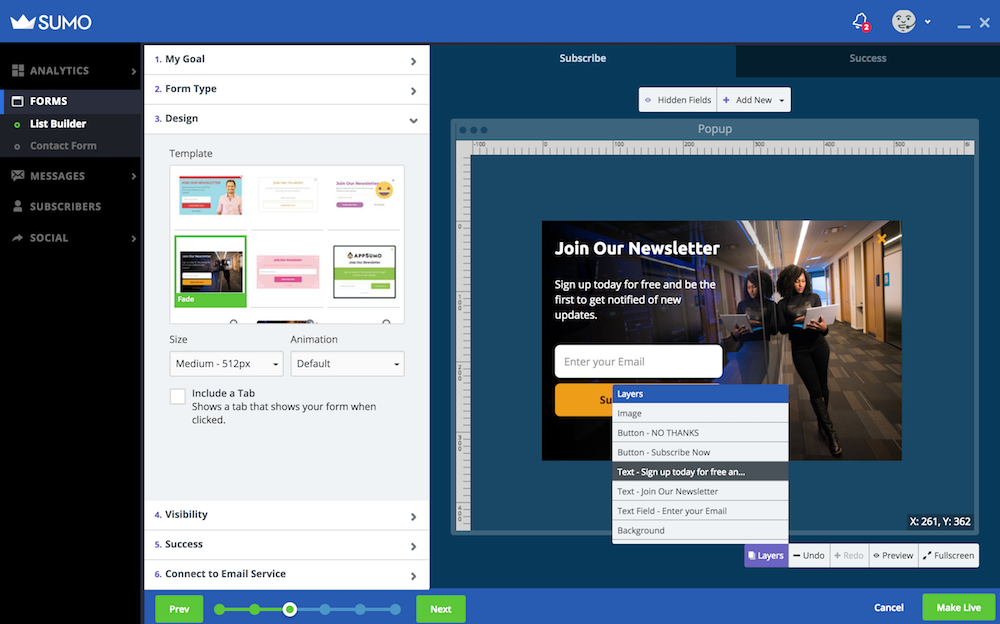 6) Change the color of a button. Change the displayed text to your message.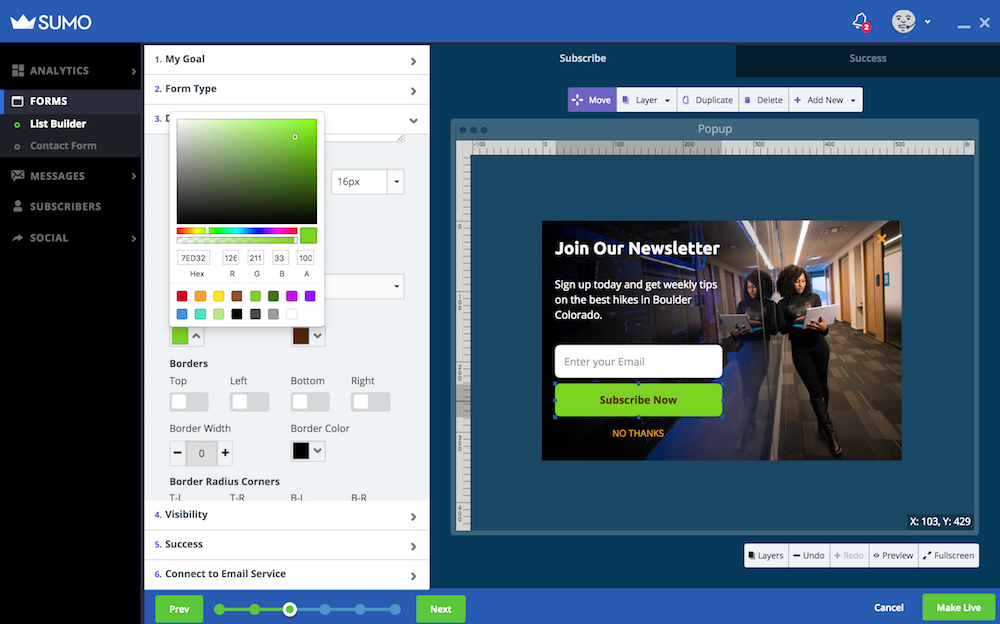 7) Change the color of a font. Change sizes of fonts if you like.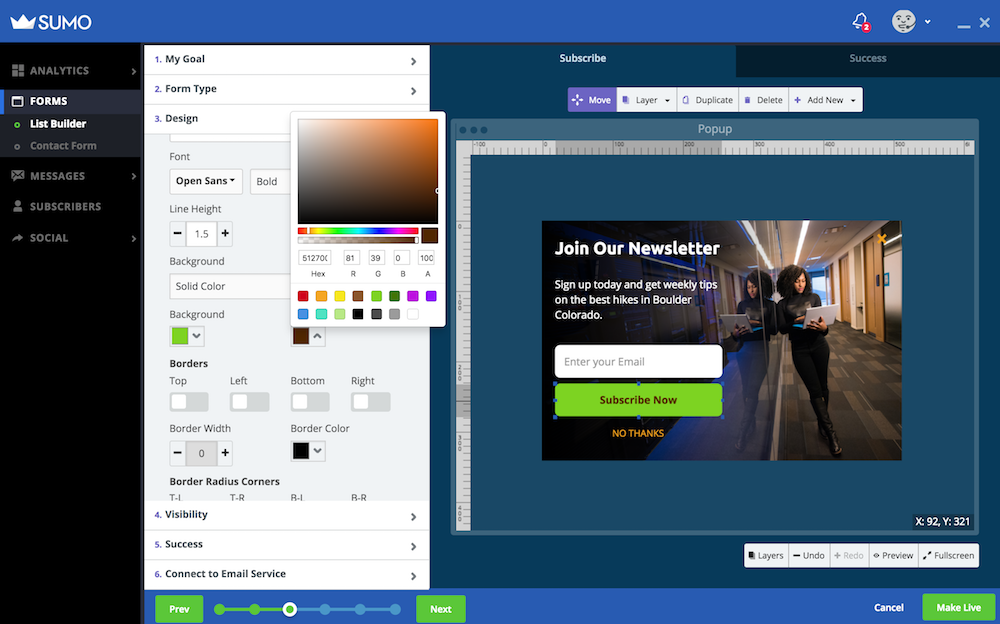 8) Change the background image. Click remove.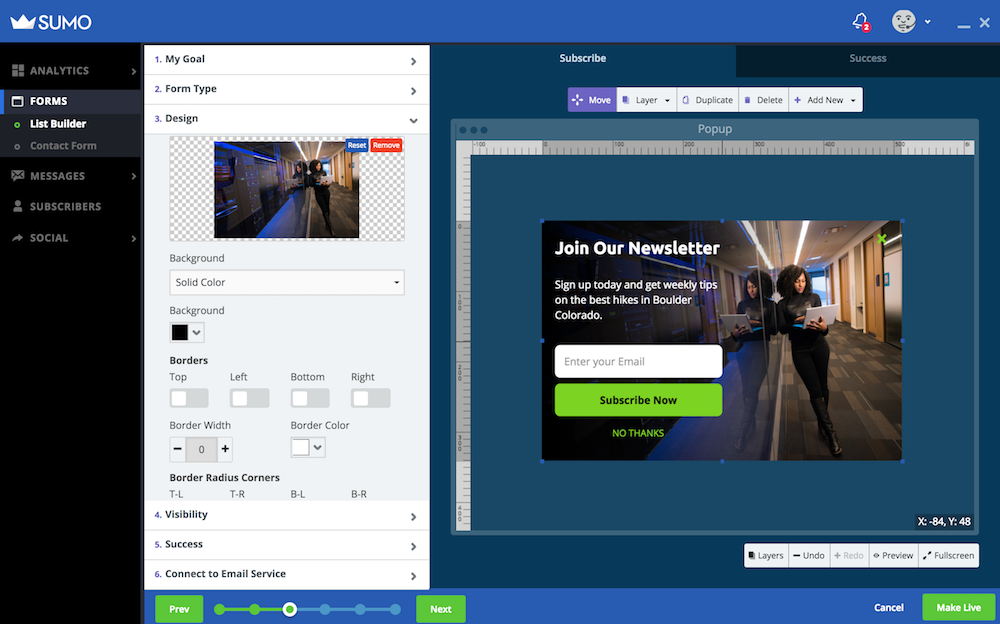 9) Then click the Background Image area where the image was under Design and upload a new image. The new design is completed and is looking great.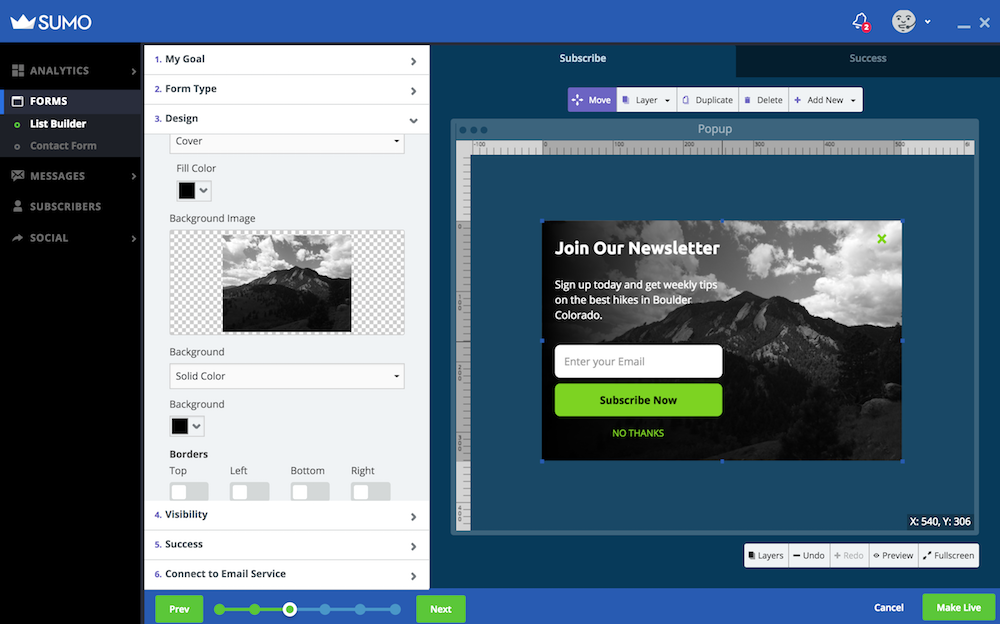 10) Click Visibility. You can keep as Smart Mode and let the app decide when to show your email box.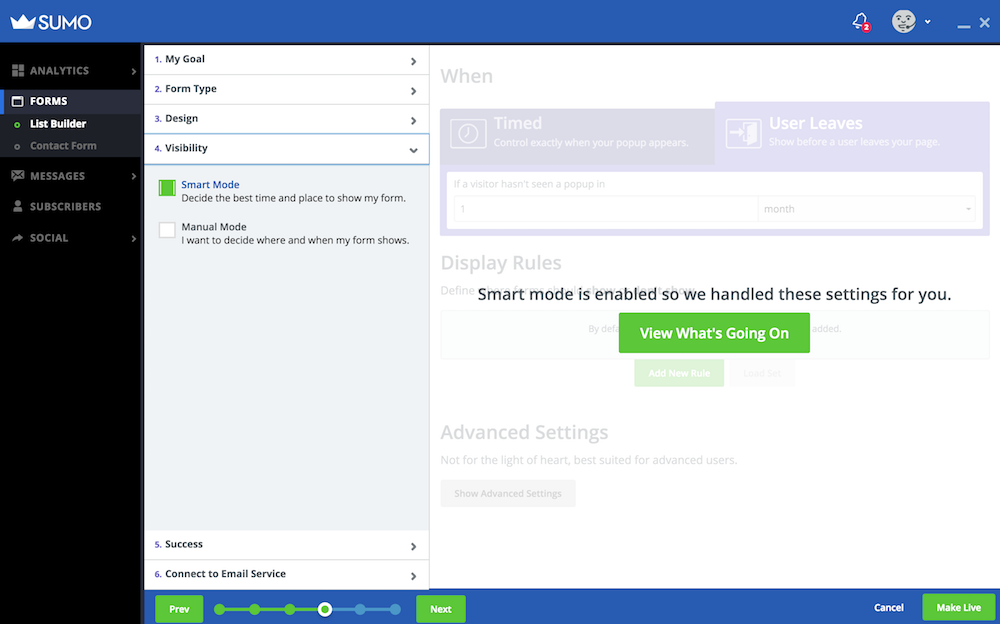 11) Or select Manual Mode and add some Display Rules.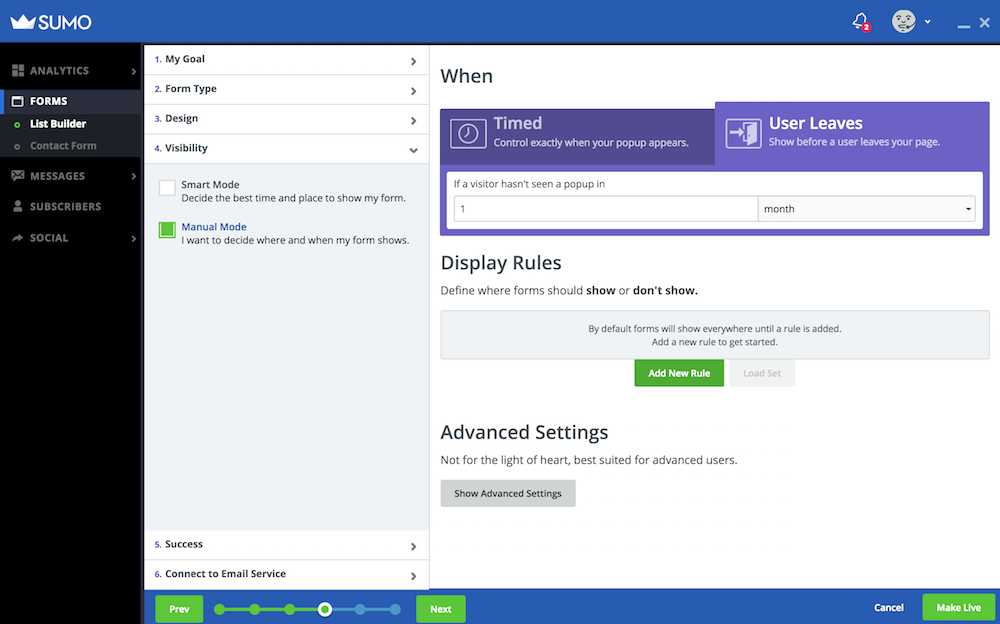 Below I have added a rule to only show the email box after a user has visited one page or more.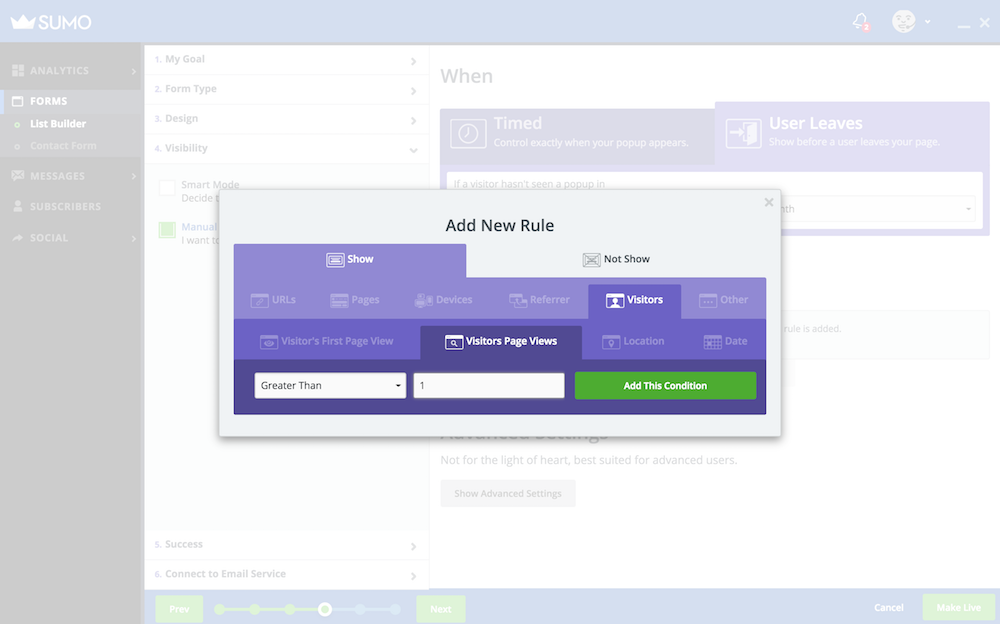 The rule has been applied.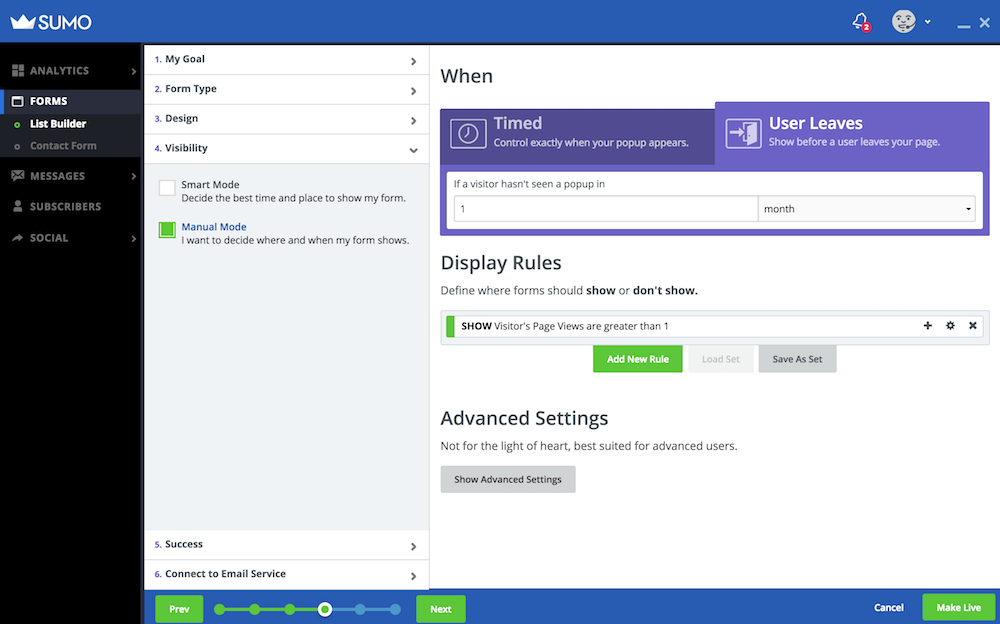 12) Click Connect to Email Service. Select your service.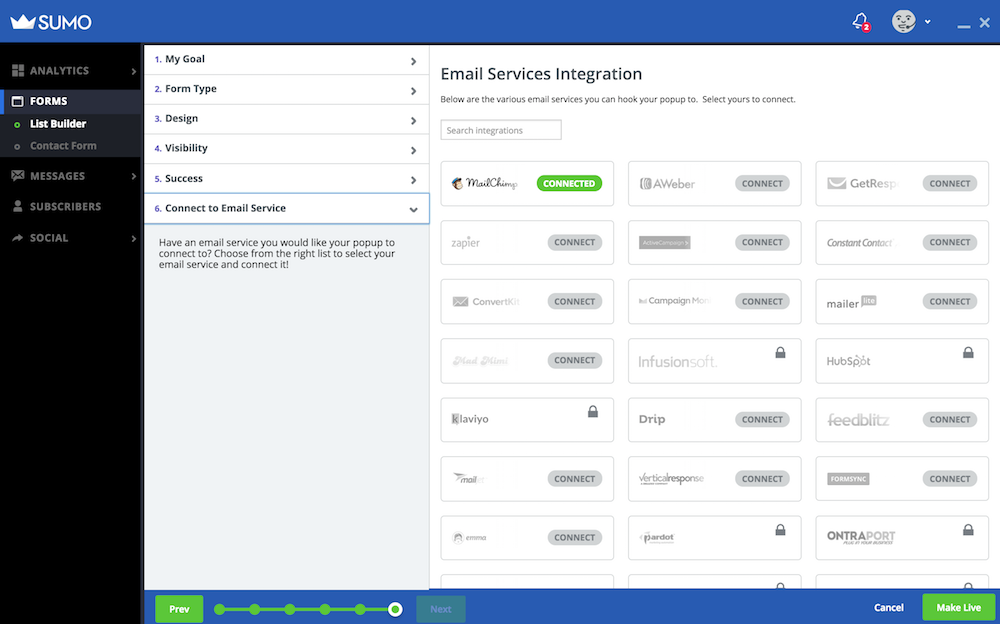 13) Here you can keep as don't push to list (export your emails whenever and import later to your email service) or you can select an email list that you have previously created in your email service. Click Save.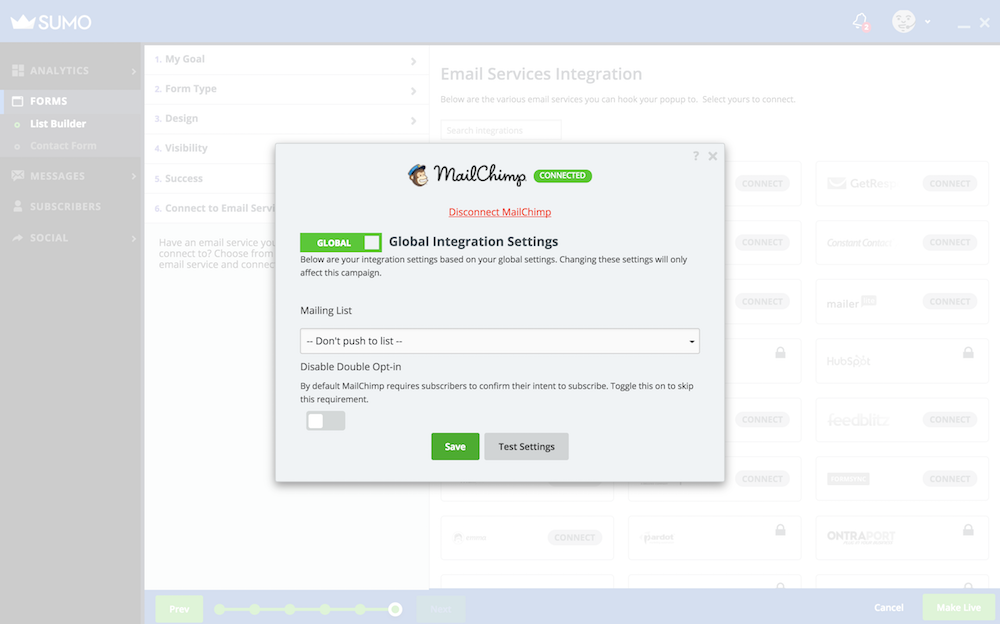 14) Click Make Live and you are done.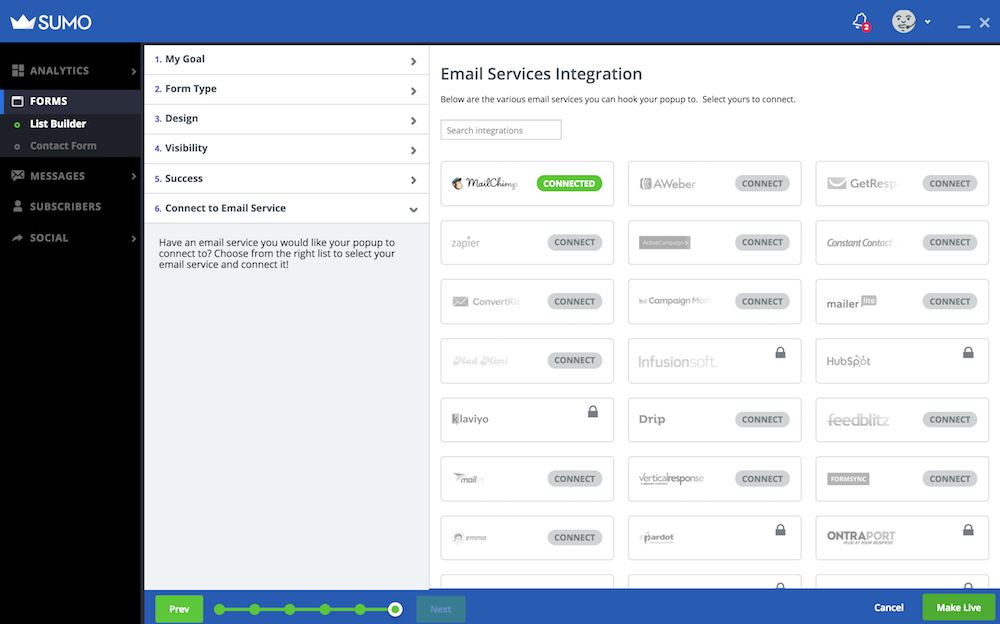 You are now in business collecting customer emails. Do this right away. Make the most of your traffic building efforts.
The bigger your email list the more money you will make and sooner.
This concludes the SEO and content promotion section of this free SEO course.
Be sure to check out each section of the course.
Did you like this SEO course?
Bookmark it now and stay in touch.
My Google AdWords course and my Facebook Advertising course will be added to the collection very soon. I will share my secrets learned after spending millions of dollars through each platform.
This post may contain affiliate links. Please read my disclosure for more info.