In the previous section of this free SEO course we talked about SEO content planning and strategy. It was a straight forward view of what you should do before you create any content or articles.
In this section of the course, I cover 25 important topics that will help you implement a great SEO strategy. These are tasks that you want to become a pro at doing in a consistent and thorough manner.
The topics revolve primarily around on-page SEO and keyword research using SEMRUSH.
I also cover some relatively new Google Search features. These are important spots in the organic search results where you will want to get your content ranked for an extra traffic boost.
Also discussed is how to evaluate your progress using Google Analytics and Google Search Console two tools you should be using daily.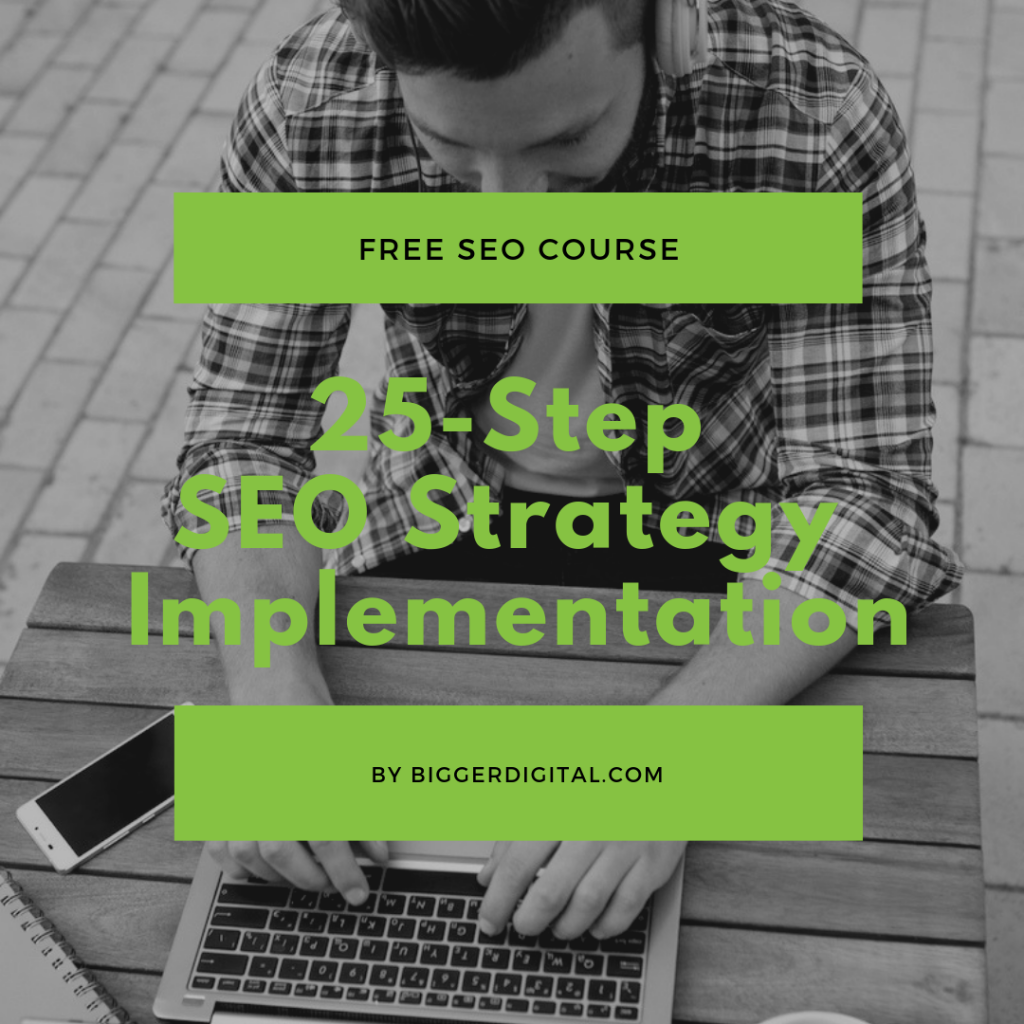 1) How To Write Great Article Headlines For SEO
The keyword that represents the main topic of an article should be located in the first few words of your headline.
This keyword is called the focus keyword. It isn't the only keyword that you will want to get ranked for with this article but it is the most important keyword with the highest search volume.
Let's create and examine a headline.
SEO Strategy + Implementation How-To Guide (25 Steps)
Why is it a good headline?
It contains the most searched keyword for the overall topic

SEO
SEO Strategy
SEO Implementation

How-to will likely trigger question keywords

Could satisfy featured snippets

It implies this is a complete guide on everything about SEO strategy

This is what we have to create to rank on page one
Here is another example of a good headline:
SEO Strategy + Implementation: 25 Steps For 2019 Success
This one might be even better than the first one. I added 2019. This implies the information is current.
You could use both of these headlines for your SEO title or title tag.
Or you can modify it for better results which we will discuss next.
2) SEO Titles aka Title Tags
Your SEO title (in Yoast plugin settings) aka the title tag is one of the most important on-page SEO ranking factors. Has been for years.
Why is the SEO title important? The SEO title is the first thing people see in search results. You need to nail them for every page on your site.
I like to create headlines that can double as SEO titles.
These were our headline examples:
SEO Strategy + Implementation How-To Guide (25 Steps)
SEO Strategy + Implementation: 25 Steps For Success

These are also great SEO titles.
What Makes This A Good SEO Title?
Keywords have good search volume
How-to will trigger rankings for questions
25 Steps indicate a comprehensive and complete guide
You could modify the SEO title with the goal to increase click-through rates (CTR) on your organic listings.
Attaining high CTR is very important today.
25 SEO Strategy + Implementation Steps To Increase Organic Traffic

SEO Strategy + Implementation (25 Must-Do Tasks For 2019)

SEO Strategy + Implementation (2019 Guide)
You want to draw more attention than your competitors and generate high CTRs.

What Makes A Great SEO Title?
Start with your focus (main topic) keyword
Descriptive and specific to article main topic
Use modifiers in the SEO Title

Best, New, Tips, Guide, Review, Cool, 2018 (or whichever year)

Should have 3-6 words and less than 70 characters
Is enticing and generates a high CTR
Tips On Writing SEO Titles:
Enter a unique SEO title for every page
Experiment with different copy to increase CTR
Monitor CTR for your pages in Google Search Console or Google Analytics

Fix or update SEO titles for pages with low CTR

Look at paid search ads for ideas
Try enticing copy in brackets at the end
3) Meta Description Tags
The meta description is also an important component that can help you increase your organic CTR.
You can draw attention to your search listing by using relevant keywords and a call to action.
What makes a good meta description?
Unique to each page
150 characters or less
Contains important keywords (they are bolded)
A brief statement or summary of the page
Attempt to evoke an emotional response (and clicks)
Why are they important?
They allow you to control your Google search listings
They can increase click-through rates to your website which positively influences your ranking
4) URLs + SEO Strategy
URLs definitely influence rankings.
Best Practices for URLs
Keep them as short as possible
Use your focus keyword as soon as possible
Use secondary keywords when it makes sense

Sometimes I will add the year (2019)

Remove words that are not descriptive or relevant
Use a simple directory structure

Avoid deep nesting of subdirectories like "…/dir1/dir2/dir3/seo-strategy"

Each piece of content should have only one URL

Be careful to not duplicate content
The URL I am using for this article satisfies the above best practices:
biggerdigital.com/seo-strategy
Cool. Now we understand what makes a good headline, SEO title (title tag), meta description, and URL for articles. Easy, right?
Let's put this all into action. Specifically, in WordPress. Using the Yoast SEO plugin.
Progress…
5: The Yoast SEO Plugin For WordPress (How-To) Articles
The first thing you are going to want to do is install the Yoast SEO plugin for WordPress if you have not done so already.
Next, let's take a look at where we need to insert the key elements into our article. We will also cover a few other tasks that satisfy the Yoast SEO plugin scores.
1) At the top of the post in edit mode we have the article title (headline) and below that the permalink which is the article URL.
On the right you will see the Readability and SEO scores. Make these turn green.
In the fourth paragraph, you can see that I have linked to my category page. This is a good internal linking practice. I would also recommend linking to a few other relevant articles early on. This increases pages viewed per session (visit) and average session (visit) duration. Doing that will positively impact your organic search traffic and ranking of this page.
In the sixth and eighth paragraph you can see that I have linked out to Google Maps links of where you can start the hike. This is helping my reader. My article is becoming useful.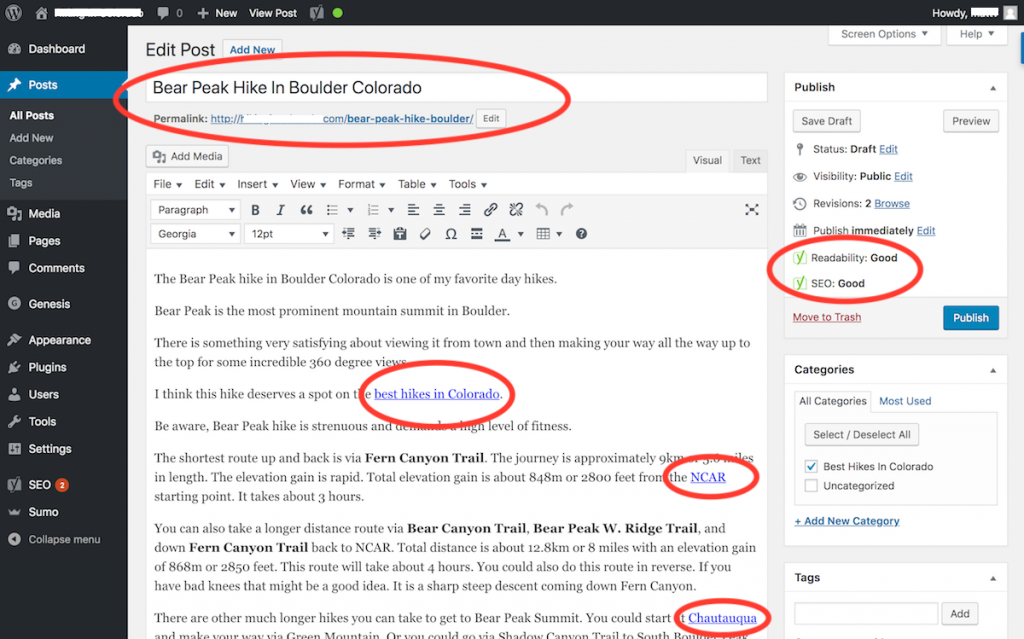 2) Let's scroll down. You can see that I have created a Heading 2 for one of the routes: Fern Canyon Up/Down (From NCAR). This will wrap the text in H2 tags. This helps to improve the Readability score and it increases my chances of having this page show up for a featured snippet result. For each route I have done this.
On the right I have selected a feature image for the article. Make sure you do this.
3) Scrolling down further you can see I have created another heading to help with my readability score. This time I used Heading 1. This will wrap the text in H1 tags.
Further down in you can see that I have linked out to the REI Hiking Project app. Again, I am providing value to the reader by helping them. Almost every time I am out on the trails I encounter visitors that don't have maps or apps. If they had this app on their phone they could follow their progress on a long hike without the need for a mobile signal. The blue GPS locator will simply move along with their movement. My article is becoming even more helpful. This will satisfy Google Search more and help with my ranking. Further down I have created links out to every single trailhead that you can start this hike. More value offered to the reader! They don't have to look this up separately on Google. They simply click on the links and they have the information.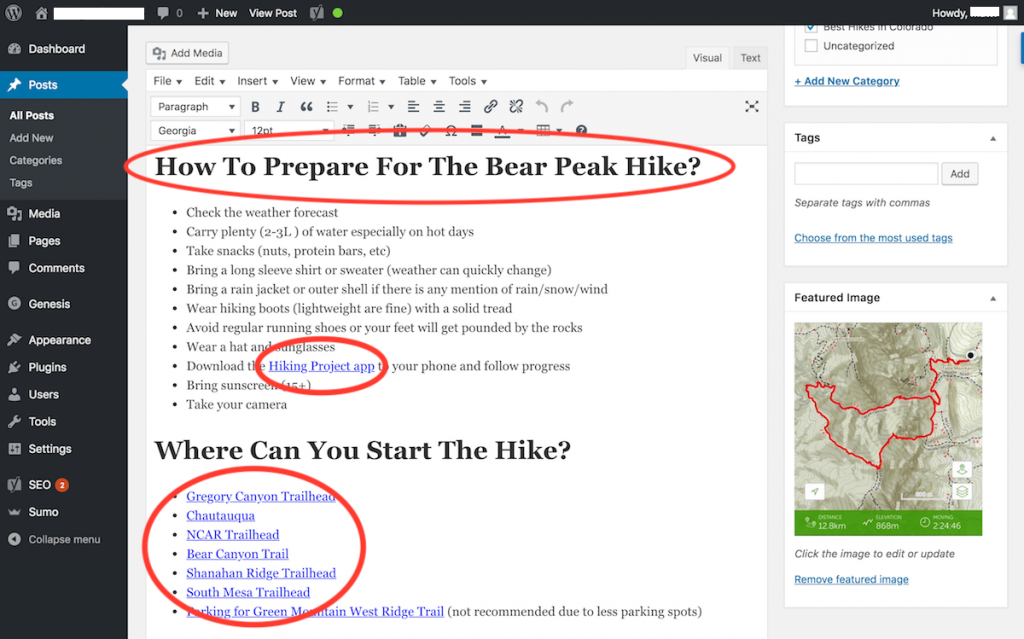 4) Scroll all the way down to the bottom of the article. This is where you can click edit snippet and enter your SEO title and meta description. You can also change the slug or URL here. When you are done click close snippet editor. You can see that I have also entered a focus keyword for my article. This helps the Yoast plugin score your article. So always enter a focus keyword. Otherwise, the plugin doesn't have context and can't help you.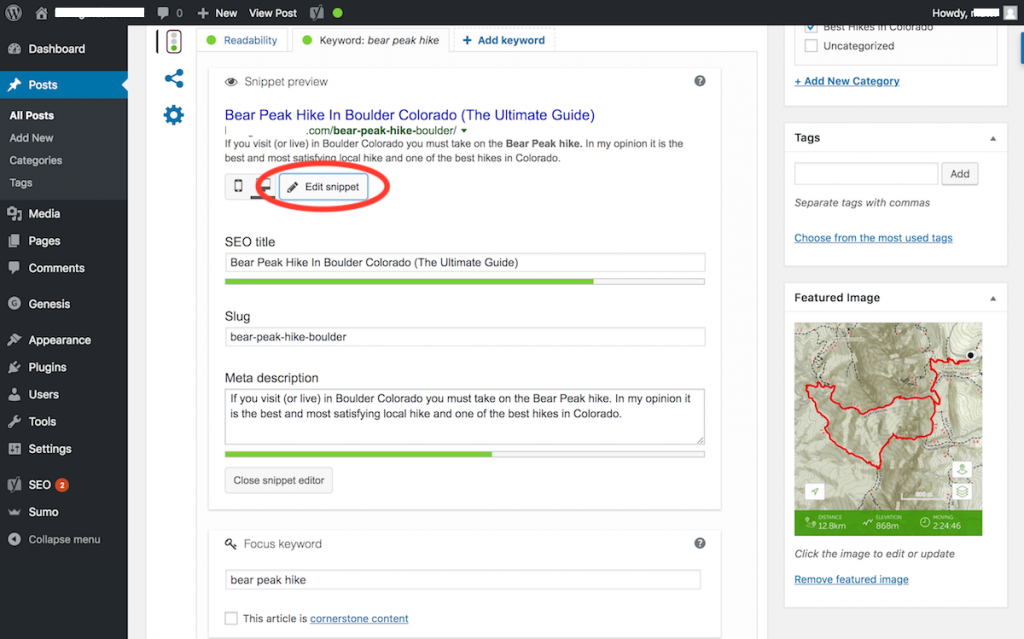 5) Scroll down a bit more and observe the Analysis section of the Yoast SEO Plugin. Make sure each item is green before you publish your article. If you have orange or red scores read the recommendations on how you can fix things and attain a green score.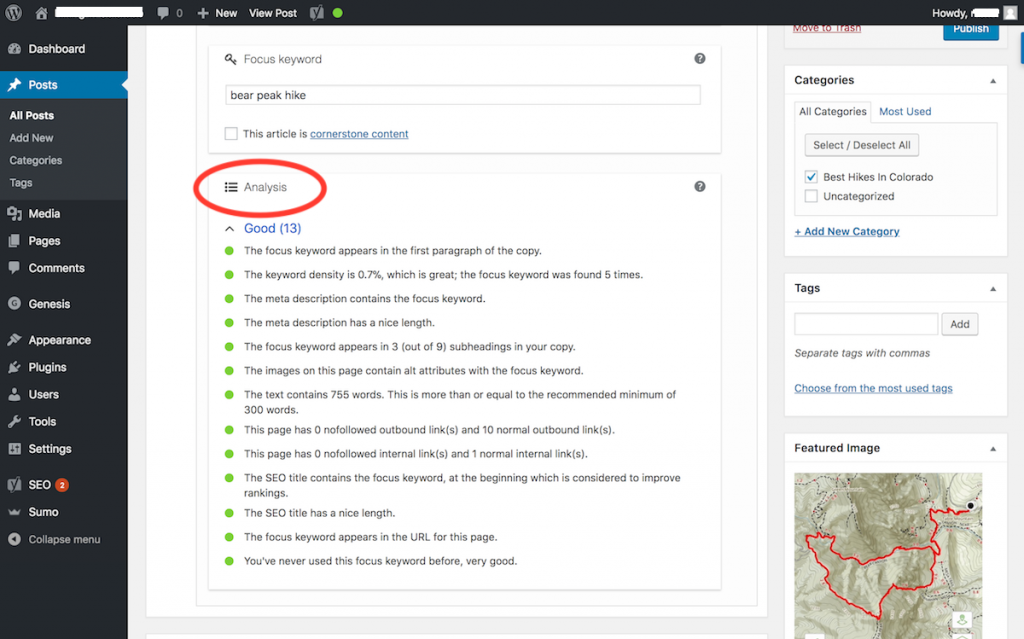 6) Click on the Readability tab. Review the comments and recommendations. As you can see I may have something to fix.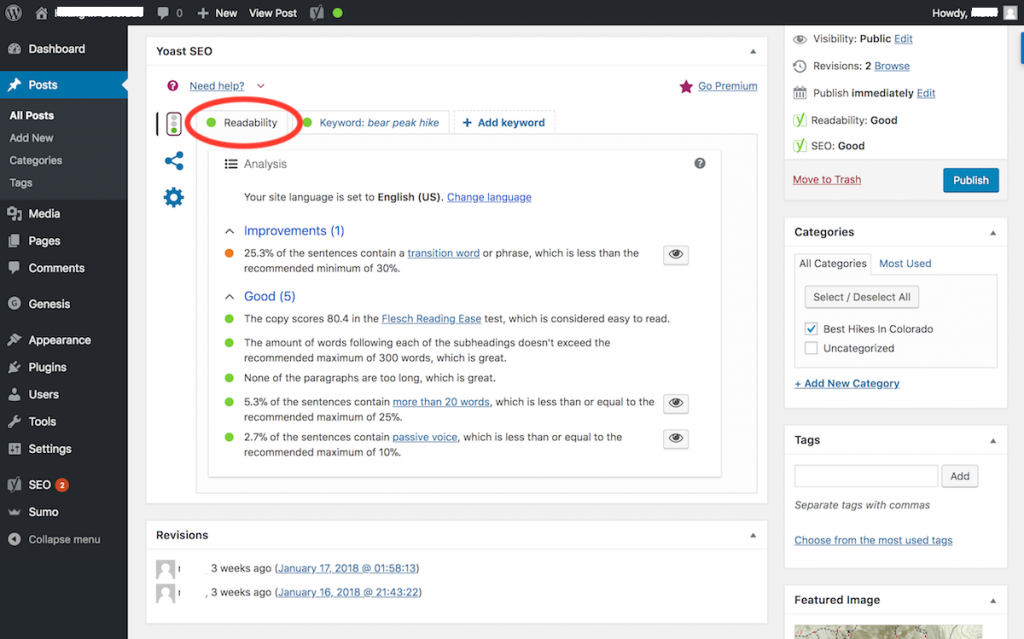 7) Clicking on the settings cog wheel you can see other options that you might want to use. Here we are looking at the Meta robots index feature set to noindex. You might want to do that to discourage search engines from indexing particular pages on your site.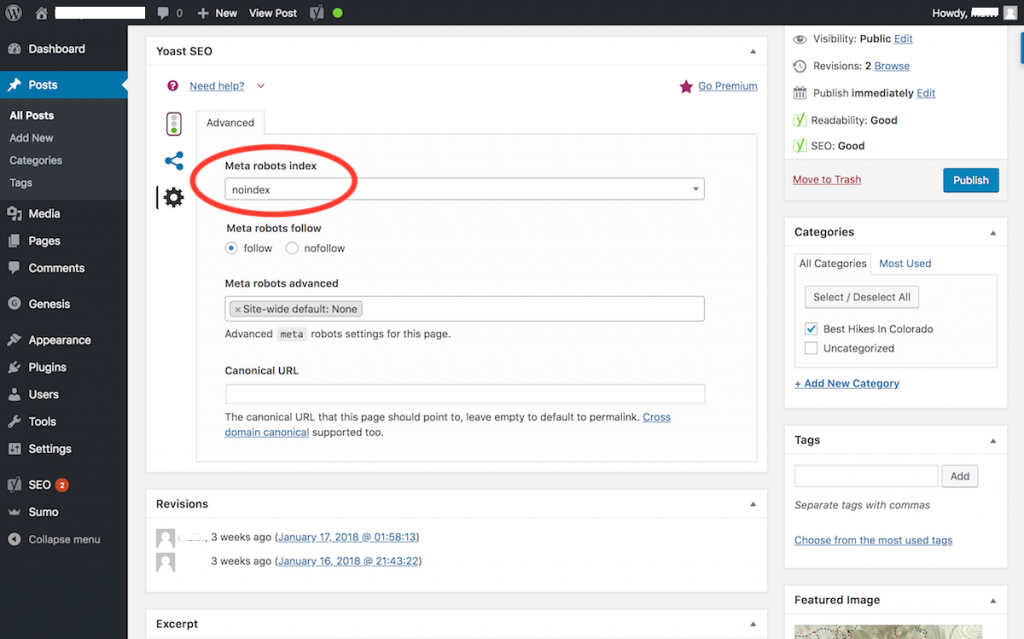 8) Taking action a step further you could also add a robots.txt file to the public_html folder on your server. This simple text file instructs all search engines not to index a specific page. Use a robots.txt file to block Google from indexing any of your pages or sections to your site. Learn more about the robots.txt file.

That is what you need to know about the Yoast SEO Plugin when you are creating your articles.
Go for green in Yoast SEO before you publish!
Now, we are going to side step and talk about Google RankBrain.
There is a link to what we just covered on SEO titles, meta descriptions.
It's super important and can help you increase organic search traffic fast.
6) Increase Organic Click-Through Rate (CTR) To Satisfy Rankbrain
Increasing your organic listing CTR is a great idea for a couple reasons.
Organic CTR Is Declining:
Paid search is pushing organic search results down
Google content is pushing organic search results down
Featured snippets are jumping ahead of traditional organic results
Local results, news features, images, other types of SERP features are all pushing organic search results further down
Paid Search Listings + Featured Snippets Push Down Organic Search Results: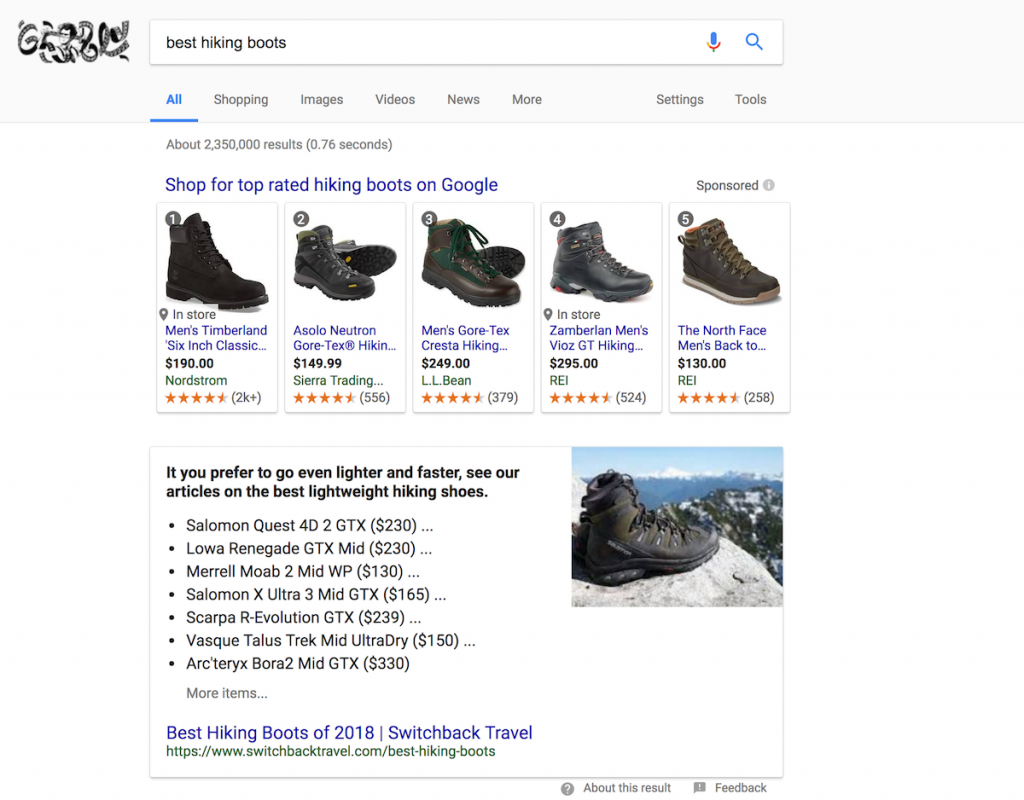 Google Content Pushes Down Organic Search Results: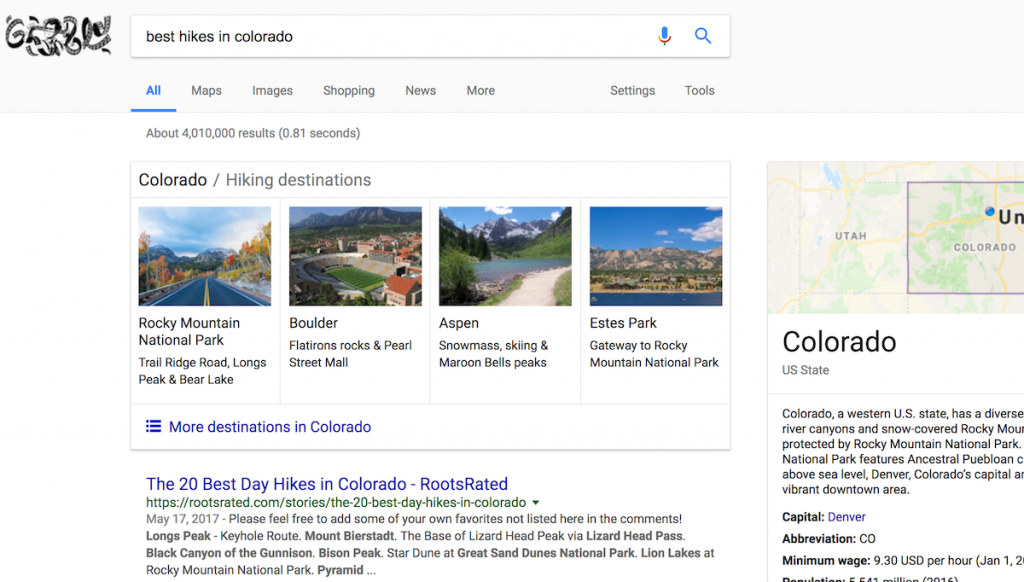 Maximize your current organic rankings by increasing your CTR.
High CTR Generates A Permanent Rankings Boost
Rankbrain is a machine learning system that helps Google adjust search results.
One thing it measures is CTR.

Increase your CTR to jump higher in the organic results.
Higher CTR delivers an opportunity to make decent gains with little effort.

I made it a goal to write better SEO titles that were descriptive, specific and contained both high volume searches and long tail keywords. I also made an effort to create much better content.
This new direction helped me improve my positioning dramatically.
I was able to lock in spots one through three with multiple articles for some high volume keyword searches (100K-400K searches/month).
My organic search traffic doubled in a matter of months.

This is the change in my desktop rankings that occurred after creating better SEO titles and meta descriptions in the Yoast snippet preview.

My mobile rankings also improved in a large way.

Manage your organic listings by writing better SEO titles (and meta descriptions). Get more traffic. Super simple.
Creating higher quality content that was way better than my competitors was also a huge factor. This is a must nowadays for page 1 rankings.
How Can You Increase CTR?

Write unique and compelling SEO titles (title tags)
Write unique and interesting meta descriptions
Create long, in-depth content that is better than your competition
Examine your competitors or pages ranked above you
7) Internal Link Strategy (Onsite)
Strategic internal linking improves the indexation of your site and can vastly improve your organic search rankings.
How To Implement A Strong Internal Link Structure
Create text links to category pages in your articles
Create text links to other relevant articles in your articles

Link to new articles from pages that already rank well

Link to your most important articles from category pages
Leverage the Studiopress Featured Posts widget in your primary sidebar and footer widget locations
Show 20+ articles on your category pages
Link to your most important categories in your primary navigation
Create a WordPress page (not a post) that has links to all your categories and key pages

This is essentially an HTML sitemap
Link to this page from your primary navigation

Create and show a custom navigation menu of your "Most Popular Posts" in your primary sidebar

Look at top organic search pages in Google Search Console (or Google Analytics) reports for ideas

Create and show a custom navigation menu for your "Most Shared Posts"
8) External Links + SEO Strategy
There is no doubt that external links play a role in improving organic search rankings.
This has been the case since the beginning.
Despite this, I do not spend any time doing any advanced link building strategies or tasks. Want more information about link building then check out Backlinko.
My only link building effort is to create the best content that I possibly can. Hopefully, my work is seen to have value, gets shared, found and linked to by other great websites.
I promote my excellent or most important content on my site (most popular/shared articles using custom navigation menu widgets) and off my site in the most popular social media channels.
Then, I let the world decide what to do with links.
9) Use Headings H1/H2/H3
I discovered that getting a green score for Readability (Yoast plugin) has impacted my organic search traffic in a positive way.
That requires writing well first.
Breaking up content with headings (H1/H2/H3 tags) improves readability.
You are also more likely to secure featured snippet results if you use headings.
In general, it is recommended to wrap focus keywords and other high volume long tail keywords with heading tags.
This is very easy to do in WordPress. Here is a look in the old editor.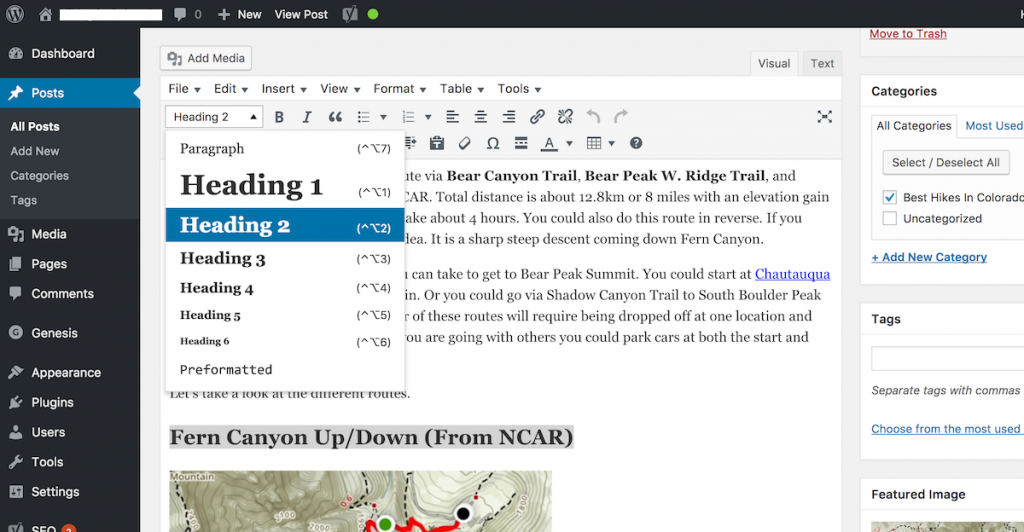 In WordPress Gutenberg, it is even more straight forward. Simply create a heading block and select H2/H3/H4.
10) Image Optimization
Do these tasks for every single image on your site.

Use keywords in your filenames
Add keyword alternative (alt) text for your images

Can be the same as your filename

Reduce file size (without sacrificing quality)
Use captions to increase engagement and dwell time on your pages
Tedious? Somewhat.
Much of SEO is tedious. Sticking to it leads to great results.

When you upload your images to WordPress you can enter your alt text.
If you click on an image in an article and hover over the pencil icon you can edit as seen below.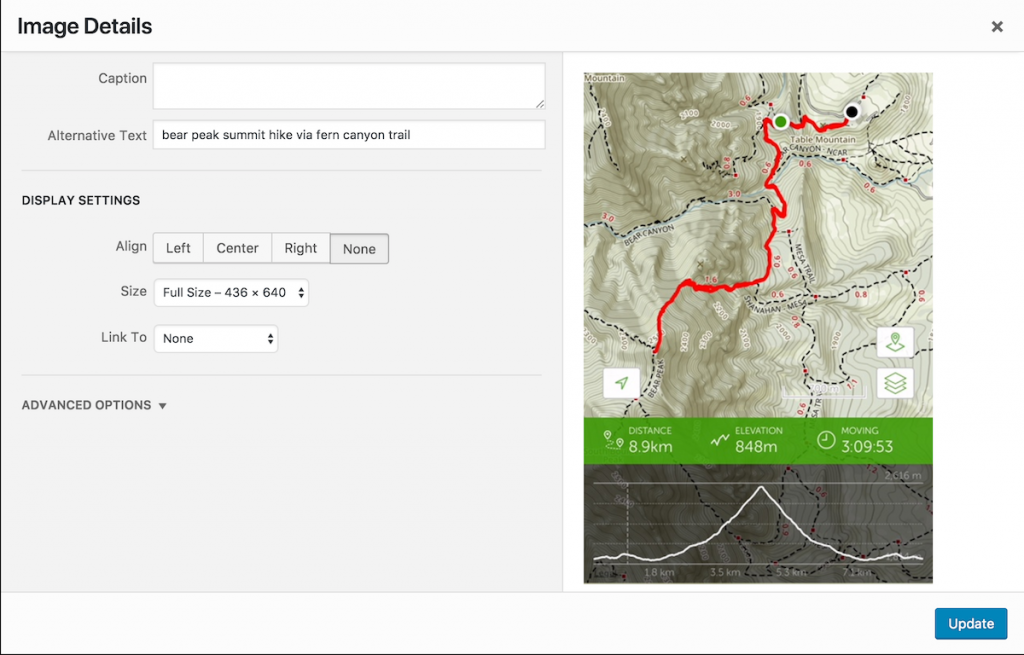 Tools For Image Management
11) Video SEO Strategy + Optimization (YouTube)
YouTube is a fantastic way to get more traffic to your site and make your articles more interesting.
I upload my videos to youtube and then embed them on my websites.
How To Optimize Your Videos:
1) Do regular keyword research to get an idea of what is popular.
2) Search YouTube to see what is shown by YouTube Suggest. Spend some time doing this and make some notes on what keywords you can target.

3) Produce long and interesting videos to increase total watch time. This is an important ranking factor.
4) When you upload your video you can enter a video title, a description and add keyword tags. You can also add a high quality image for a thumbnail.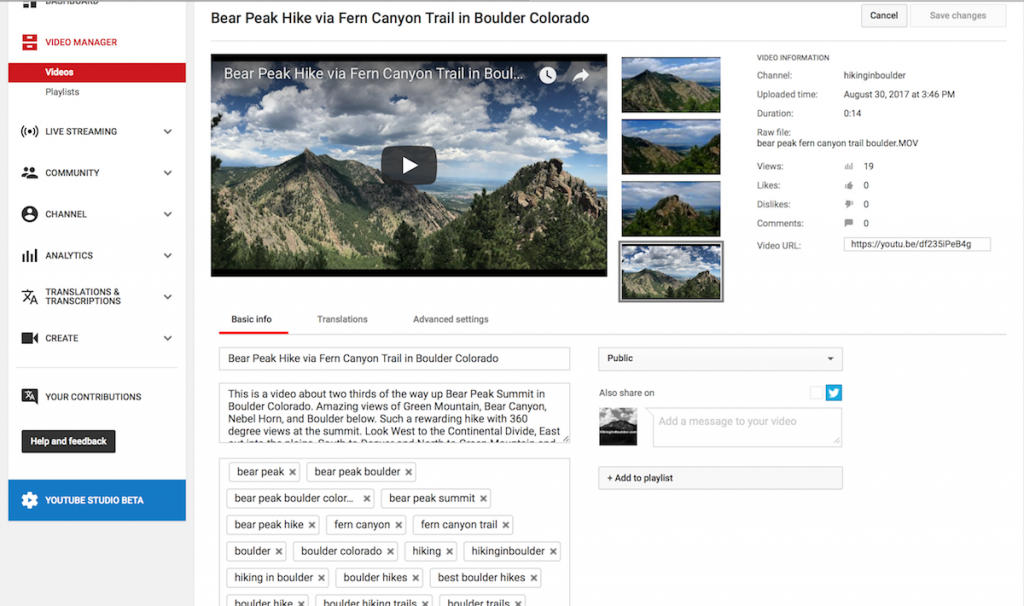 Tips To Increase Visibility In YouTube:
Use your target keyword in the filename
Create a great video title

Includes the target keyword
Is compelling and will increase CTR
Much like your article SEO titles (title tags)

Create a detailed video description greater than 200 words that captures attention and generates interest
Add video tags
Upload a custom thumbnail to help increase CTR
Use important keywords (spoken) in the actual video and upload a transcript
Create high quality, interesting videos that answer questions
Tools You To Help Make Improvements:
YouTube Analytics (In Your YouTube Channel)
TubeBuddy (Chrome browser extension to discover tags

Keep in mind that tags are not as powerful as your video quality, video title and description
12) HTTPS + SSL Certificates
HTTPS is a must now.
You'll notice while using the Chrome browser how the green padlock (and word Secure) symbol is prominently displayed to the left of the address bar.
If you don't have this people might be turned off from visiting or staying on your site. This is the main reason why it is important. Your goal is to increase not decrease engagement, right?
HTTPS is a ranking factor. Although, as everyone moves over to HTTPS it will have less impact on your rankings.
I am not going to go into the nitty gritty details of HTTPS in this course. But I will point you in the right direction.
Your hosting provider can implement an SSL certificate for you. I recommend getting a dedicated certificate.
Or, if you are using Cloudflare as a CDN they make it very easy to add an SSL certificate. This is what I did to implement SSL.
Things To Keep In Mind:
Use a dedicated certificate so your SSL connection doesn't break
IF you are moving your site from HTTP to HTTPS:

You must 301 redirect your URLS from HTTP to HTTPS

Cloudflare can automatically do this (select Always Use HTTPS when on the Crypto tab and logged in)

Create a property in Google Search Console for both HTTP and HTTPS versions of your site
All your onsite links that were HTTP need to now be HTTPS

I used a search and replace WordPress plugin to do this
Cloudflare can automatically do this (select Automatic HTTPS Rewrites when on the Crypto tab and logged in)
13) Think Mobile First
Most people (60+ percent) are searching on Google using a mobile device.
It could be even higher in your niche. More than 80 percent of my traffic is mobile.
Google primarily uses the mobile version of a site's content as a basis for ranking, parsing structured data, and generating snippets.

Choose Mobile Strategy First:
14) Improve Page Speed Score
Page speed or page load time is one of the most important SEO ranking factors right now.
Aim for a page load time of under 2 seconds and under 1 second if you can.
How to reduce page load time?

Compress your images with a WordPress plugin like WP Smush
Use a CDN service like Cloudflare or Sucuri
Use a WordPress caching plugin like WP Rocket
Avoid an excessive number of ads on your pages
Use fewer WordPress plugins
Reduce external JavaScript calls
Use tools like Google PageSpeed, GTmetrix, and Pingdom to further diagnose any issues and reduce your page load time.
15) Keyword Research: An Introduction
My keyword research tool of choice is SEMRUSH. This is what I will use throughout the course.
SEMRUSH has the most advanced features and it is very easy to use.

A couple of years ago, I was not satisfied with my traffic or my revenue.
I tried out all the popular keyword research tools and settled on SEMRUSH.

For a month straight I did keyword research.
Next, I implemented a deliberate SEO content plan. It involved creating 80+ new articles and targeting a plethora of untapped keywords.
The Results: Massive Growth In Organic Search Traffic

Can you see the importance and power of keyword research?
First, lets cover some basics that you should understand before using a keyword research tool.
Keyword Terminology:

Seed keywords (your main topics)
Head keywords (broad, single word, high search volume, ultra competitive, low converting)
Body keywords (more specific, 2-3 word phrases, medium search volume, somewhat competitive but not always)
Long tail keywords (very specific, 4+ word phrases, lower search volume, less competitive, high conversion rates)
LSI keywords (synonyms, or keywords commonly found together)
When you write your articles focus on body, long tail and LSI keywords.
These keyword types will generate the most organic traffic in the early stages. Traffic quality from these keywords is also higher. So you will harness a more targeted audience that produces higher conversion rates.
The Ideal Keyword…
1000+ monthly searches
Low keyword difficulty (under 75% and lower if possible)
High AdWords CPC + competitive density of advertisers (produces more ad revenue for content sites)
Driving your competitors traffic (you will take it away)
Commercial intent (for e-commerce)
Triggers featured snippets (more later)
Helps give articles structure (sub-topics to a main topic)
Could be a question (to answer in an article)
Keep these ideas in mind when you are doing your research.
Keyword Usage Based On Search Volume:
Use high volume keywords in your SEO Titles and Headlines
Use middle to low volume keywords in your article text
That is all the theory you need to know.
Let's do some practical tutorials.
16) Keyword Research Analytics
Let's look at how SEMRUSH works for basic keyword research and analytics.
Tutorial 1 – Simple Phrase Match Keyword Research
1) Type in a seed keyword, click Search and select the Phrase Match tab.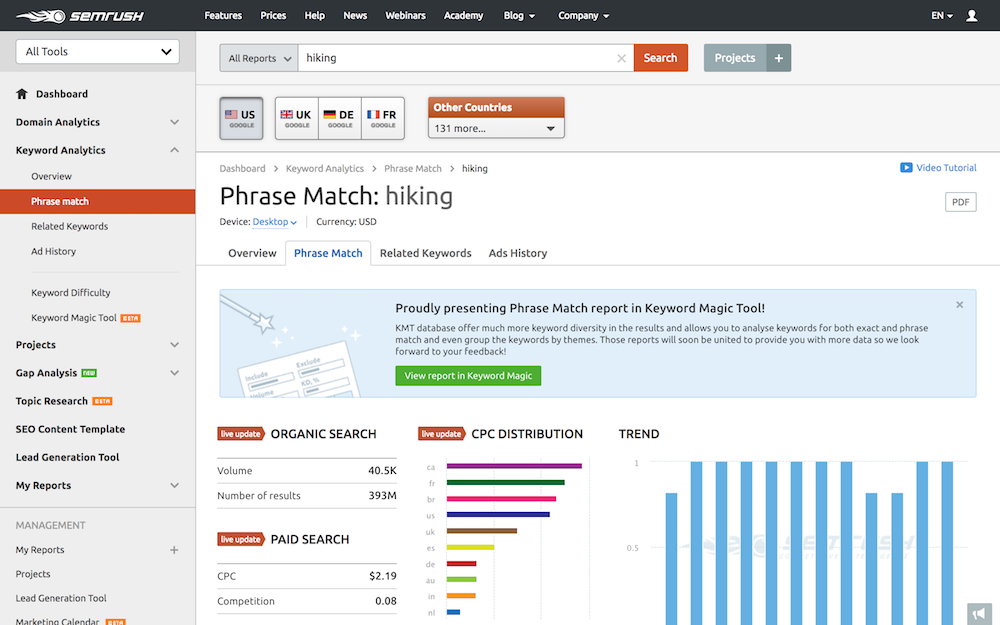 2) Results are sorted by Volume. You can sort by any of the fields: Keyword Difficulty, CPC, Competitive Density Of Advertisers etc.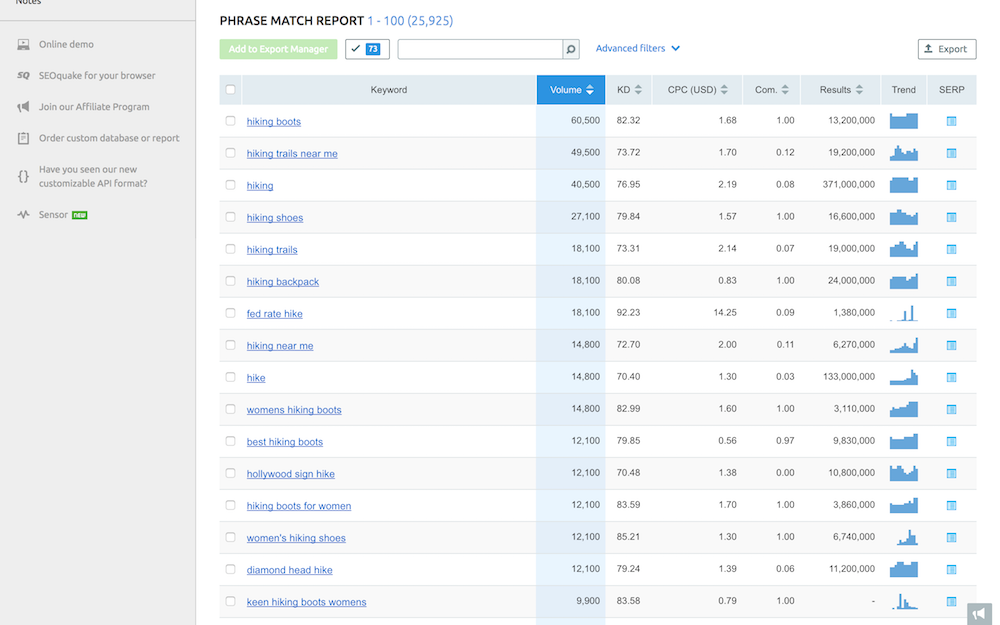 3) Add some filters as I have below. The numbers you choose will vary by industry or personal preference. This is just a starting point sorted by Volume.
I created a filter for keywords that have some competitive density of advertisers (0.30), a reasonable threshold for keyword difficulty (75) although lower would be better, and a search volume of greater than 500 searches/month.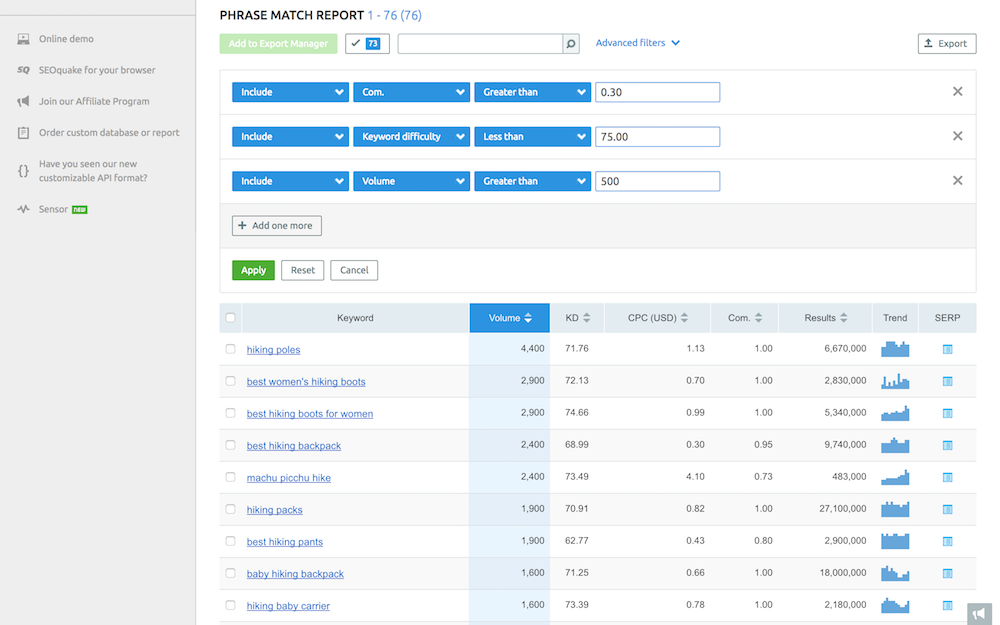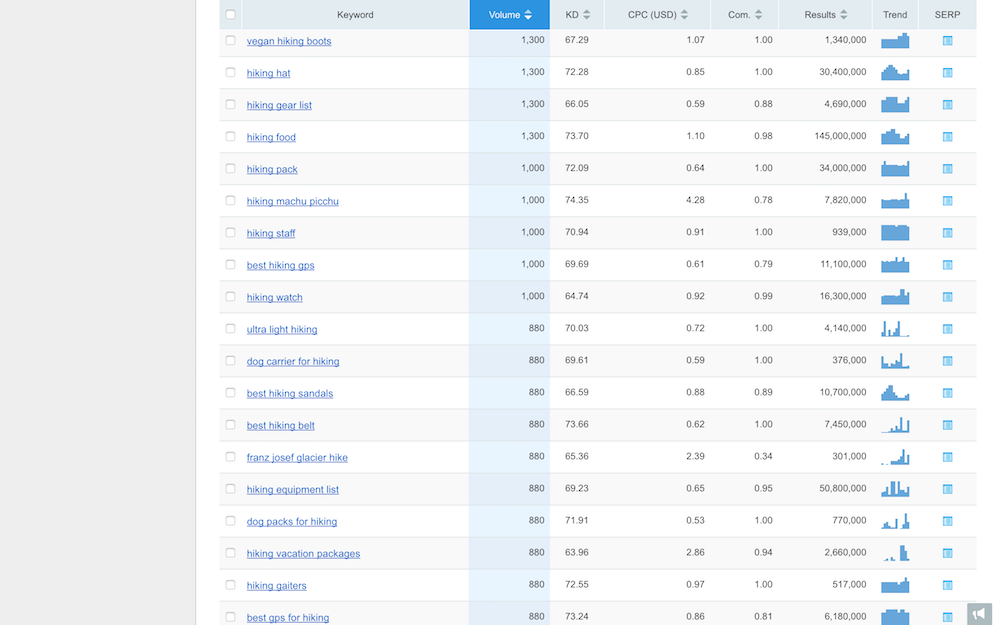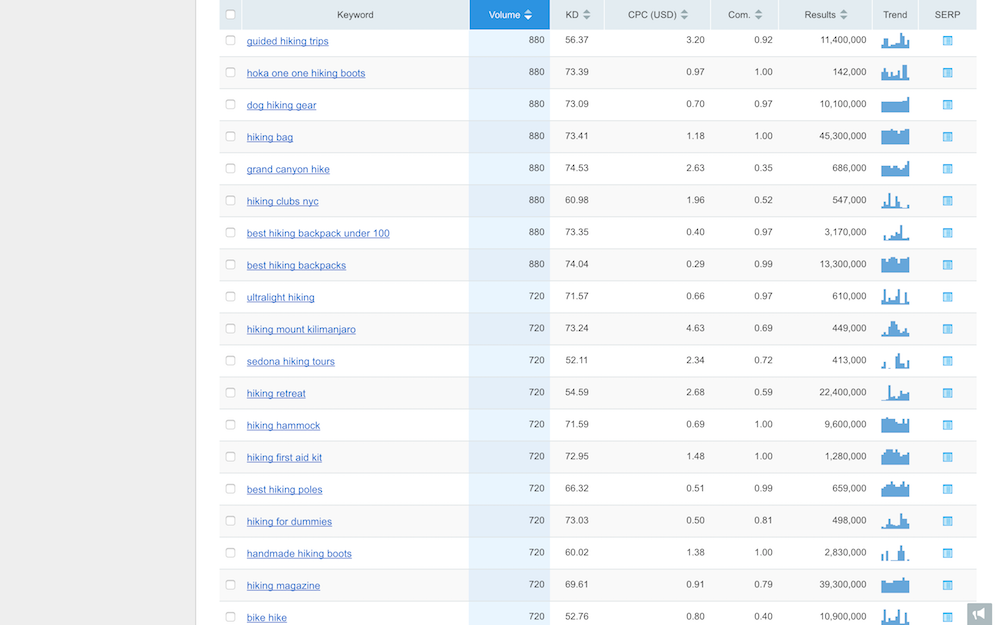 Now let's sort by CPC high to low.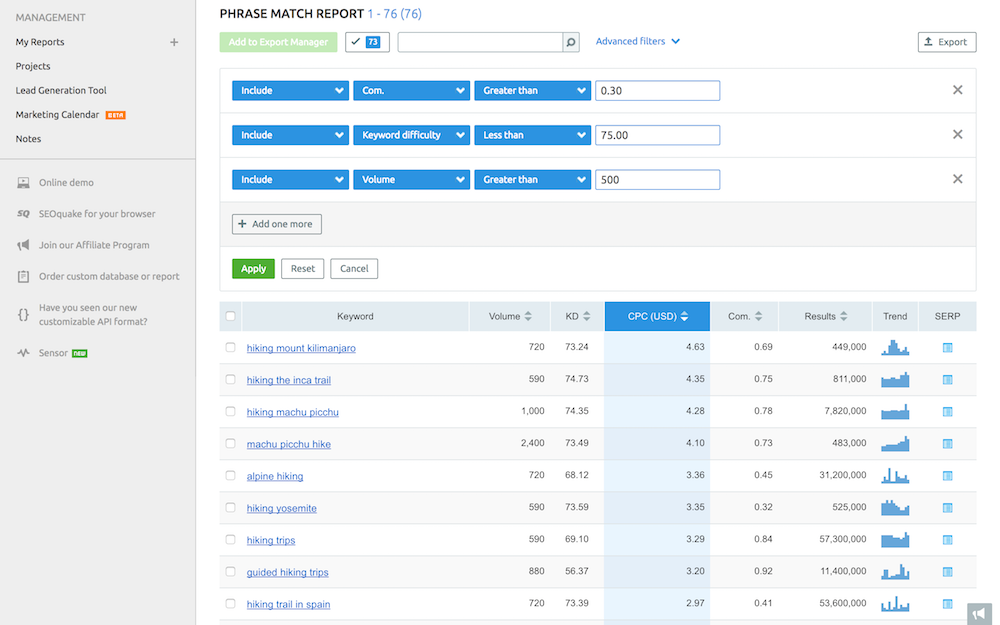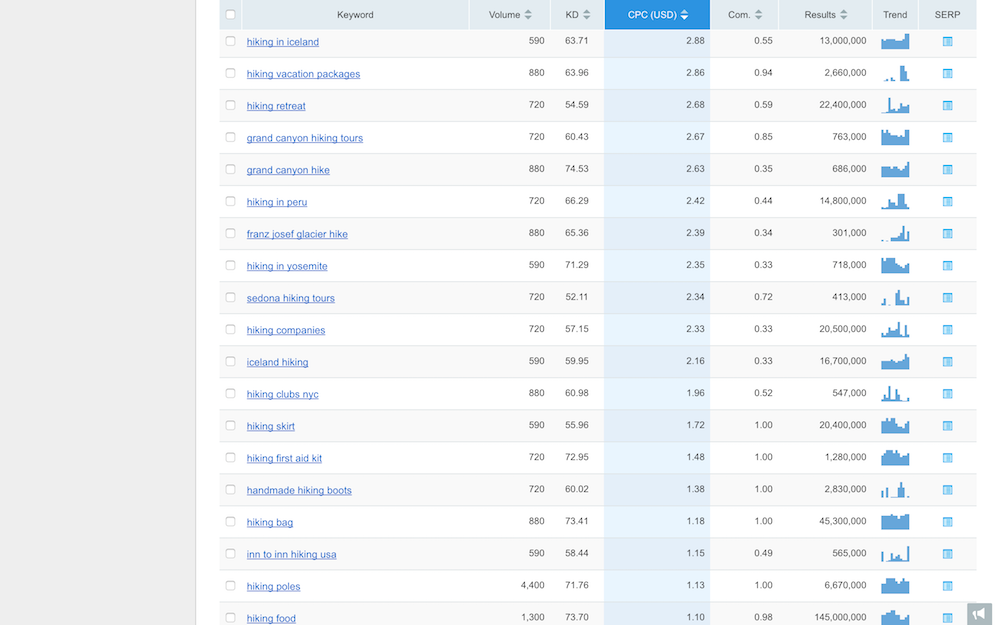 What Are These Results Telling Me?
Articles about gear or trips is where to start

Higher CPCs (more ad revenue)
Higher competitive density of advertisers (bigger pie of advertisers and money)
Lower keyword difficulty in many cases

Create a WordPress categories for Hiking Gear and Hiking Trips
What Are Potential Article Topics?
Hiking Gear List – The Ultimate Guide
The Best Hiking Gear You Can Buy In 2018
Top 10 Hiking Trips And Guided Tours
Hiking Machu Picchu And The Inca Trail
You could use the above for SEO Titles and Headlines of articles.
What Else Do The Reports Tell Me?
CPCs are generally low at $1-2 (higher than $5/click would be nice)
Overall total search volume for this niche/topic is not super high

Nice to see some keywords with 100,000+ monthly searches

This niche/topic is good for a hobby/fun site but likely will not earn much advertising revenue
Might be an okay niche/topic for affiliate earnings or e-commerce sales if you had a product
It may be better to launch a site about the outdoors vs. just hiking (Thinking BIGGER now before you commit and work)

Way more search volume and growth potential
Could target many more big topics vs. just one…
It is very important to really think things through and evaluate opportunities before you start.
The last thing you want to do is launch a site that is a dead end for revenue.
17) Keyword Research – Competitor Analysis
One of the best ways to get more traffic is to analyze your top competitors.
I doubled my organic traffic in a few months doing this.
Use SEMRUSH to find out what keywords and pages are driving their traffic.
Then, create better content on these topics and outrank them.
With an established site you can do this very quickly. And you can still outrank competition with a brand new site. I have seen it done.
1) Type in your competitors URL.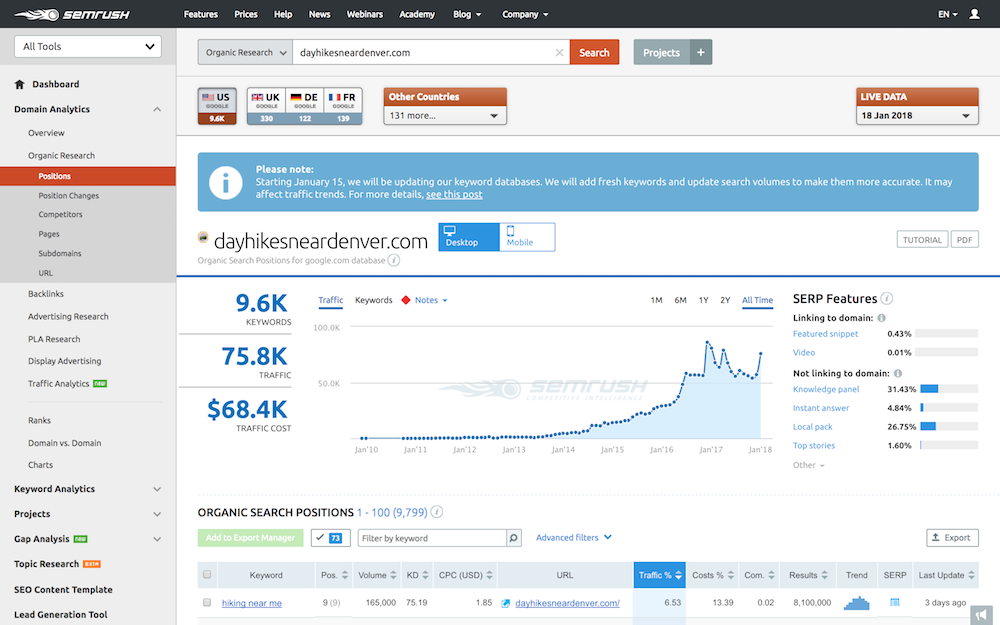 2) Click on the arrow icons in the URL column to view pages that are driving traffic for your competitor. Or, click on the page icon in the SERP column. Review the content that is ranked for this competitor and others in the search results.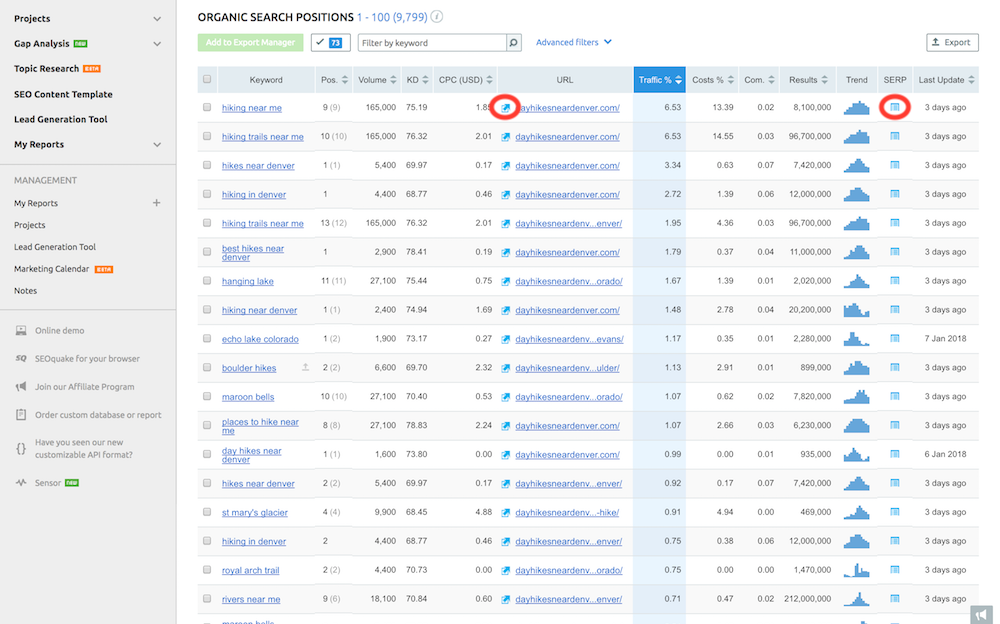 3) Add some advanced filters to zero in on keywords with lower keyword difficulty and a decent search volume.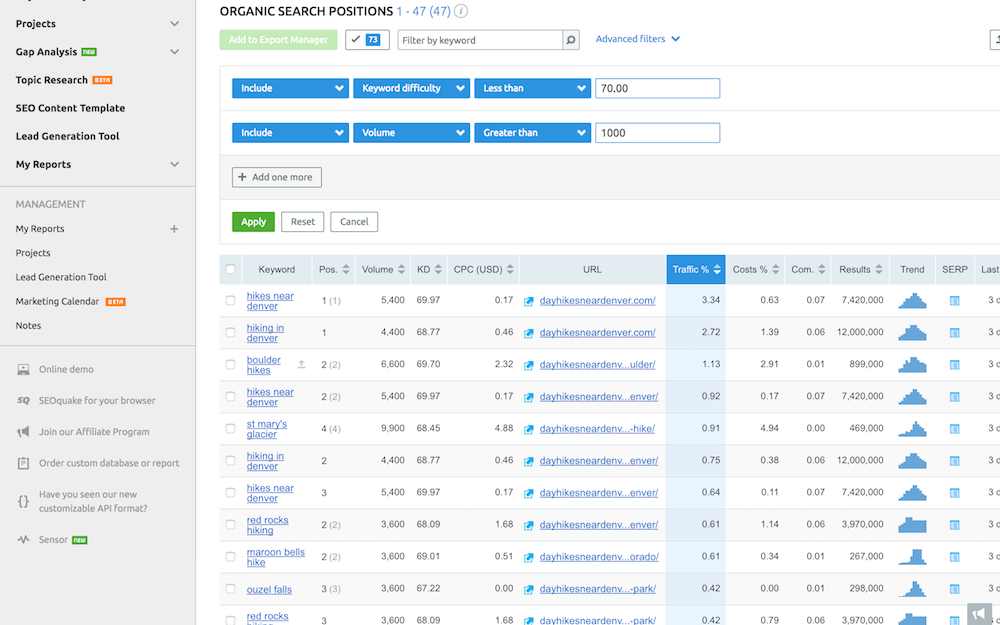 4) I clicked on the SERP page icon for the keyword hikes near denver. Notice the result includes a coveted featured snippet. The competitor holds the number 1 and 2 traditional organic search rankings. This is a good keyword to target. Maybe, I could get all these positions if I create a better article. Click on all the links to understand how to create a better piece of content.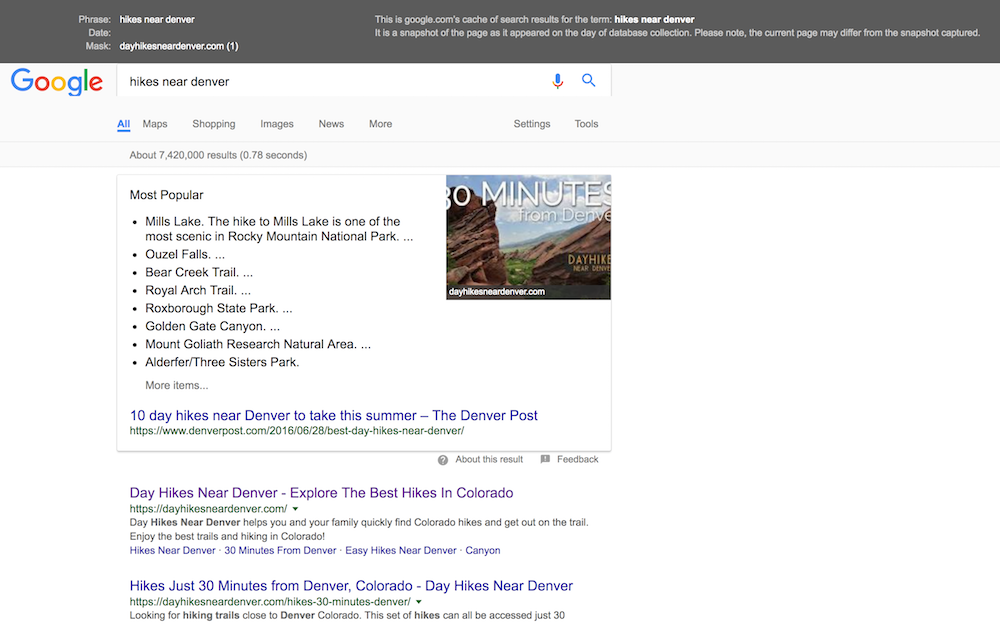 5) Next navigate to Competitors under Organic Research. Here you can find more competitors based on common keyword rankings. Review them all.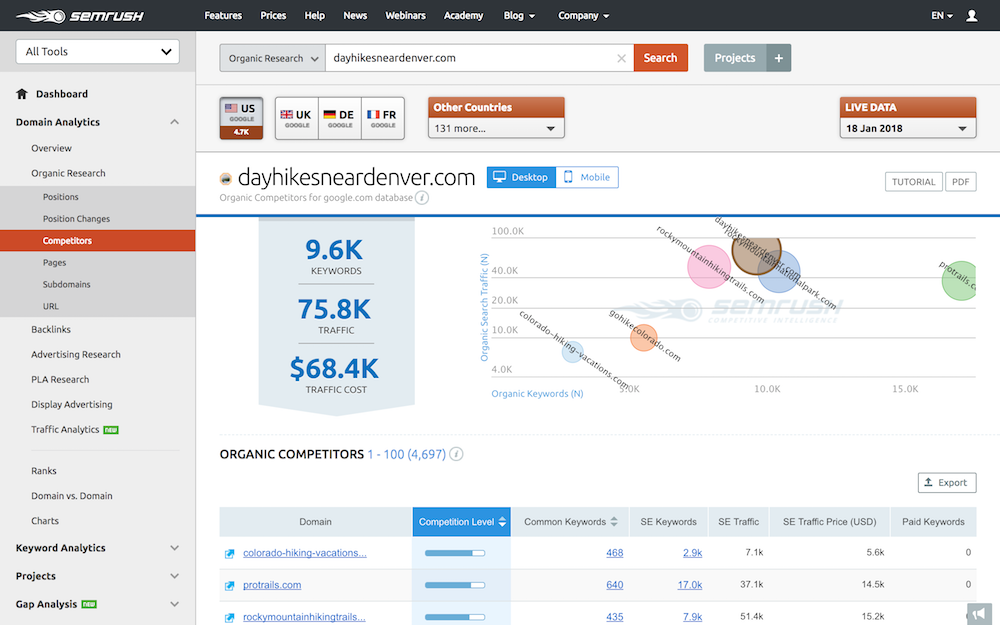 6) Next click on Pages under Organic Research. Look at any domains top traffic pages. Check out each page and create better content.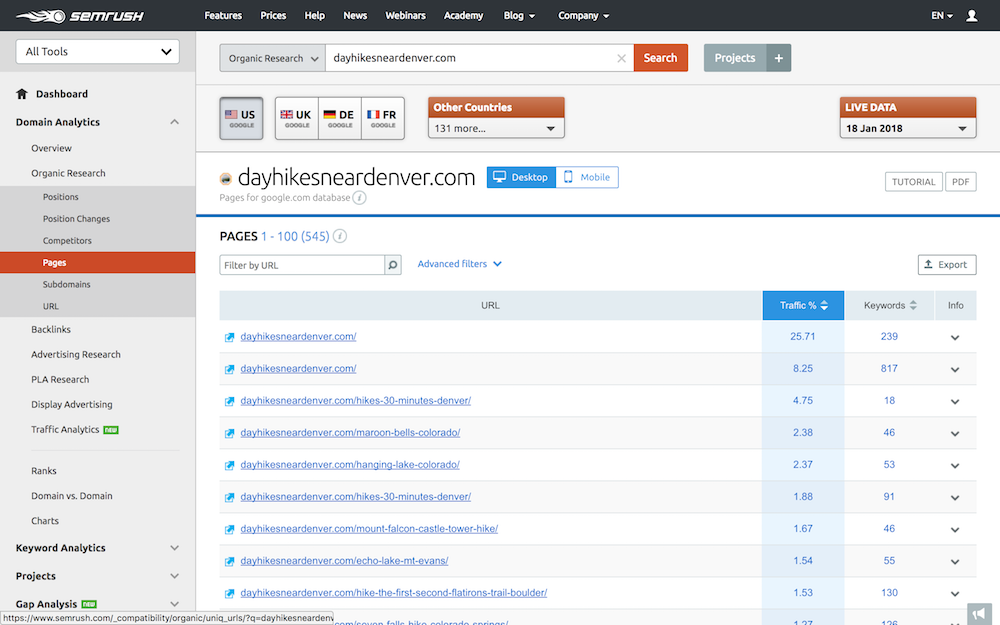 7) Next, use the Keyword Gap tool under Gap Analysis. Enter up to 5 domains. This report shows various keywords and where each site is ranked in Google. It is remarkable how many gaps there are site to site that address the same audience. Fill in these gaps with your site content. Get ranked on the first page for all these keywords. Open each keyword in a new tab and then look at what content is getting top rankings. Create something better.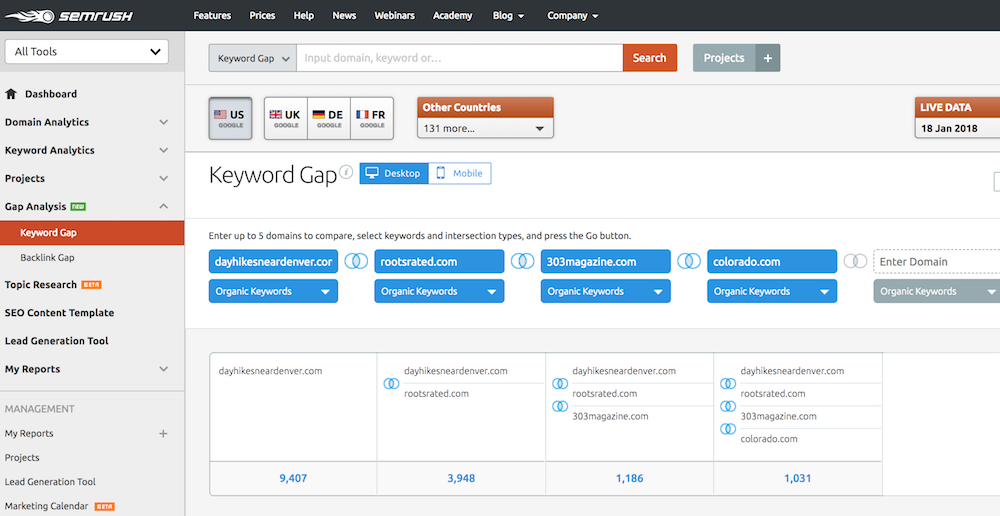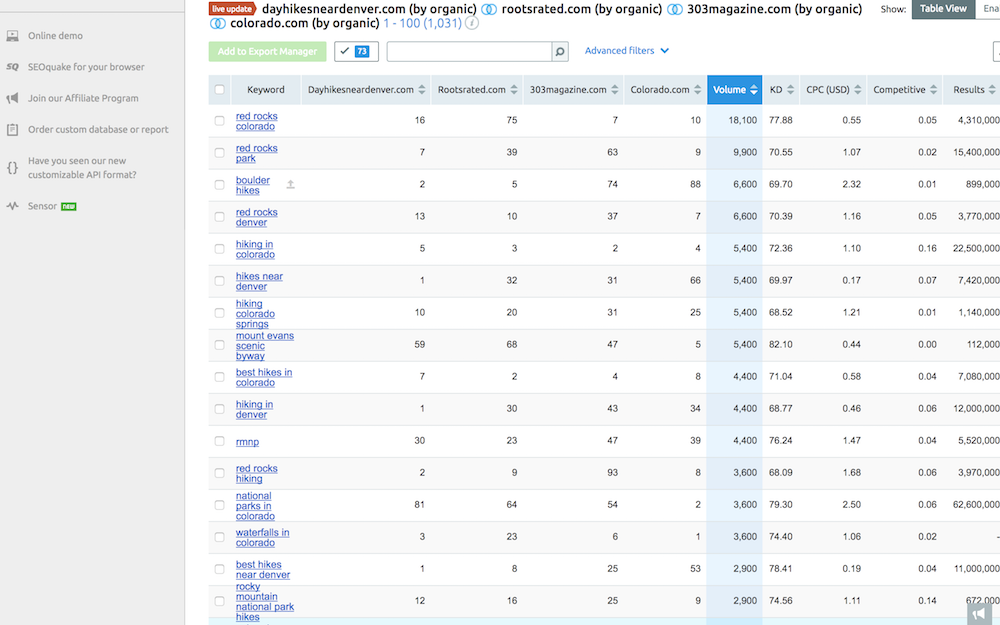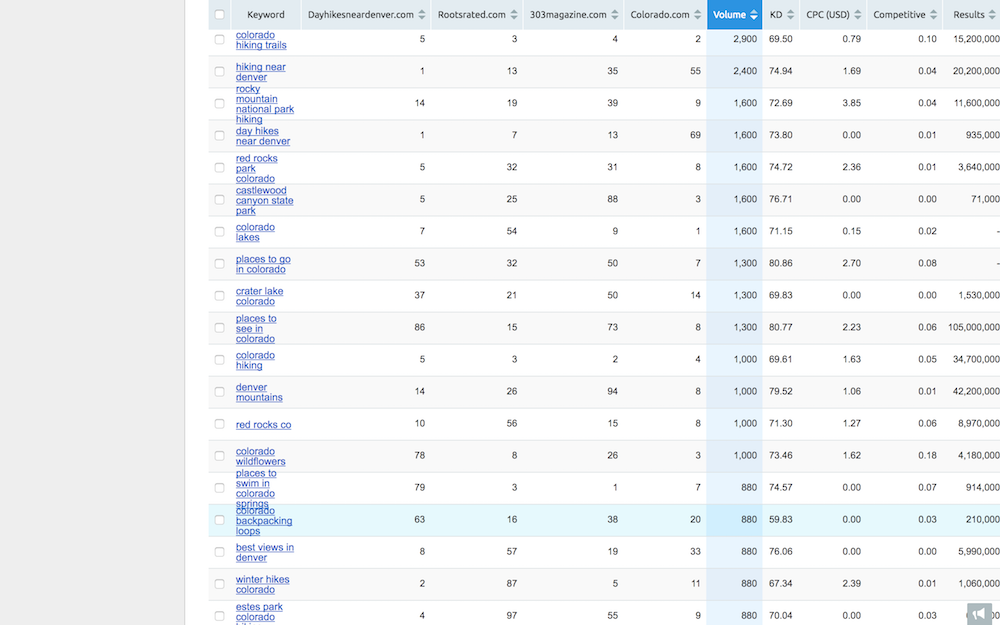 8) Repeat steps 1-7 for all competitors found. Make sure you have not missed any sites.
Keyword research takes time and might seem tedious. Nevertheless, I can't stress just how important it is to do thorough keyword research.
Keyword research is the foundation and starting point to great SEO.
I spent a full month using SEMRUSH daily to create my new content plan. It was worth it. The plan doubled my traffic and revenue in a matter of months.
Key Reminders:
Keyword and topic saturation drives site authority in the long run
SEO success comes from being thorough and persistent
Long comprehensive articles rank higher
18) The Perfect Article Format (To Maximize Keyword Visibility)
Articles generate organic search traffic for your site.
One article can rank for hundreds or thousands of different keywords on its own.
The goal is to write fewer articles that attain very high keyword visibility.
In the past people would target only one keyword for an article. This is not efficient. Do not do this.
As outlined in the Keyword Research chapter we want to fully understand each relevant topic and all the important keywords before writing anything. By now you have done that and should have a spreadsheet that outlines all your topics, sub-topics and keywords.
The next task is to write all your articles.
Good Article Format:
In-depth and comprehensive content that is 2000+ words
Answers a question thoroughly and provides a clear solution
Attempts to provide a complete guide about a topic
Move from broad (main topic) to specific (sub-topics)
Easy to read (must have good Yoast readability score)
Use headings (H1/H2/H3) to organize topics and sub-topics
Include bullet or numbered lists
Short sentences and paragraphs
Target as many relevant keywords as possible
Use a wide variety of keywords

Body keywords
Long tail keywords
LSI keywords + synonyms
Content Quality Is Important:
Produce interesting content
Make sure it has an obvious purpose
Spend the necessary time and effort
Write fewer better articles
Approach like the whole world is reading
Check your facts
Include high quality photographs and videos
Be informative
Higher quality content generates more backlinks and social buzz
What To Avoid:
Publishing "thin" content that doesn't offer any value or valid information
Writing about commonly known facts or basic ideas
Targeting only one keyword per article
Rushing an article (publish when it is complete)
Writing similar articles that target the same topics
19) Finding Keywords For Article Structure (Keyword Magic Tool)
Now we will take the SEMRUSH Keyword Magic Tool a step further.
We'll focus on body and long tail keywords that can be used for WordPress category pages (with Studiopress themes this is essentially an article with links to more articles) and articles.
This keyword discovery tutorial will provide category page and article structure.
1) Navigate to the Keyword Magic Tool. Enter a new keyword and look at All the keyword phrases that contain that word.
Filter words count to 2 and 2. I added some exclude keyword filters to remove unwanted keywords. To do this simply type in an exclude keyword and hit your enter key to the left of where it reads Broad Match. You can add as many as you wish to filter unwanted keywords.
These keywords would be great for WordPress category pages or sub-category pages. They are high volume keywords that likely have many other topics related to them. I will dive deeper into category page keyword research later on.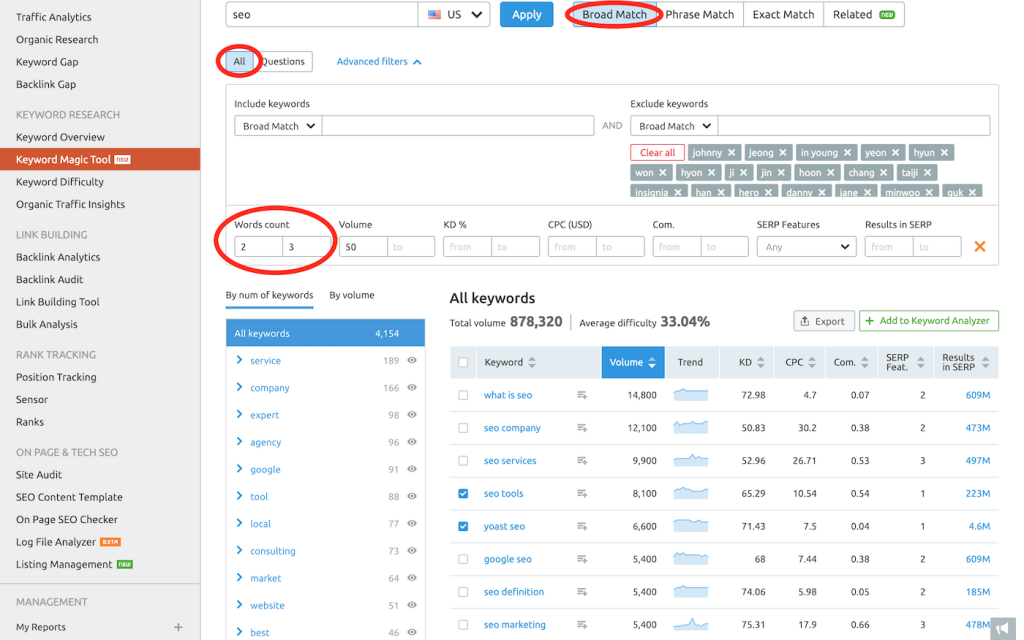 2) Next, under Advanced Filters, increase word count to 3. This filtered keyword list may be more appropriate for article topics, or long tail keywords to use in a specific article (like this seo strategy article).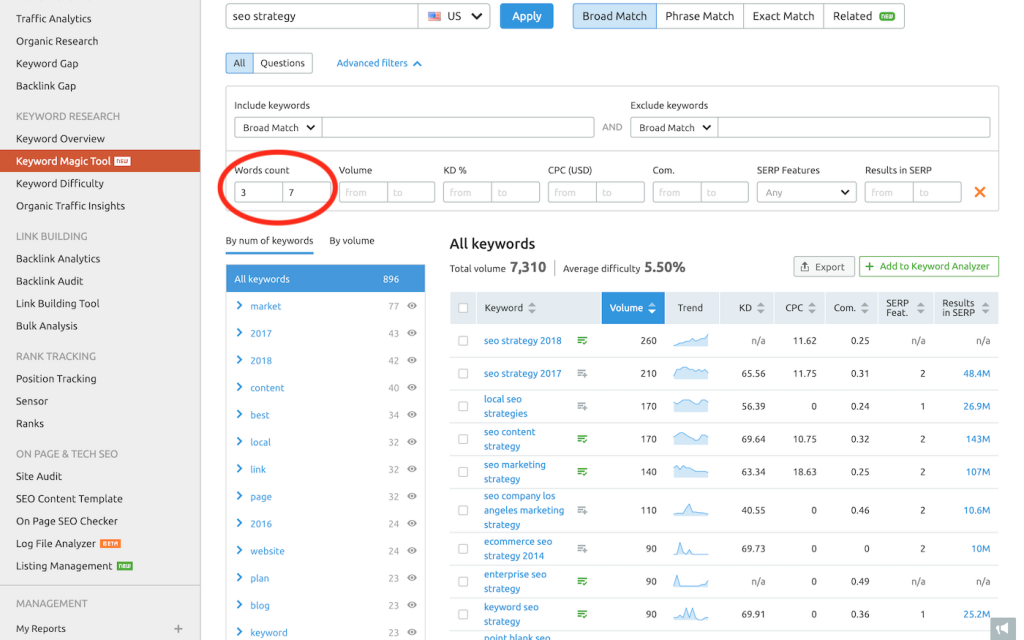 3) Next look at a words count of 4+ and get an idea of long tail keywords to use in articles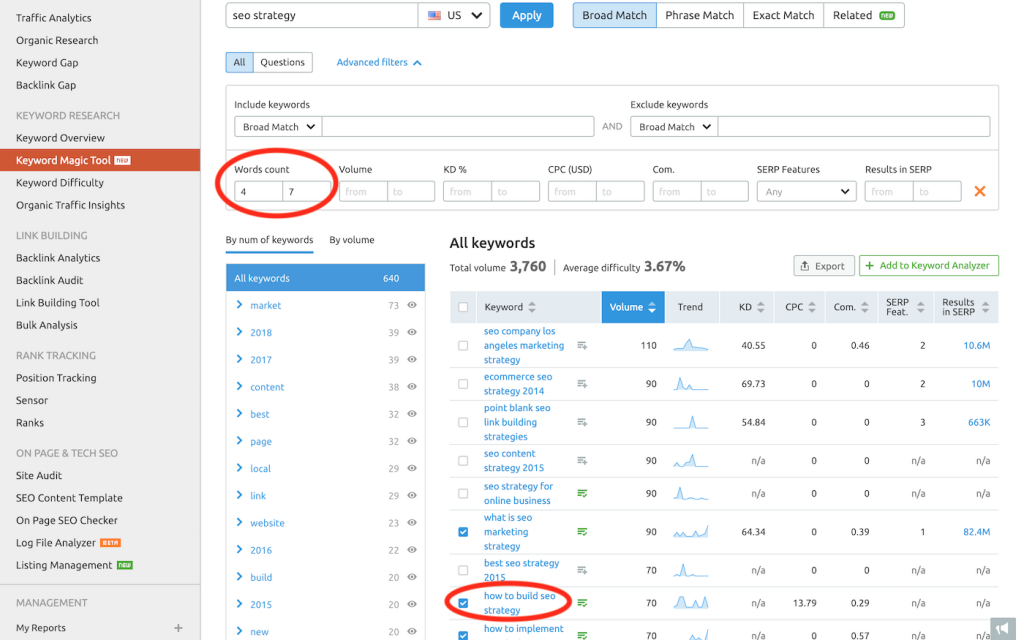 4) Explore a keyword group and look at the keywords with a words count of 4, 5, and 6 to get a look at the long tail keyword options for your articles. Explore other keyword groups in the left window. Click around and get an idea of how the tool works. Play with other filters such as Keyword Difficulty or CPC.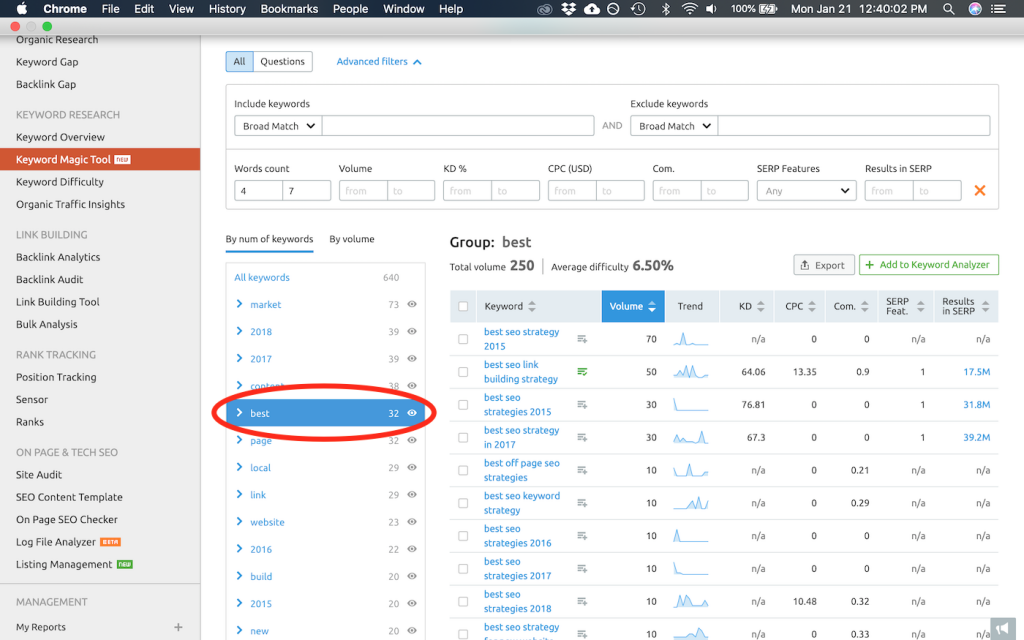 a) Filter keywords where: Words count = 5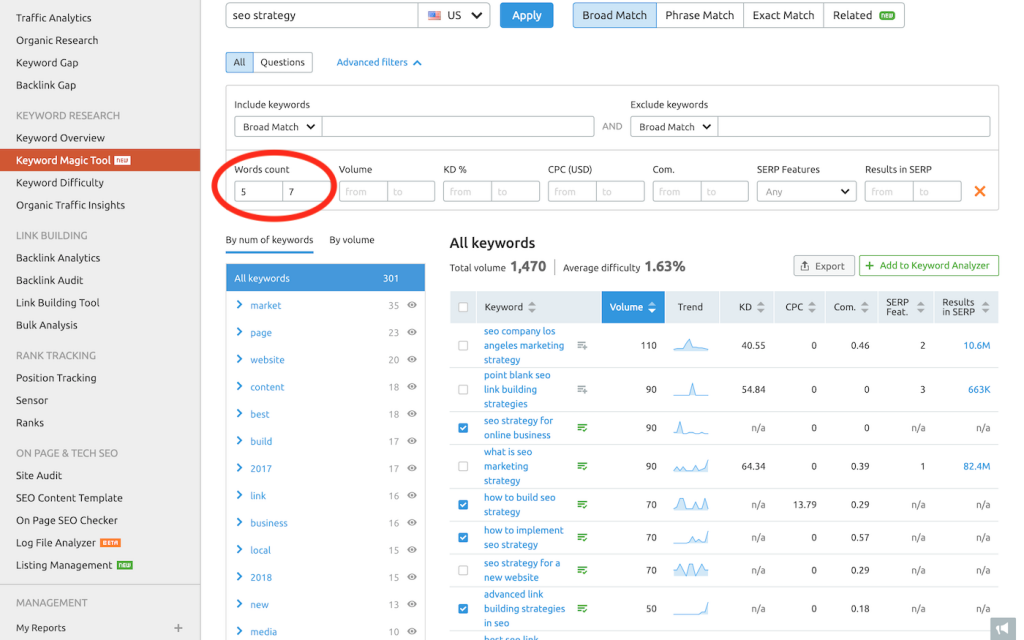 b) Filter keywords where: Words count = 6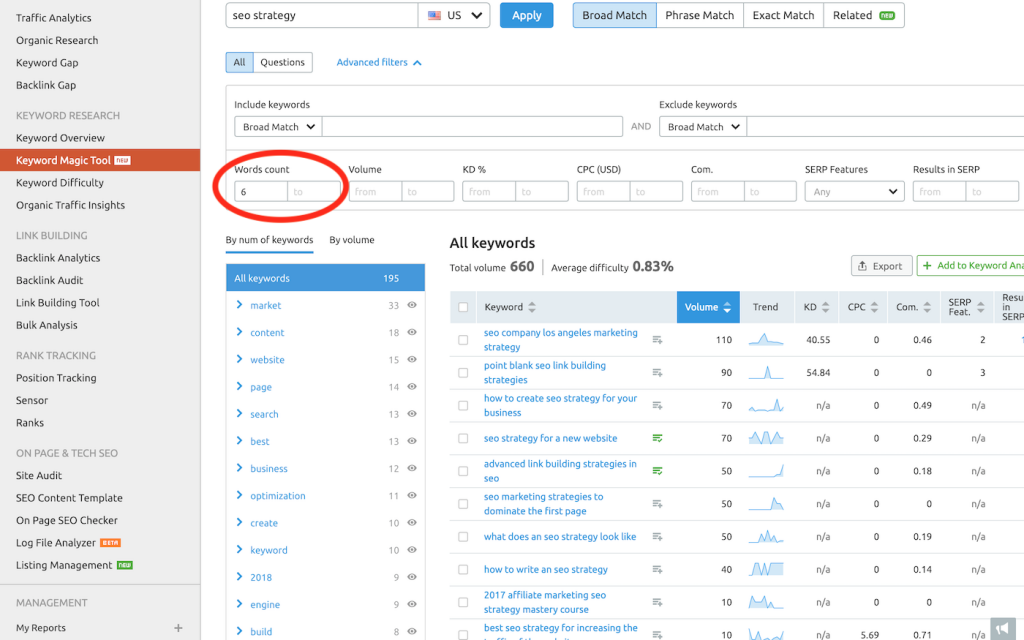 5) Take a look at the long tail Questions only. Question keywords are great to use in articles because they help to get ranked in Featured Snippet results. You could create Q&A article that includes question keywords. OR just simply use these question keywords in your 2000+ word articles. It's up to you. These are just ways you can think about your SEO content strategy.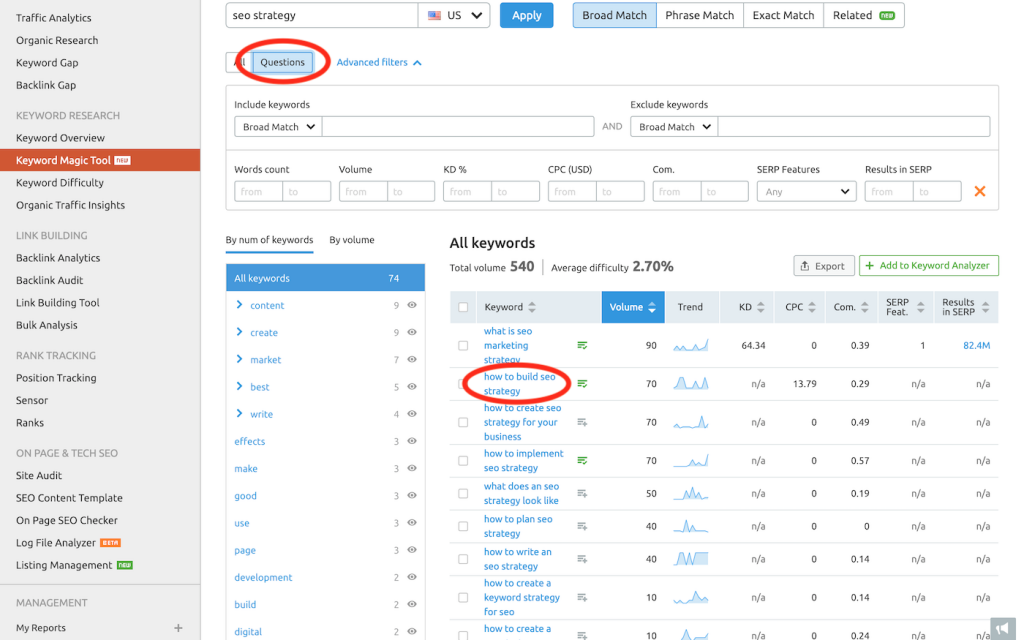 6) Reset the words count filter to 3 and enter a low end volume filter of 50 or 100.
If your site is brand new and lacks history and authority you might want to explore keywords with lower keyword difficulty scores.
Now, scroll down and select all the keywords that you could use in an article (or category page). The process is the same for both since we will be writing 2000+ words of content in the same format for category pages and articles.
We want to gather body and long tail keywords to use. These keywords could be main topics or sub-topics to write about. You could use them as headings. They can help structure your article. This is long tail seo strategy in action.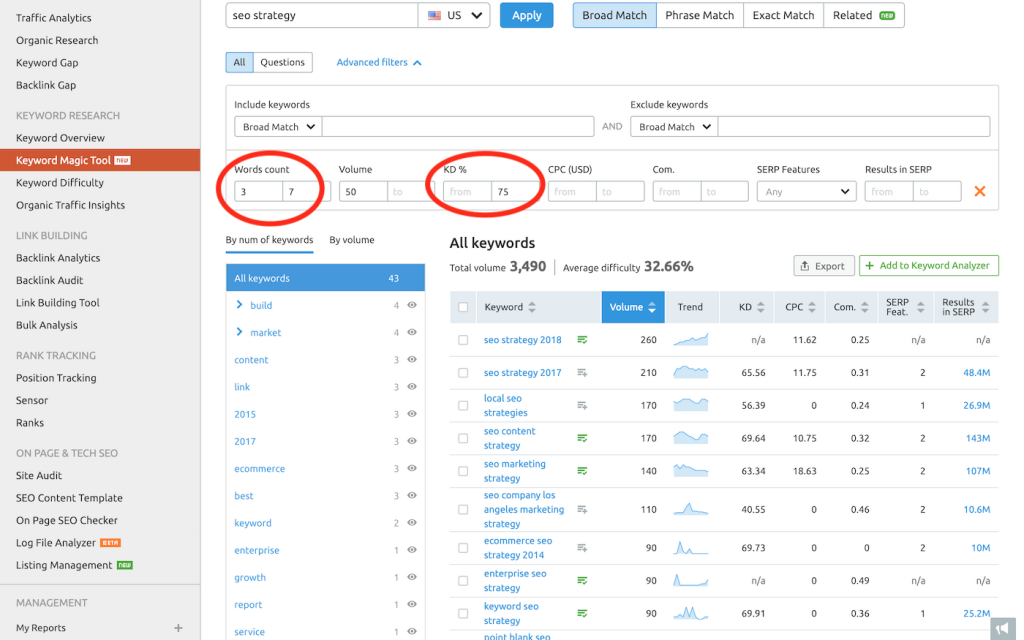 7) After you select all the keywords that you could use in your article click Add to Keyword Analyzer and choose Selected Keywords.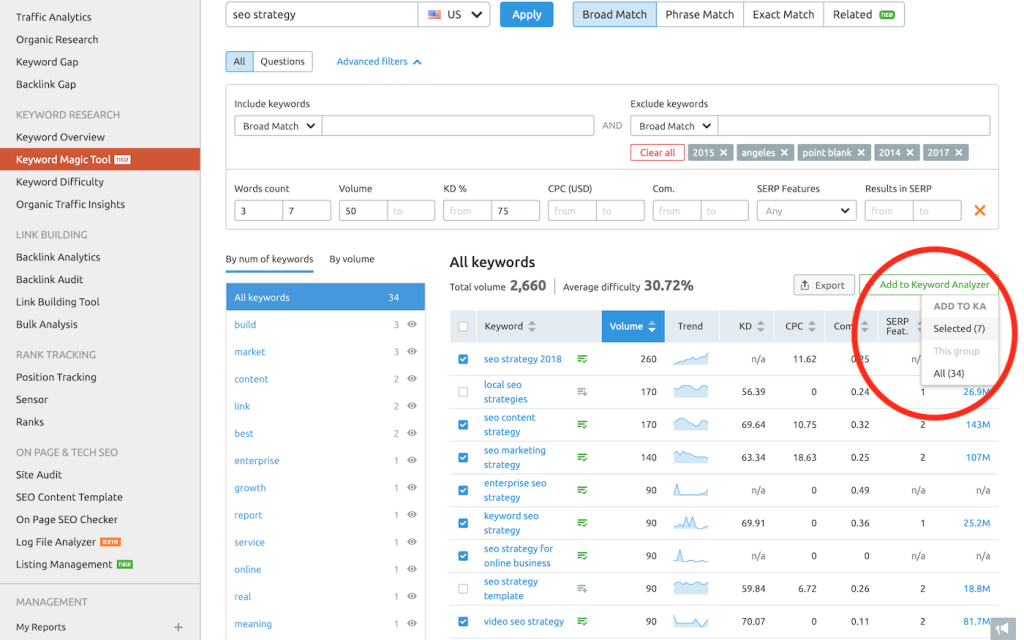 8) Now click Go to Keyword Analyzer at the top of the page.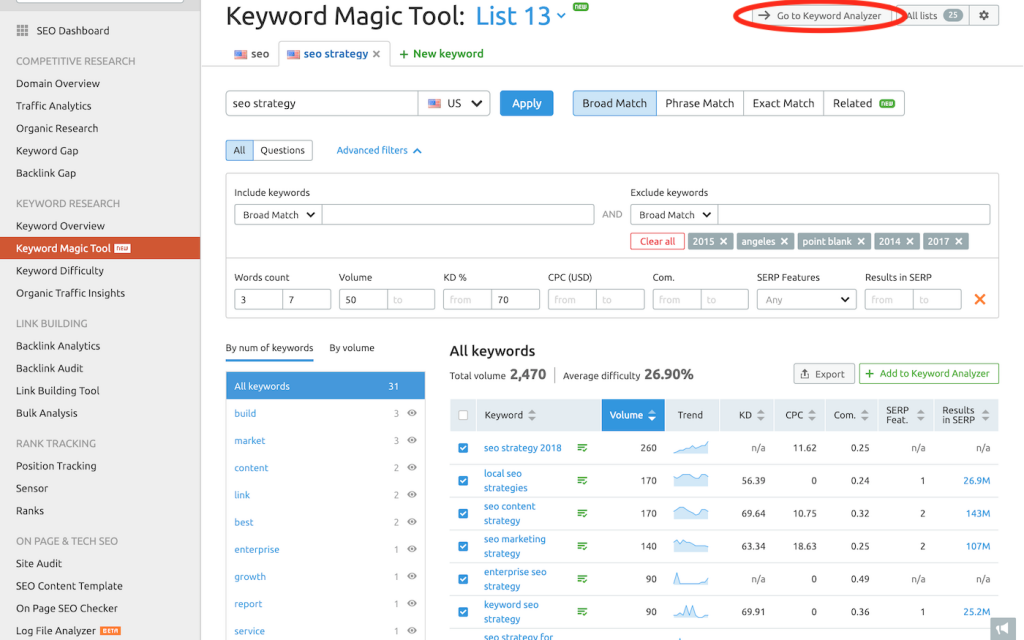 9) Click on Update metrics.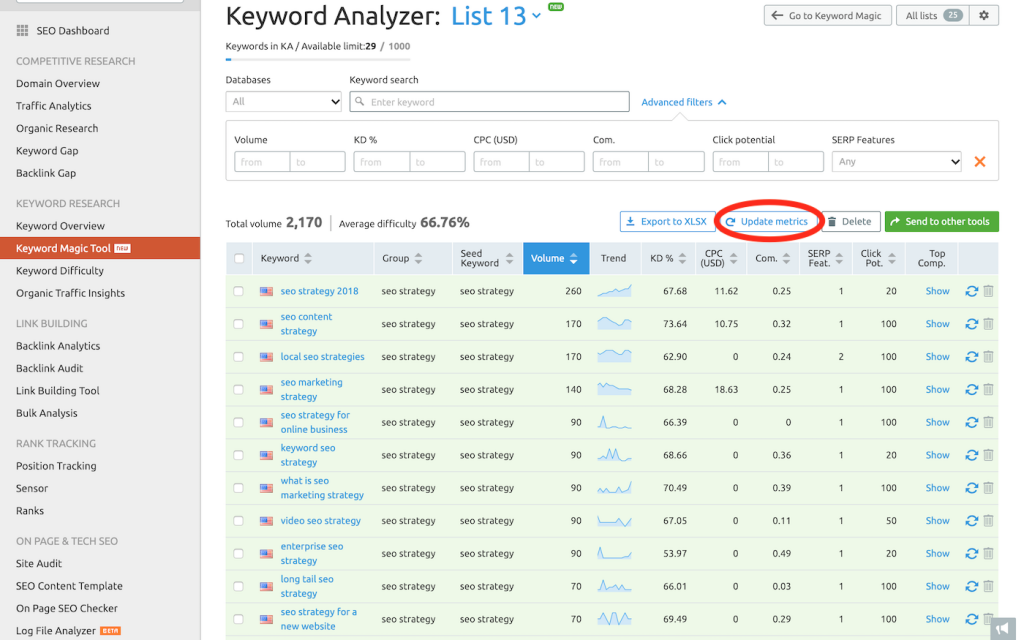 10) Metrics are updated. Click Export to XLSX and save the file so you can easily grab keywords to put in your article. Or just check them off as you use them. You can add up the click potential to get an idea of how much traffic the new article might generate in the long run. Look at the SERP Features so you can set yourself up for featured snippets. Use higher volume keywords first if you can. Put the keywords in Headings (H1/H2/H3) to organize the flow of your articles. Insert some of these keywords in numbered/bulleted lists if you can.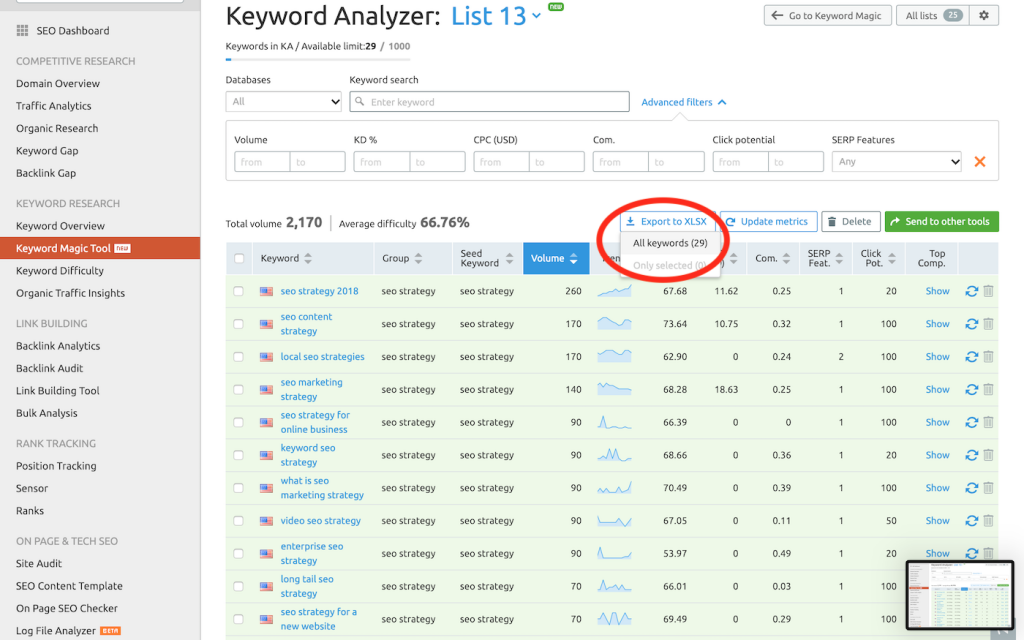 11) For each keyword in the Top Competitors column click on Show to see the Top Competitors.
Examine all the competitor articles. Look at SEO titles, article headlines, keywords they used, URL text and see if any got a featured snippet. Analyze every detail and then make your article better.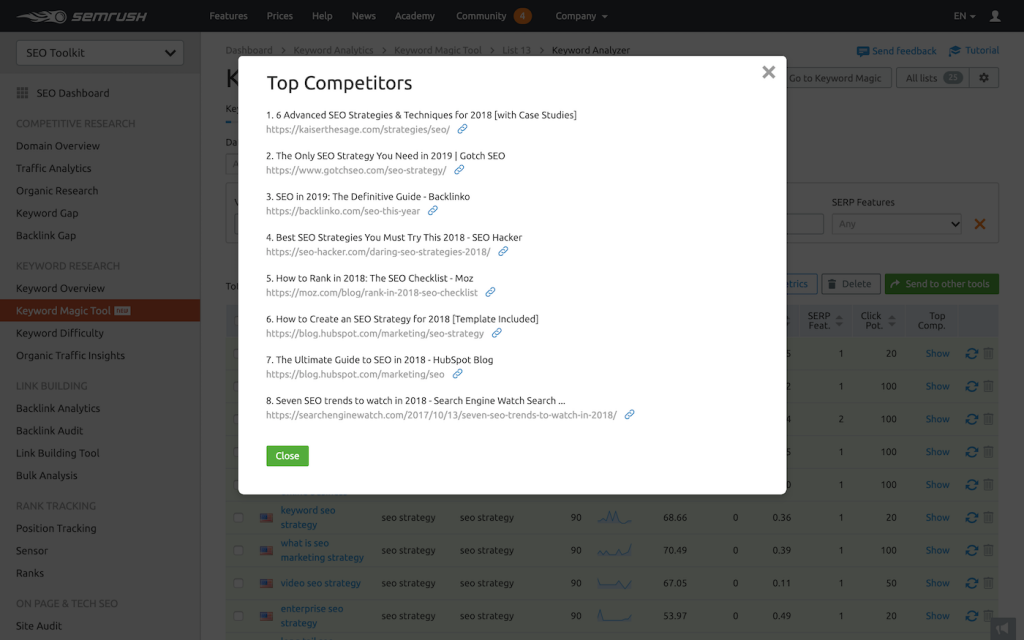 Repeat these steps for other topics. Create many more articles until saturation has been achieved.
For Category Pages:
If you use Studiopress themes you can do keyword research for category pages just like we did here for an article. These themes have a content section (in edit mode it is the Archive Intro Text) at the top of the page above where your article links appear below.
Your category name and URL should be a head keyword.
When doing keyword research for a category set the words count filter at 2 to 3 so you get broader higher volume keywords that are suitable for introducing and discussing the main topic and main sub-topics.
Be relentless with keyword research and you will get a tonne of organic search traffic.
See some of the Excel files that I exported in this tutorial to get long tail article keywords. They will give you an idea of how effective the SEMRUSH Keyword Magic Tool is to build your entire content strategy. It is so fast. Super efficient. I use SEMRUSH every day. It is really mandatory. It is a business expense that pays for itself over and over again. Build a deliberate content strategy with this keyword research tool and win.
I encourage you to try out SEMRUSH. Why not test it free for 7 days?
20) Site Structure & Navigation – The Basics
The way you set up your site hierarchy or site (URL) structure is important.
You can manage your appearance in Google Search results with your site hierarchy.

Site hierarchy also influences your site navigation. An effective navigation helps users find the content they want quickly and easily.
Best Practices:
Create a naturally flowing hierarchy for users to go from general to specific content
Use WordPress categories to organize your content by topics
Use text for navigation on a menu and within your articles
Create a navigational page for your users that lists your site categories and other key pages (HTML sitemap)
Create an XML sitemap for search engines
Implement custom 404 pages to help users find what they want
Stick to short URLs
Use descriptive keywords in your URLs
Create a simple and flat directory structure (avoid a series of sub-directories)
Do not duplicate content on different URLs
21) Site Structure & WordPress
Studiopress WordPress themes have excellent SEO features that impact site structure. I have not found these features in other themes.

Category pages have extra content fields to help increase search visibility
The Genesis – Featured Posts widget helps users navigate your site and helps search engines find content
Breadcrumbs are easily turned on/off and configured to show by content type
Control default Blog Page and Content Archive Page formats in Theme Settings
Simple Hooks plugin allows you to inject links and content almost anywhere
Easily manage footer links with the Simple Edits plugin
22) How To Create WordPress Category Pages That Rank High
Last year one of my WordPress category pages had 2.5 million visits from organic search. Almost 20 percent of total traffic!
If set up correctly category pages can drive a lot of traffic and site engagement. That page drove 35% more page views per visit than the site average.
Studiopress themes offer SEO advantages for category pages that I have not seen on other WordPress themes.
Your category pages should be your main topics that will organize your content. These topics should match up to your keywords that have the highest search volume.
The categories on my blog will be SEO, digital marketing, social media, Google AdWords, Facebook Advertising, Instagram, and Pinterest.
These are all very broad topics that get a tonne of searches. The topics of my articles attached to these categories will be more specific.
How To Set Up Category Pages:
1) Navigate to Categories. Type in the Name, Slug, and click Add Category. Be specific and use descriptive keywords.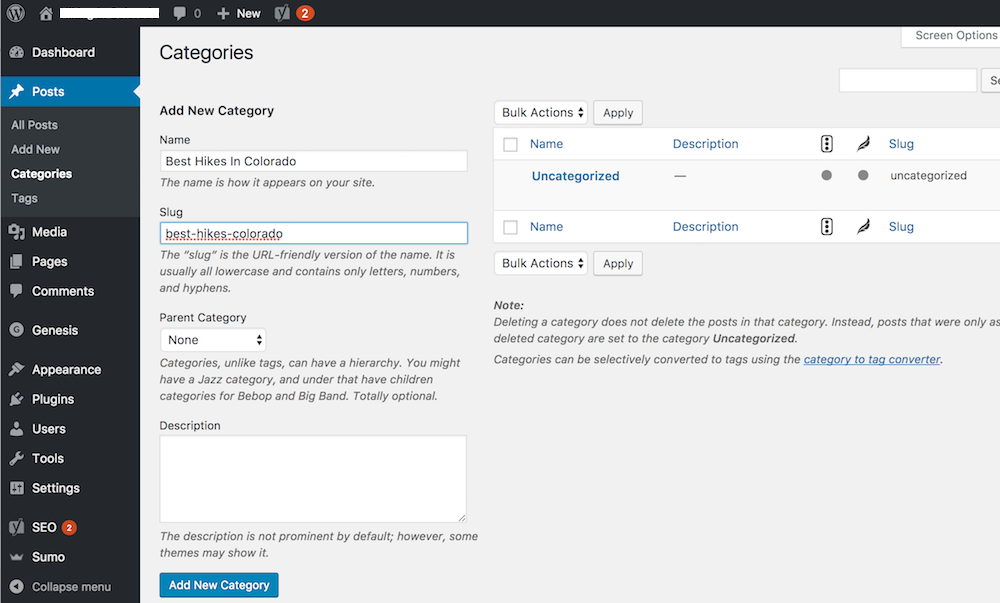 2) You should be on the Edit Category page now.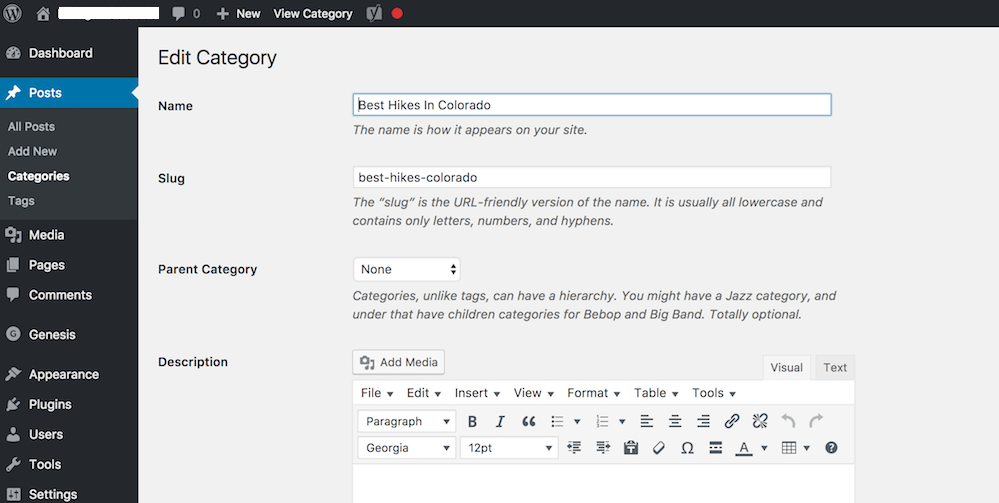 3) Scroll down and enter your Archive Headline.
Next, enter Archive Intro Text. This is the section that other themes do not have. Here you can write a 1000+ word article that includes text, images, or videos that clearly introduces this main topic to your audience. Talk about all the relevant sub-topics.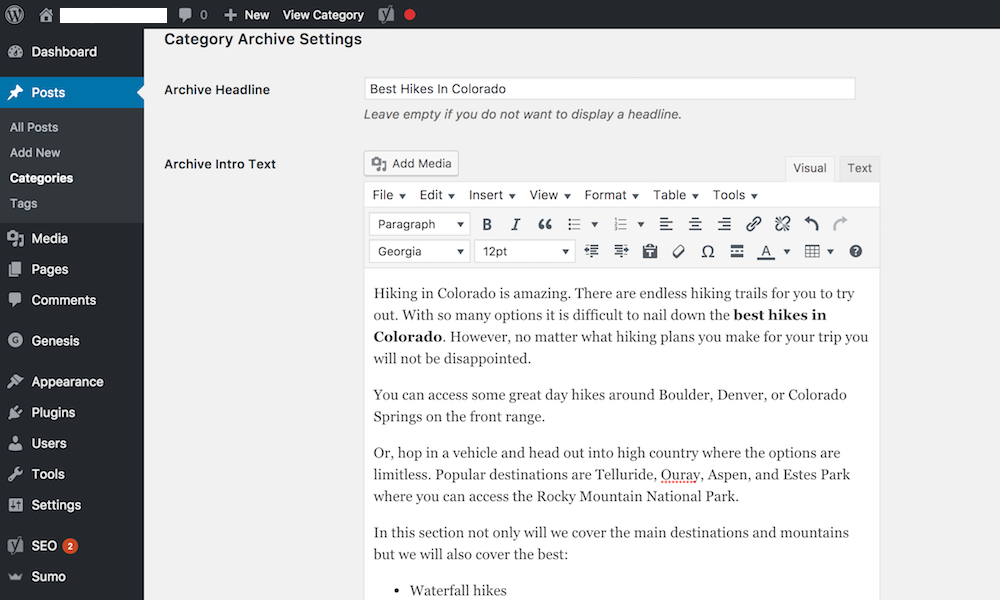 4) Scroll down and enter your focus keyword, SEO title and Meta Description.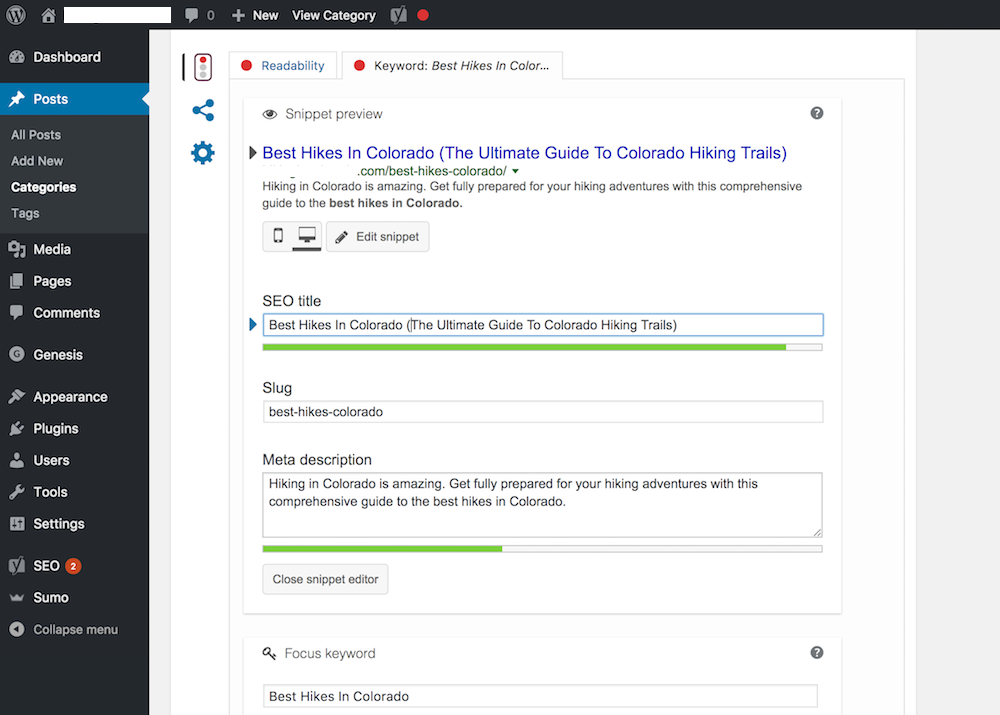 5) Click update.
6) When you create new articles that are associated to a category make sure you include a text link in that article to the category page. This is good internal linking structure that will make your category pages perform well in Google Search. It signals that they are important pages and starting points for users. In the long run you will get ranked for the high volume keyword searches.
Totally easy right?
23) Finding Keywords For Site Structure (Keyword Magic Tool)
The SEMRUSH Keyword Magic Tool makes planning your entire SEO content strategy ridiculously easy.
This is precisely why I prefer SEMRUSH over all other keyword research tools.
Why Is Keyword Magic So…Magical?
Creates your entire site structure
Helps build out article structure
All keywords and search data can be exported to spreadsheets
Let's put this awesome tool to work.
Type in a seed keyword. That is, a high volume keyword, very broad topic.
1) Under Keyword Analytics click on Keyword Magic Tool. Type in your seed keyword.
Below the seed keyword click on Phrase Match. To the left you can toggle between two types of keywords: All(regular) or Questions.
Further down you can enter filters to narrow down the scope.
Below that, you have two windows. On the left side the window allows you to navigate all keywords by groups or sub-topics of your seed keyword. You can view groups by number of keywords or search volume. On the right side you can see all the available keywords.
Export this initial search including groups to an XLSX file. See example file below. Now you have a spreadsheet that has a tab for every single sub-topic of our seed keyword (from the left window) with each sub-topics keywords neatly organized. This is your master SEO content plan file. You may want to filter volume to be 500+ searches so that the file is a bit more manageable. Feel free to filter by whatever makes sense. Can you see how powerful this keyword research tool is for developing your content strategy?
2) Here is a look at Questions.
3) I added a filter of 2-3 word counts. Why? This will help me map out logical WordPress categories for my site structure. Export to a XLSX file without groups.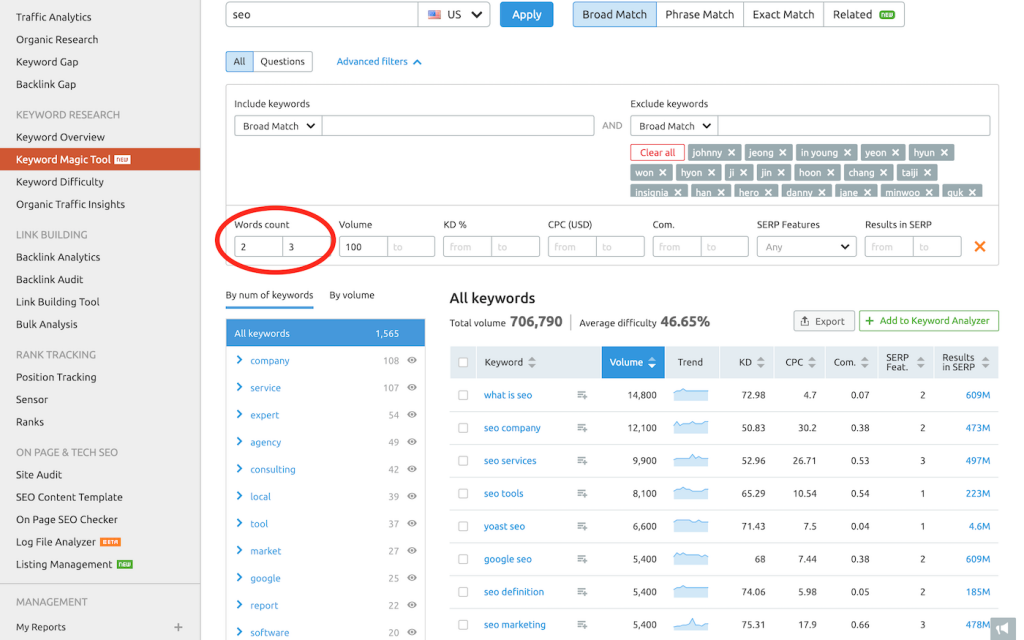 5) I increased the Words count filter to 4 to get an idea of the best long tail keywords that I can use in my articles.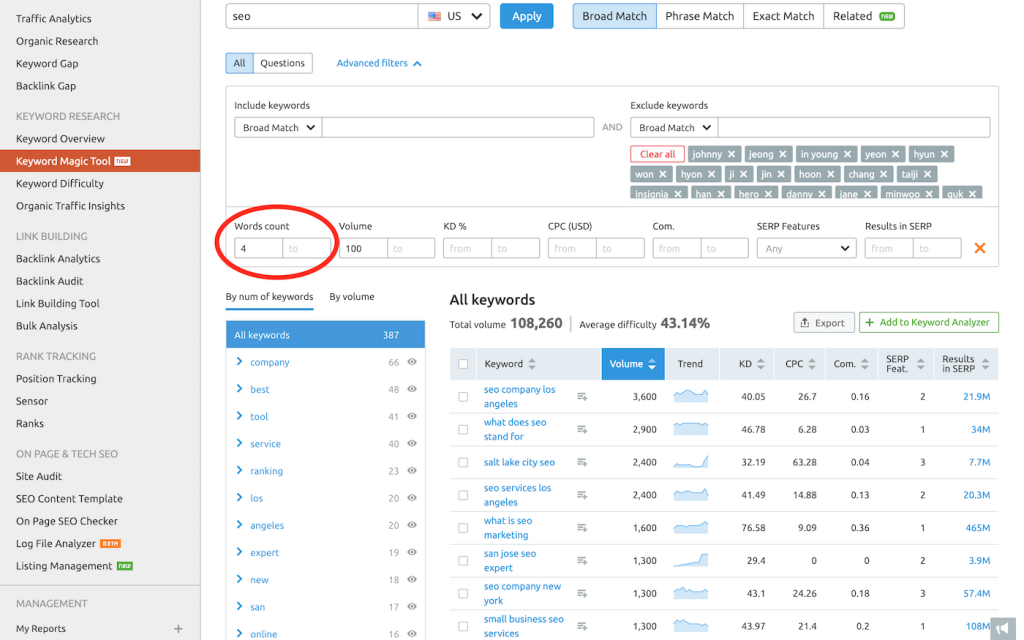 6) Increase words count filter to 5 or 6 if you want to explore even longer long tail keywords. See how the filtered list changes? More ideas. Perfect.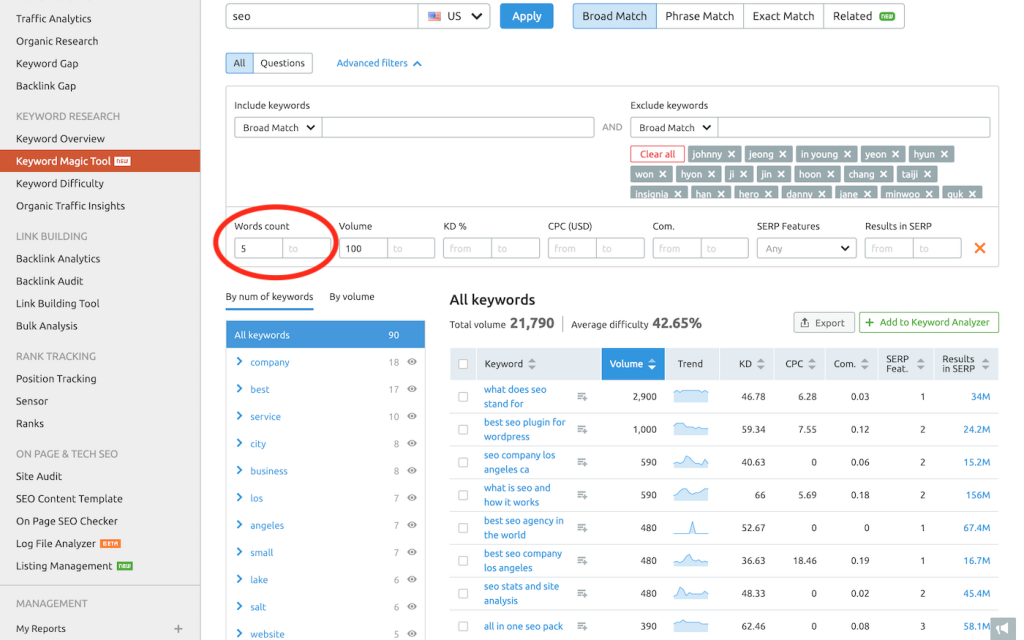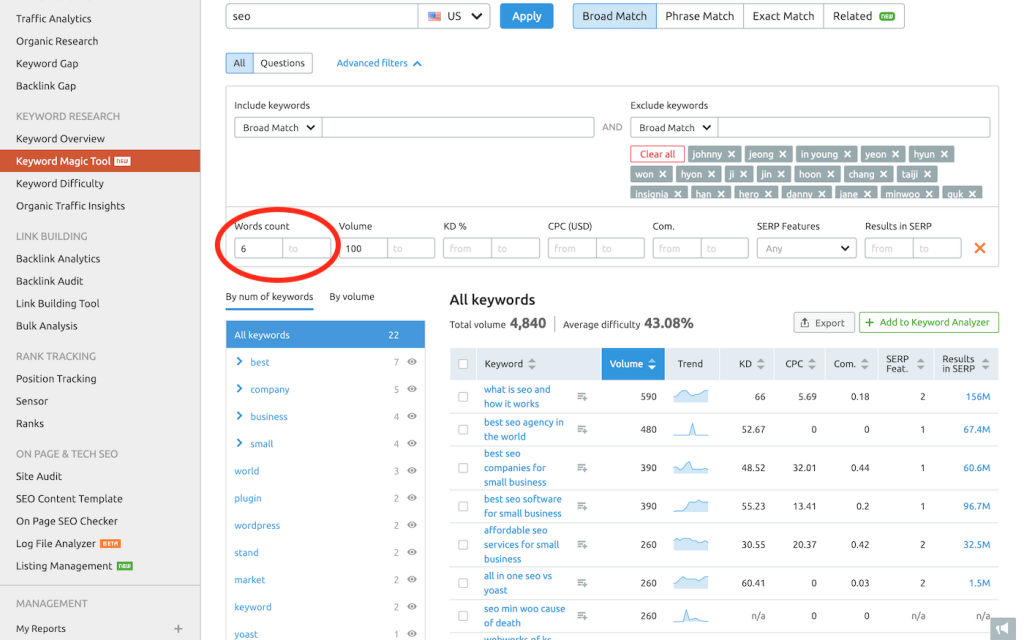 7) In the left side filter window I clicked on a keyword to filter down to keywords that are only relevant to that sub-topic. This will help focus my article and the keywords that I will use.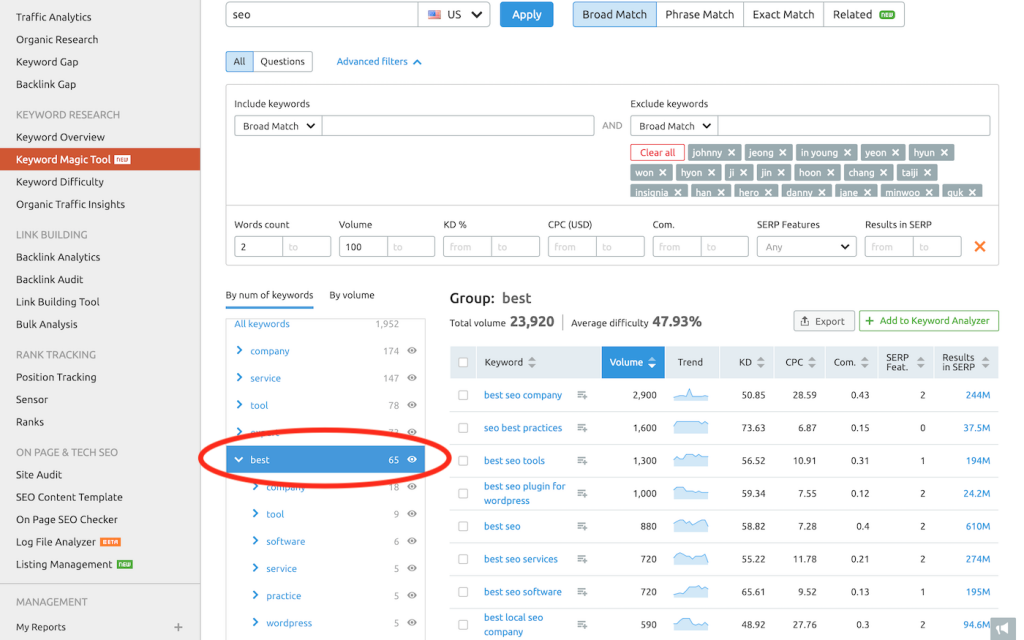 This is an amazing tool to organize all your keywords rapidly. Hence the name Keyword Magic Tool!
SEMRUSH has best UX of all keyword research tools. It helps you be super efficient for what was previously an extremely tedious job.
Take a look at the files below that I exported during the tutorial. They will give you a sense of how powerful and efficient the Keyword Magic Tool by SEMRUSH is to do your keyword research.
24) Featured Snippets + Getting Ranked
When you search on Google you may see featured snippet organic search results.
Some refer to the featured snippet as position zero.
Featured snippets provide an opportunity to jump ahead of the traditional organic search listings on page one.
This is a bonus since paid search listings, local search, images, news, and other Google search features are pushing regular organic search listings further down the page and out of sight.

Securing featured snippet spots are great because they take up more space than a regular organic listings.
Since they are so noticeable they have high click-through rates and can steal away clicks from the number one organic search result. Or, if you are ranked number one they become a nice complement.

Featured snippets are a massive opportunity to gain additional visibility.
This position may be easier to acquire than the traditional number one spot. Although in most cases the featured snippet results is a URL already ranked on page one.
Let's look at some examples of the power of featured snippets.
Gain Visibility vs. Paid Search Listings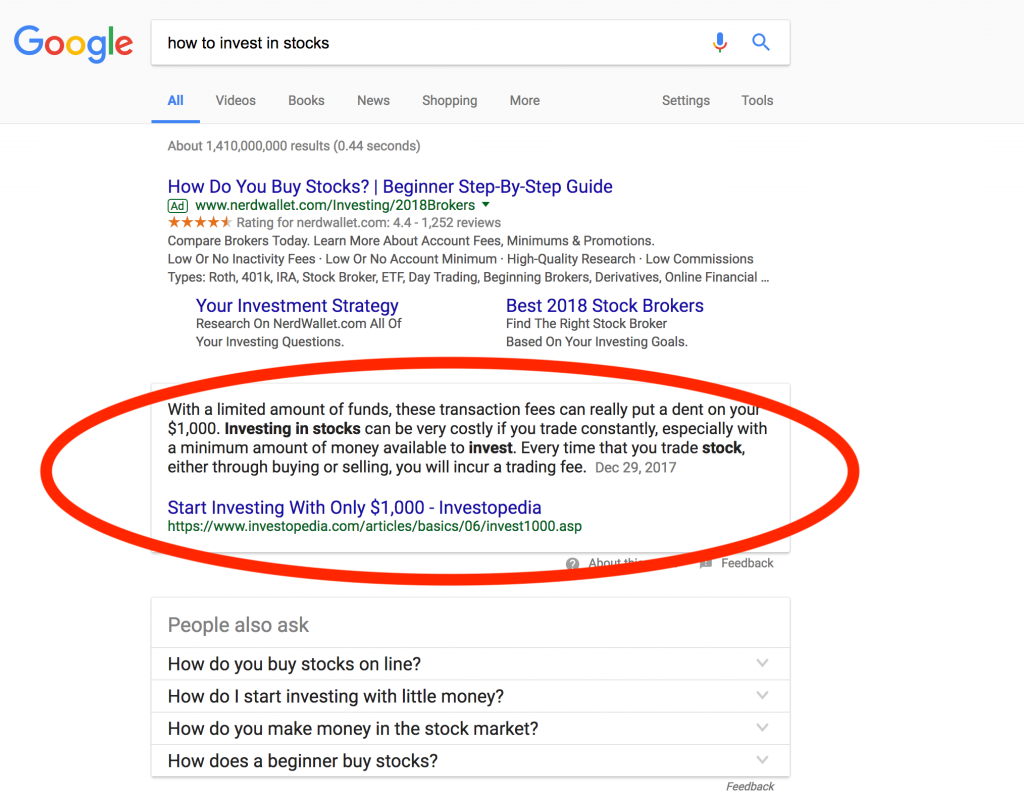 Complement Your Own Number 1 Ranking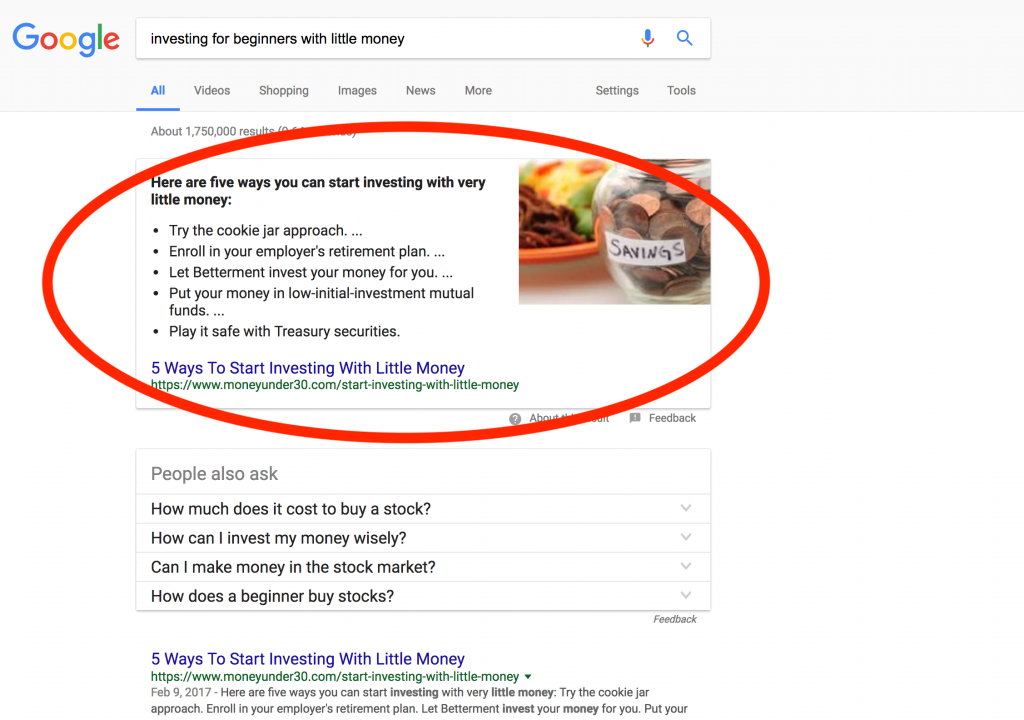 Outrank The Traditional Number 1 Spot And Steal Clicks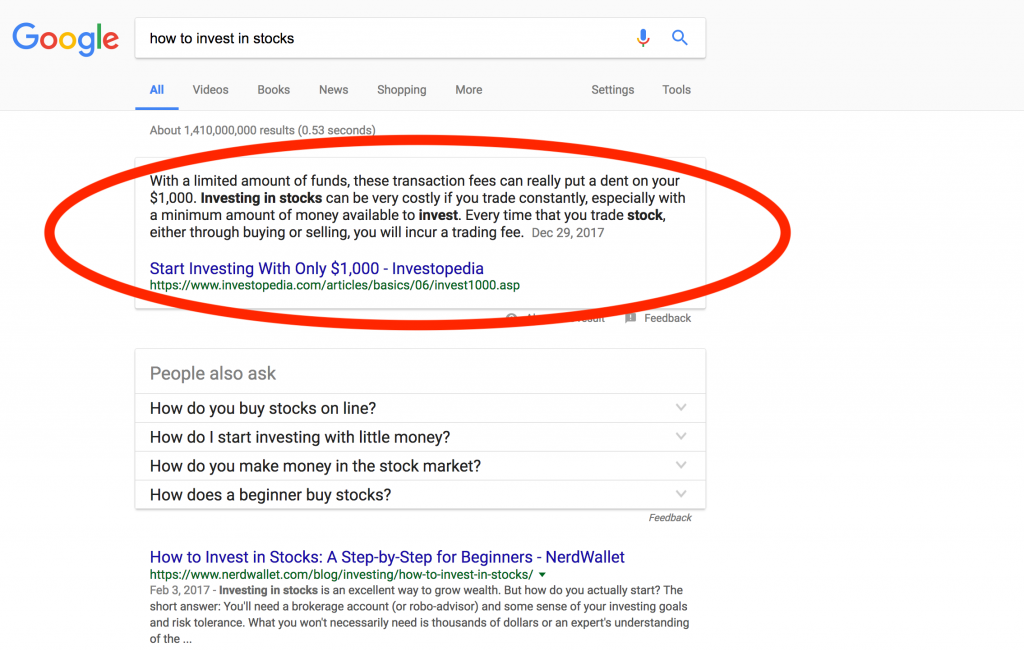 How To Rank For Featured Snippets?
Create content that answers questions
Write in-depth content that has a lot of long tail keywords
Use headings (H1/H2/H3) to organize content
Put long tail keywords in headings
Combine words like: best, new, top, popular, cool (see graphic below for more ideas) with other keywords in your SEO titles, headlines or article headings
Use numbered or bulleted lists in your content
Create list articles ("5 Best Ways To…")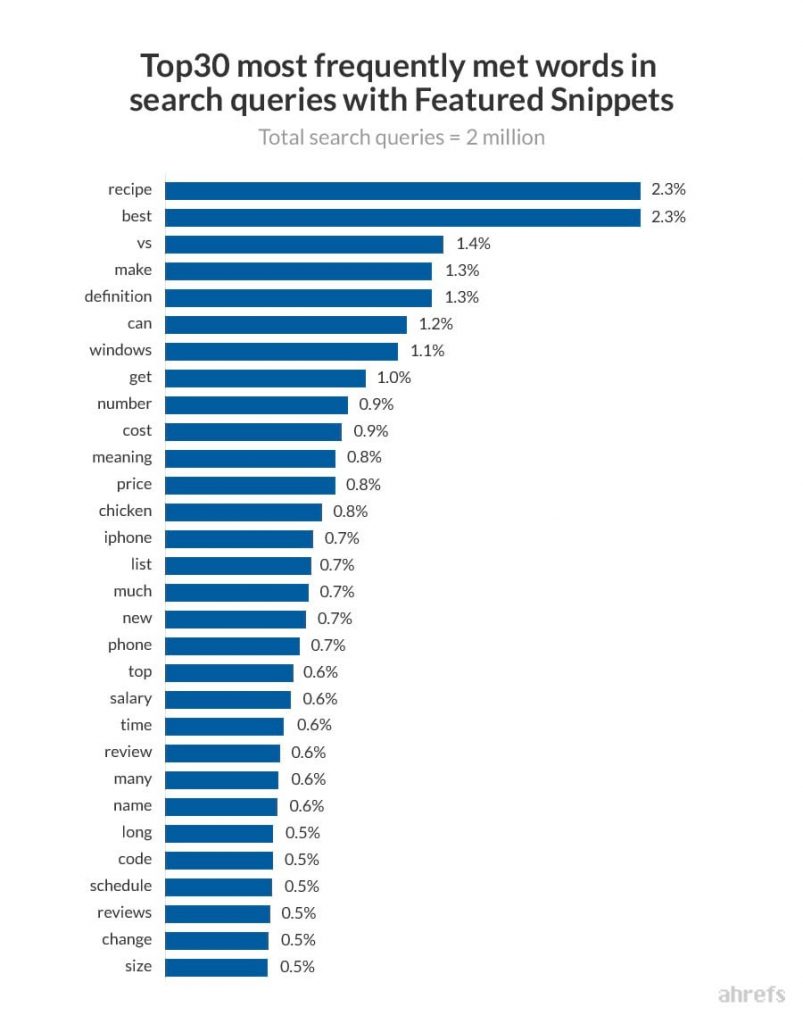 How To Discover Featured Snippet Opportunities?
Search your keywords in Google
Visit Answer The Public to discover questions you can weave into your content
Use SEMRUSH
Using SEMRUSH To Find Keywords That Trigger Featured Snippets
1) Search your competitors domain name in SEMRUSH. On the right under SERP Features click on Featured snippet.

2) Now you have a report of all the keywords (and URLs) they are ranked for that have featured snippets. Click on the SERP for each keyword. Also, examine their pages and create better content.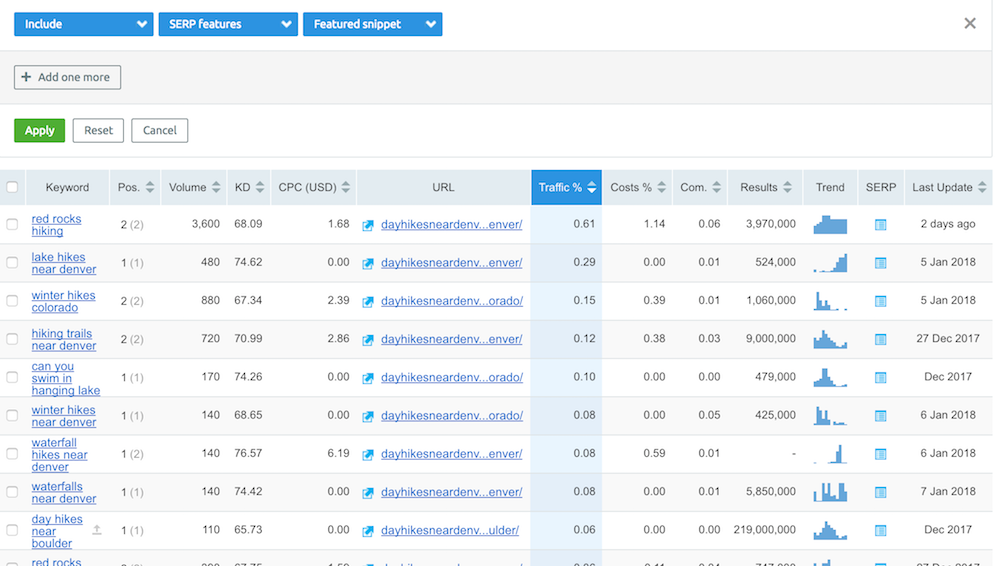 That is all you need to know about featured snippets. Super simple.
25) Get Found In People Also Ask…
You may have noticed in the featured snippet example a section in the search results called "People Also Ask".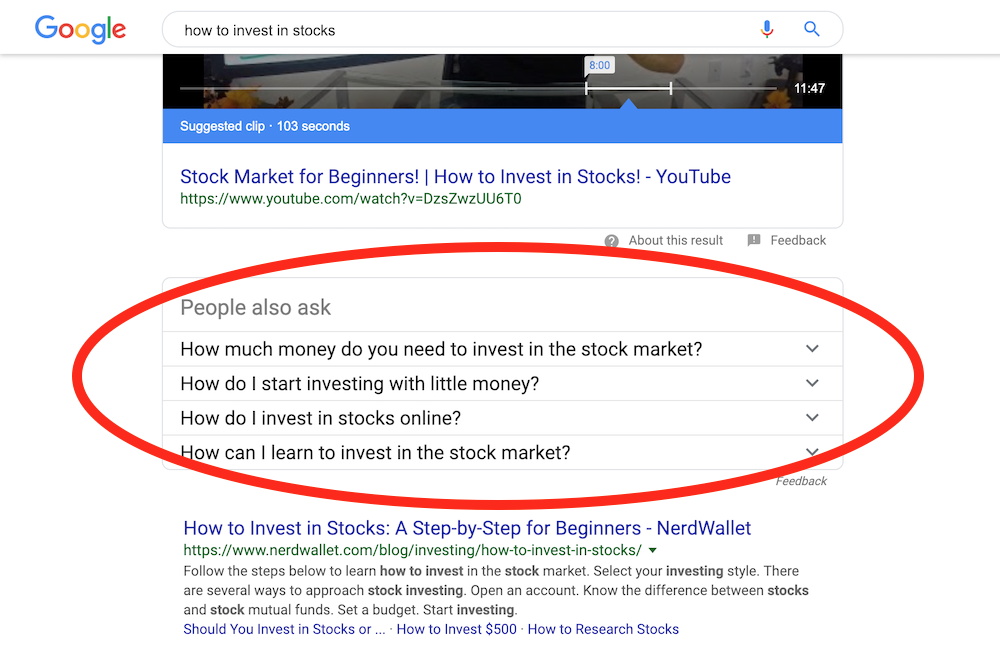 This is an additional organic search SERP feature that you must get your content placed.
This section expands bigger and bigger as you click on questions to reveal a snippet of content.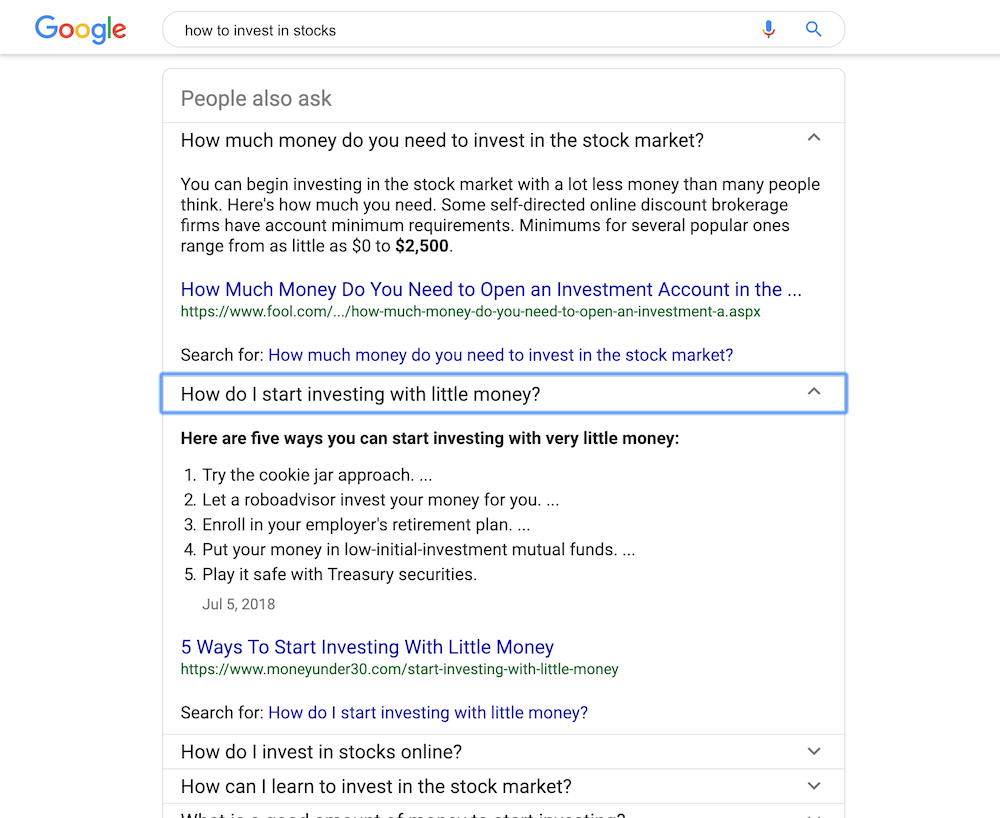 Do you know what is awesome? You can get multiple pages of your content indexed here all in a row. I have done this. Totally possible
Saturate People Also Ask for massive and continuous organic search exposure.
So, how do you do that?
Easy.
Create complete content. Be thorough Answer questions.
Specifically, answer the questions that you see in People Also Ask…for your targeted queries.
Just do searches in Google and gather the questions that appear.
Answer what you can or makes sense in your articles.
What I like to do is create FAQ articles. As in, frequently asked questions articles. Or, just add FAQ sections in all my articles. You can organize the flow of your articles by asking relevant questions and then simply answering them.
Totally. Easy.
Why is this so important?
Both featured snippets and People Also Ask displays above the traditional organic search results. They compete with paid search at the very top providing much better visibility. These results are a (preferred) complement to your organic listings that are now buried deeper. I suppose that many searchers never get to the traditional organic search results nowadays.
Can you see how traditional organic search results are becoming less valuable?
Before you hit publish, make sure that you satisfy both featured snippets and People Also Ask.
Bonus SEO Strategy Section
Once you are in the habit of implementing great SEO strategy you will want to track your results and performance.
Google Search Console / Google Analytics Reports
Keep track of SEO progress with Google Search Console reports.
You can do so in Google Console (Navigate to Search Traffic -> Search Analytics) or Google Analytics (Navigate to Acquisition -> Search Console -> Landing Pages).
Be sure to link the two Google products as outlined back in the setup section.
The most important reports to keep an eye on are your landing page reports.
Long Term Goals:
Increase impressions
High CTR
High positioning
What Is Important In GSC Reports?
Isolate top pages for impressions/clicks/CTR

Link out to other important (and relevant) pages on your site
Understand what is driving high CTR

Find pages that are ranked in positions 11-20

Link to these pages from higher ranked (and relevant) pages

Use descriptive/specific anchor text (keywords) for the links

Look for pages with high impressions, low clicks, low CTR (under 1%)

Experiment with new SEO titles (title tags) to improve CTR
What Else Can You Do With GSC?
Monitor inbound links
Disavow toxic links (Isolate and export these to file using SEMRUSH)
Fetch, render, and request indexing of new content
Check mobile usability
Temporarily remove/hide URLs
Key Google Analytics Reports For SEO
You can look at some GSC reports in Google Analytics. But there is more data and metrics to review and analyze.
1) Navigate to Acquisition, Traffic, Channels. In the report click on Organic Search. Click Landing Page as the primary dimension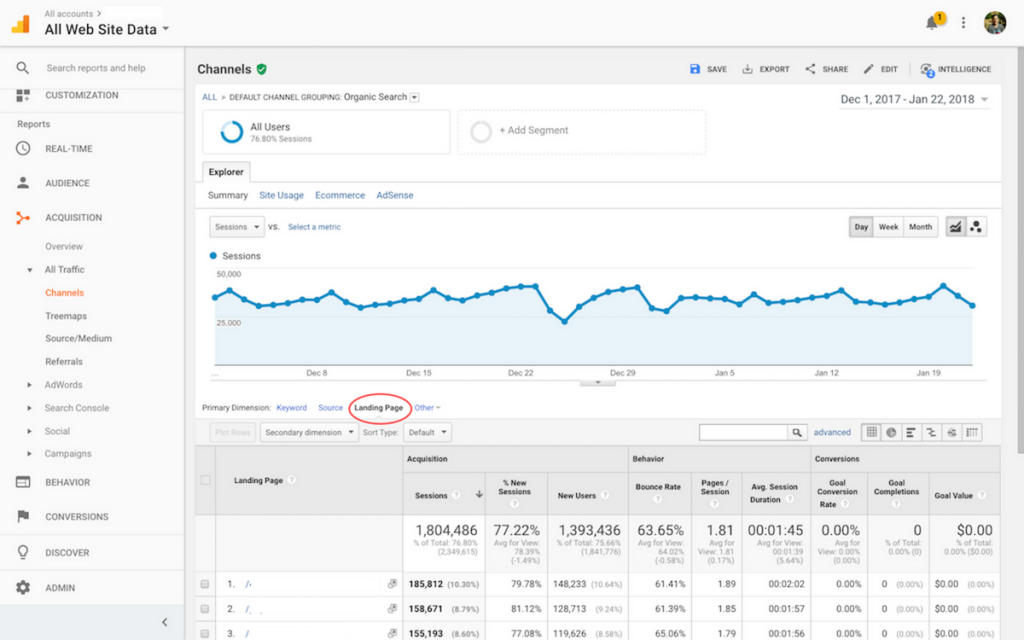 2) Look at Bounce Rate, Pages/Session, and Avg. Session Duration for each page. Try to understand what is driving good engagement on some pages and poor engagement on others. Increase Avg. Visit Duration. You want users to click through from Google Search and spend time on your site. Your main goal is to help users forget to go back to the search results and stay on your site.

3) Check out the Google Search Console reports in Google Analytics.
In the Landing Pages report shown below, monitor and improve CTR.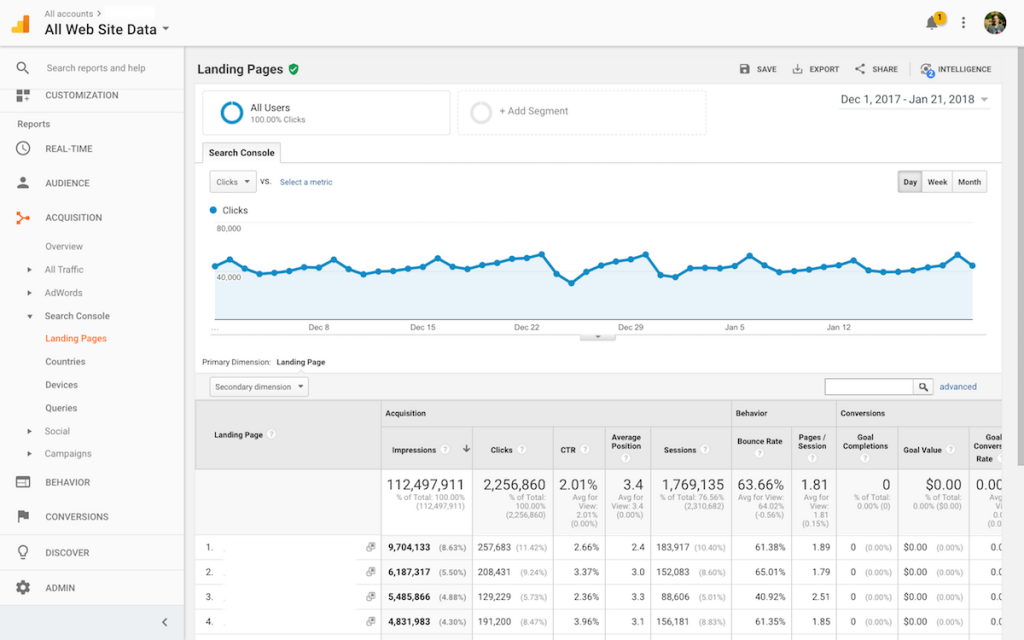 In the Queries report shown below, keep an eye on CTR and Average Position by topic. What topics get higher CTR? Pursue those topics and keywords.