If you are a newcomer to SEO, you probably have a lot of questions about this topic. Getting started with SEO can be overwhelming. This marketing activity intersects with so many parts of a typical Internet business.
In this article I answer all the questions that anyone could have about search engine optimization. You will feel much more confident and ready to dive in deeper after you absorb these questions and answers.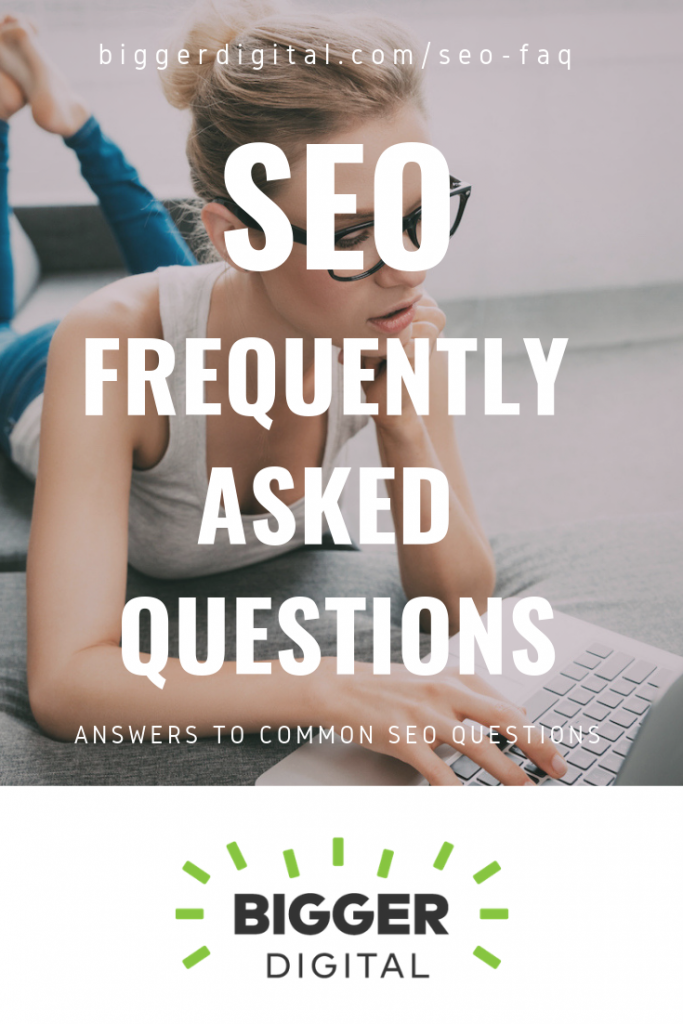 What Does SEO Stand For?
SEO is an acronym for search engine optimization. That's it. Simple right?
What Is SEO?
So, what does SEO mean?
SEO or search engine optimization is the process of increasing the visibility of your website (or blog) in the organic search engine listings. These are the unpaid, non-sponsored listings. They are earned through hard and persistent work.
SEO is an important digital marketing activity that delivers free traffic to your website.
Why Is SEO Important For Your Business?
An effective SEO strategy will generate more organic search traffic for your business.
Organic search traffic is the largest and most productive traffic source. You can target keywords that have high value and strong purchase intent for your products or services. Organic search traffic converts more often than other traffic sources.
How Does SEO Work?
There are thousands of search engine ranking factors or signals that Google uses to rank your website in the organic search results.
To rank high (page 1) you must satisfy these search engine ranking factors.
Not all ranking factors are equal. Some are critical and some are no longer that important.
The secret to search engine optimization success and generating massive volumes of organic search traffic is to satisfy the ranking factors that count the most.
What Are SEO Tools?
SEO tools help you do keyword research, competitive research, link building, track your rankings and success, and conduct an SEO audit (on-page SEO and technical SEO) of your website.
The most popular SEO tool is SEMRUSH. This is my SEO tool of choice. It is awesome.
Ahrefs is another popular SEO tool.
How Do You Do Keyword Research?
Invest in a keyword research tool. As I have mentioned, I use SEMRUSH.
The SEMRUSH Keyword Magic Tool is amazing. You can create your entire SEO content plan in minutes to hours. This used to take days or weeks!
Once you have a tool simply type in your primary topics. These are called seed keywords.
The keyword research tool will then provide you all the different combinations of search queries that include your seed keyword.
Next, apply filters to find the best keywords to use in your content.
What Are The Best Keywords?
The best keywords are those that will drive the most relevant traffic to your website. These may be searched less often than the most obvious high volume keywords. However, they could produce better engagement results like higher conversion rates or visit duration. They are almost always less competitive to rank. That's a plus.
Many people think the best keywords are those that are searched most often. This is usually false. Keywords that are searched in high volume are called head keywords. They are typically keywords that are comprised of 1-2 words. For example, SEO. Or SEO strategy. This type of keyword is not ideal because they are very competitive (to rank for), broad in meaning (not showing much intent), and have low conversion rates. Take them if you can get them. But I would not recommend targeting them first.
The best keywords are long tail keywords and body keywords.
Long tail keywords (often 3+ word keyword phrases) have lower search volumes and are easiest to rank on page 1 of Google. They are very specific. Often people that search long tail keywords will engage with your content longer. This will improve your rankings. It is a signal (to Google RankBrain) that the content is of value. Also, people that search long tail keywords are most often closer to a buying decision. Expect higher conversion rates. These are good keywords for e-commerce sites to target.
Body keywords (usually 2-3 word keyword phrases) fall somewhere in between head keywords and long tail keywords. They are good because they demonstrate some true search intent, are higher in search volume, and are not the most competitive search terms.
How Do You Find Keywords?
There are many different ways to find keywords. Here are a few of my favorite methods.
Do keyword research with a tool like SEMRUSH.
Search Google and observe the automatic search suggestions.
Use the Google Chrome extension Keywords Everywhere.
When you use Google take note of what appears in People Also Ask and Searches Related To sections of the organic search results.
Analyze your Google Analytics and Google Search Console reports.
How Do You Find The Best Keywords?
When I do keyword research with SEMRUSH, I filter the master list for the best options.
Let's take a look at an example.
I want to find keywords that are 3-7 words in length, have enough search volume (500+ searches/month), a lower keyword difficulty score (under 60), and some competitive density between advertisers (will trigger more valuable ads on my site -> 0.1+). You may also want to look at specific SERP features like featured snippets to increase your organic search traffic.
How Do You Improve SEO?
You can always improve SEO. Be sure to do that.
First, think through a complete SEO strategy.
Focus on the most critical SEO tactics or tasks.
Create a SEO content plan. This requires doing endless keyword research
Be thorough and consistent. This is most important.
Work hard. Be relentless.
Experiment with new search engine optimization tactics and strategies.
Analyze and measure the results of your efforts using Google Analytics (GA) and Google Search Console (GSC).
Be sure to invest in a keyword research tool and SEO audit tool such as SEMRUSH or ahrefs. I prefer SEMRUSH. When I compared the data to what was in GA and GSC, SEMRUSH appeared more accurate. SEMRUSH does everything I need. It is the most important tool that I use every single day. It is the business expense that delivers the highest return on investment.
What Is SEO Writing?
SEO writing or SEO copywriting is essentially being aware of and using keyword phrases and language that your audience uses to find what they want from Google Search.
However, be sure to write in a natural and engaging voice and in a logical flow.
Avoid overusing keywords (keyword stuffing).
I recommend using keywords to structure your content.
There are a number of ways to find keywords to use for SEO writing. Using a keyword research tool is the most common method to understand how your audience searches for your content, products or services.
Does Blogging Help With SEO?
Yes. Most definitely.
First, understand that blogging is the same thing as writing.
If you are an e-commerce company you must write in-depth articles about topics that are relevant to your business.
The more quality and complete content that you create the more organic search traffic you will get. It is also important to write about a wide range of relevant topics. In other words, avoid writing about the same thing over and over again.
What Is An SEO Specialist / Consultant?
SEO specialists and consultants are experts at implementing search engine optimization.
I have been an SEO expert for 20 years. It has been an incredible career to pursue.
What Is An SEO Company?
An SEO company is a business (firm or agency) that will do the search engine optimization work for you.
SEO services offered typically include: keyword research, SEO writing, content marketing, on-page SEO, technical SEO, WordPress SEO, and link building.
How Much Does SEO Cost?
DIY SEO costs you your time and the business expense of your SEO tools.
SEMRUSH starts at $99.95 per month.
Hiring a qualified and experienced expert or agency to do your search engine optimization work is expensive.
Some SEO companies charge by the hour ($100-400/hour) and some by the project.
Avoid SEO companies that promise everything for a low cost. It doesn't exist. They are scammers.
How Do You Calculate The Return On Investment (ROI) For SEO Campaigns?
I calculate the ROI of SEO at the page level. Add up all revenue generated by a page (ad revenue or e-commerce sales) and subtract the cost of that piece of SEO content.
For example, you might pay $300 for a piece of content (SEO + copywriting). This cost will remain fixed. Over time you can compare that cost to the revenue the page generates. Super easy.
What Is An SEO Title?
The SEO title is really the same thing as a title tag.
It is a label in WordPress if you are using the Yoast SEO plugin and it will create your title tag.
The title tag is an HTML element that specifies the title of a web page.
It is one of the most important SEO success factors.
Be sure to create excellent and unique SEO titles for every single page on your website.
What Is Local SEO?
Local SEO is a way to market your local or physical business.
Claim, optimize and mange your Google My Business presence to implement local SEO.
When people search Google and other search engines for products and services that are relevant to your business you will appear in the local search results and on Google Maps.
Totally easy. Do it.
How To SEO WordPress?
Nailing WordPress SEO is important.
Implement on-page SEO for all your WordPress pages.
Get a quality WordPress theme. I only use and recommend Studiopress WordPress themes.
WordPress can be slow. Get a powerful server and use a content delivery network (CDN) to deliver your content at lightning speeds. Install the most recent PHP version possible on your server.
Install and setup the Yoast SEO plugin.
How Do You Use Yoast SEO Plugin?
The Yoast SEO plugin is an essential WordPress plugin.
Follow on-page SEO recommendations.
Aim for green Yoast SEO scores before you publish any content.
Use it to create killer SEO titles and meta descriptions using the snippet preview for all your pages. You will find that at the bottom when you are writing or editing any page.
Evaluate the readability of your articles.
Leverage the tool for advanced SEO and technical implementation tasks such as noindex (if required), nofollow links, and setting canonical URLs.
Does Changing A WordPress Theme affect SEO?
Yes, definitely. Every WordPress theme is different and will perform differently from an SEO perspective. The way navigation menus and widgets work will likely impact SEO the most either in a positive or negative way. Differences in CSS can also have an effect on SEO performance.
What Is Black Hat SEO?
Black hat SEO refers to the practice of manipulating search engines in an unethical manner. It is not recommended to do so.
What Is White Hat SEO?
White hat SEO refers to the practice of implementing SEO according to the terms and conditions of Google Search in an ethical manner.
How Long Does SEO Take?
To gain traction in organic search with a brand new website, it typically takes 6-12 months to see any results or an increase in organic search traffic. If your website is new, be persistent. Don't give up. Work hard for at least a year no matter what the results. Put on the blinders so you do not feel disappointed. After a year or so you should start to see some growth. If not, just keep plugging away. Learn and implement new SEO strategies. You will eventually get better results and when you do it is a sweet moment in time. After you gain that initial traction, SEO only gets easier.
If your website is established and in good standing, implementing an excellent SEO strategy should generate immediate results. For example, if your site has been indexed for years but you have never done SEO, putting SEO into action can result in tremendous growth overnight.
For more on how long it takes for SEO to work check out this AHREFS article.
How To Use Keywords For SEO?
As I mentioned earlier, I like to use keywords to structure my content.
And, I use keywords to organize my site architecture in a logical way.
Use keywords In These Locations:
SEO title or title tag
Meta description
URL
Headlines
First paragraph
In other paragraphs (when relevant)
Headings
Internal links (anchor text)
Image file names and alt attribute (alternative text)
Video titles and file names
Navigation menus
Does SSL Improve SEO?
Yes.
Implementing an SSL certificate (creating an HTTPS site) isn't necessarily a strong ranking factor.
But it can impact your search engine optimization results in other ways. Primarily first impressions.
If you do not convert your site to HTTPS your site visitors will see a Not Secure label in their web browser. Scary! That obvious Not Secure label could increase your bounce rate. High bounce rates are not good for SEO.
You want to achieve the opposite. Specifically, you want to increase dwell time (visit duration) and pages viewed per visit.
Does Link Building Help SEO?
Yes, it can.
However, I don't pursue link building. Why? Keep reading.
Examining inbound links has been a way that Google Search evaluates the reputation and quality of a website.
The idea is that a large volume of quality links from reputable websites indicate a quality piece of content. Why else would a reputable site link to it?
If you ask me, the best method to acquire quality links is to create quality content.
High-quality websites do not rely on link building outreach. They just naturally acquire the links that give their site a boost.
How Important Is The URL For SEO?
It is one of the more important SEO success factors.
Use short URLs with descriptive text and keywords.
What Is Anchor Text In SEO
Simple.
Anchor text are the words used in either an offsite or onsite (internal) text link.
If you link to another page use descriptive text about the destination page.
What Is On-Page SEO?
We just talked about URLs and anchor text. These are two pieces of on-page SEO.
But there is more.
On-page SEO is essentially the search engine optimization tasks that you must always do for every page that you publish. On-page SEO is what is important
How to achieve on-page SEO Excellence:
Use of relevant keywords (topics, sub-topics)
Increase organic click-through rates (CTR) with great

SEO titles or title tags
Meta descriptions

Short descriptive URLs
Headlines (draw attention, interesting)
Internal links to relevant pages
Navigation menus (topics)
Improve readability

Headings and sub-headings(H1/H2/H3)
Bulleted and numbered lists

Find ways to increase visit duration
Mobile friendly (responsive design)
Great UX, layout, design
Use of outbound links to resources of value
Fast page speed (quality server + CDN)
Add LSI keywords (synonyms, relevant topic keywords)
ocial sharing buttons
Complete content that provides value, answer questions, satisfies user intent
Satisfy: Expertise, Authoritativeness, and Trustworthiness (EAT)
Be unique (don't copy, use your knowledge and insights)
Make sure your site is easily crawled (speed, flat structure)
Keep your content fresh and relevant (update as required)
What Is Technical SEO?
Technical SEO is becoming more and more important. It is often ignored. That's not good.
These are some of the most common technical SEO tasks:
Increasing page speed (servers, CDNs)
Implementing HTTPS (SSL certificate)
Website security (avoid getting hacked)
Fixing broken links
Preventing 4xx errors (page not found)
Using 301 redirects when necessary (if you change a URL)
Ensuring excellent mobile usability and UX
Monitoring duplicate content issues (copy, title tags, meta descriptions)
Creating a robots.txt file
Managing a XML site map
Identifying mixed content (leftover HTTP links on a HTTPS site)
Tracking JavaScript and CSS issues
Can I Learn SEO On My Own?
Definitely. I have been teaching myself search engine optimization since 1999.
The easiest way is to read articles from reputable SEO blogs.
You can also take an online SEO course.
This post may contain affiliate links. Please read my disclosure for more info.