Bigger Digital is a very experienced and successful Boulder SEO company that implements profitable SEO strategies for our clients.
We don't just talk the (SEO) talk. We get the work done!
Bigger Digital follows a search engine optimization (SEO) process that is effective and efficient.
Expand your online business sooner than later with our SEO services. This is particularly important in this brand new economy we are facing due to the Coronavirus pandemic. To avoid financial loss now is the time to move as much of your business online as possible.
Have you seen significant and consistent monthly growth in your organic search traffic?
If not, you are missing out on connecting with the majority of your web audience.
Why Is SEO Important For Your Business?
SEO helps to increase organic search traffic and deliver qualified leads to your website.
The vast majority (90+ percent) of Google clicks are on organic listings, or are non-clicks.
Your content must be excellent and well positioned in traditional organic search results and new organic features.
Organic search traffic is not accidental (display ads) or impulsive (social media) web traffic.
So let's get to it, and secure it for your business.
Search = 100% Intent
If someone searches "Boulder SEO", "Boulder SEO company", "Boulder SEO agency", "Boulder SEO consultant, or "Boulder SEO services" it is obvious they are looking for an SEO company or an SEO professional that offers SEO consulting services in Boulder Colorado.
People search by very specific topic or interest to find what they need or want immediately.
Aligning your business in Google with customer purchase intent drives conversions and sales.
If you can't be found in Google you don't exist.
Implement a thorough, consistent, and effective SEO strategy to be found!
Bigger Digital is a Boulder SEO agency that can help you increase your organic search traffic.
Why Work With Bigger Digital?
1) Excellent SEO Services
Our strength is search engine optimization (SEO).
We craft well thought out strategies that will corner your customers.
SEO (combined with email marketing) is the most effective of all digital marketing strategies.
2) We Think BIG
Bigger Digital specializes in building SEO content plans that produce very big audiences.
The Bigger Digital team launched and grew a (company-owned) men's style blog from just an idea to more than 1 million users per month. 90+ percent of the traffic is organic search. The site ranks number 1 for thousands of very competitive and high volume keyword searches. Over 100 million men have visited this blog since it was launched.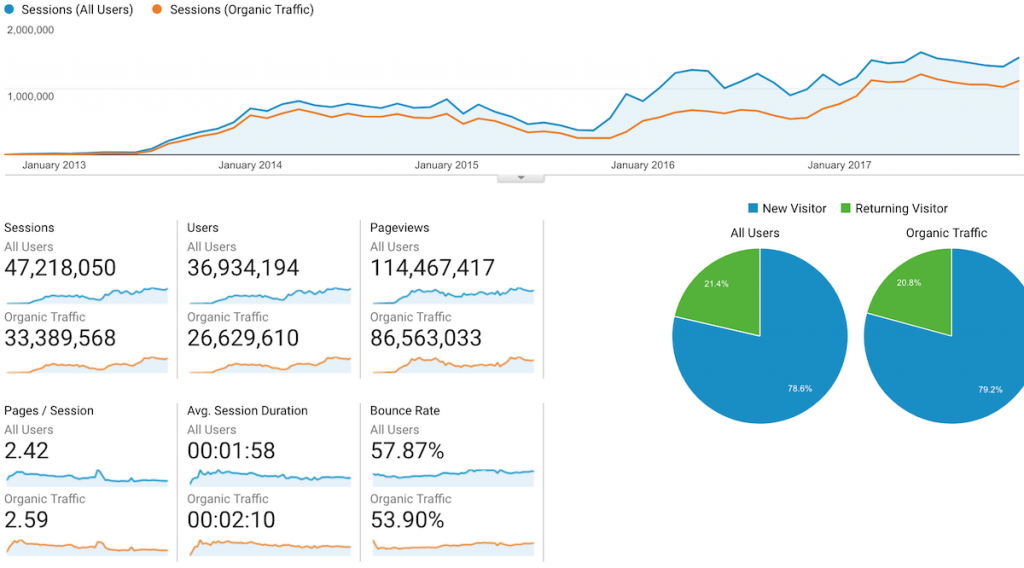 Below is a recent SEMRUSH snapshot of organic search traffic. You can see how we expanded our top 3 positions (in yellow) over the past year.

Winning at SEO is a fun challenge that we enjoy greatly.
3) We Implement A Proven SEO Process
Bigger Digital does not operate on theories or hope to generate organic search traffic.
We implement a specific SEO process that creates authority and secures long term results.
4) We Do More Than SEO Strategy
If you want to expand your audience with Google Ads or Facebook Advertising campaigns we can help you.
Over the years Bigger Digital has spent over $20 million in online advertising budgets through these platforms. We know exactly how they work and how to maximize your budget.
Email marketing is also something we do well. We can help you implement ConvertKit (our tool of choice) to stay connected with your audience.
5) We Are Located In Boulder Colorado
Bigger Digital primarily offers SEO services to companies located in Boulder County or Denver Colorado.
However, if we discover there is a good fit we can (and do) work with companies outside of Colorado.
What SEO Services Do We Offer?
Site Audits – Evaluate your current SEO efforts and isolate opportunities
Keyword Research – Isolate the best keywords for your business
SEO content writing services – Fulfil a deliberate editorial calendar of content and articles
SEO Implementation – Work with your team to get SEO done
SEO Training/Coaching – Train your staff on how to implement SEO best practices
Send us a message and work with the best Boulder SEO company!
Learn more about the Boulder SEO consultant Matt Varty that is Bigger Digital.
This post may contain affiliate links. Please read my disclosure for more info.