Are you searching for a Boulder SEO company?
Bigger Digital might be the perfect fit.
Why Is SEO Important For Your Business?
SEO helps drive organic search traffic and deliver qualified leads to your website.
Organic search traffic is not accidental (display ads) or impulsive (social media) web traffic.
Search = 100% Intent
If someone searches "Boulder SEO", "Boulder SEO company", "Boulder SEO agency", "Boulder SEO consultant, or "Boulder SEO services" it is obvious they are looking for an SEO company located in Boulder CO or a professional that provides SEO services and consulting.
People search by very specific topic or interest to find what they need or want.
If you can't be found in Google you don't exist.
Implement a thorough and effective SEO strategy and be found!
Bigger Digital is a Boulder SEO agency that can help you increase your organic search traffic.
Why Work With Bigger Digital?
1) SEO Is Our Primary Focus
Our strength is SEO. This is how we grow our own businesses.
It is our understanding after running many experiments that SEO (combined with email marketing) delivers the best return on (time) investment.
2) We Think BIG
We specialize in building massive SEO content plans.
Five years ago, Bigger Digital team launched and grew a (company owned) men's style blog from just an idea to more than 1 million users per month. Most of the traffic is organic search. The site ranks number 1 for thousands of very competitive and high volume keyword searches. By March 2018, over 50 million men visited the blog!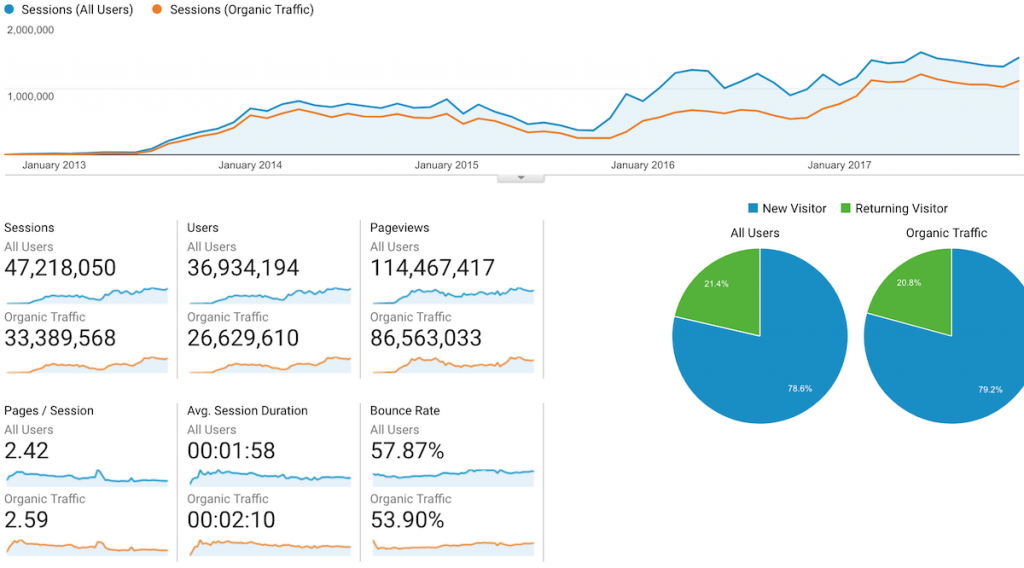 Below is a recent SEMRUSH snapshot of organic search traffic. You can see how we expanded our top 3 positions (in yellow) over the past year.

Winning at SEO is a fun challenge that we enjoy.
3) We Implement A Proven SEO Process
Bigger Digital does not operate on theories or hope to generate organic search traffic.
Nor do we manipulate search engines or employ unethical tactics.
Bigger Digital implements a specific SEO process that creates authority and long term results.
4) We Do More Than SEO
If you need help with Google AdWords or Facebook Advertising campaigns we do that too.
Over the years we have spent millions of dollars through these platforms. We know how they work.
5) We Are Located In Boulder Colorado
Bigger Digital primarily offers SEO services to companies located in Boulder County or Denver Colorado.
However, if we discover there is a good fit we can (and do) work with companies outside of Colorado.
What SEO Services Do We Offer?
Site Audits – Evaluate your current SEO efforts and isolate opportunities
SEO Implementation – Work with your team to get SEO done
Keyword Research – Help create deliberate SEO content plans
SEO Training/Coaching – Train your staff on how to implement SEO best practices
Send us a message and work with the best Boulder SEO company!
Learn more about the Boulder SEO consultant that manages Bigger Digital.